Last month's Rotterdam Art Week offered an exciting snapshot of the Dutch port city's dynamic and vibrant art scene. Heavy bombing during the war resulted in innovative re-uses of space, earning Rotterdam its reputation as the ultimate city of innovation for architects and designers. Over the years, Rotterdam Art Week has gained traction, with a number of satellite events running alongside the main fair Art Rotterdam in the Van Nelle Factory. The events and their organisers are increasingly entrepreneurial, highlighting the importance of art and design as a catalyst for social change.

OBJECT Rotterdam – OBJECT 2020. Design Laucke Siebein
One of the events affiliated with Rotterdam Art Week is OBJECT, Rotterdam's fair blending art, design, architecture and fashion. Former journalist and curator Anne der Zwaag is the fair's organiser and responsible for personally selecting every single one of this year's designers.  All works on show are for sale, and each designer was present throughout the entirety of the fair to speak about their work, a personal touch that I found lacking in other fairs I have visited. When Anne took over directing the fair in 2012, the event was still quite small and directed towards galleries, primarily for jewellery. She single-handedly transformed OBJECT into a multidisciplinary fair for designers and a platform where visitors can meet the makers themselves. Over the past 3 years, the fair has exploded from merely 20 participants across approximately 1,000 square metres to almost 200 participants across 7000 square metres.
What makes OBJECT special is its well-balanced mix of familiar household big brands with up and coming young talent from the local and international design scene. Anne has very carefully curated the fair so that these two ends of the design spectrum learn from each other and work together to offer visitors a diverse and inspiring selection of works.
Another significant aspect of the fair is its location: OBJECT is a pop-up platform, so Anne looks for iconic Rotterdam locations to make the experience special. A few years ago, OBJECT  occupied one of the biggest buildings of Rotterdam designed by Rem Koolhaas, and three editions of OBJECT took place on the SS Rotterdam, a historical cruise ship from the 50's.  This year's Object Rotterdam was held in the HAKA building, an amazing architectural monument, which is a national heritage site since 2002 and was one the first buildings built from trash. The iconic modernist building is soon to be transformed into a dynamic multi-company building with a high-end restaurant and a rooftop bar by Dudok Groep (Dudok Group), so this was the last year visitors can experience the building before OBJECT moves on once again.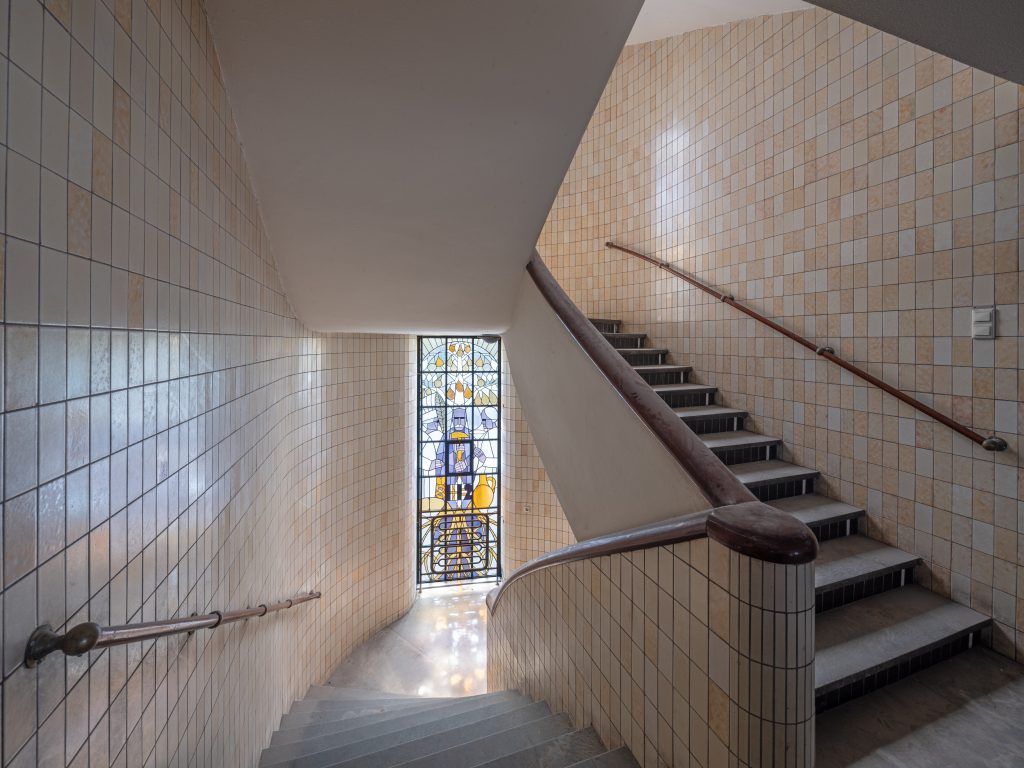 OBJECT Rotterdam, HAKA Building
With over seven floors to explore, it was almost impossible to choose where to begin exploring. The variety of talent on display ranged from Design Academy graduate Pauline Neiser, who exhibited a bathroom collection from copper and bronze that changes colour over time, to Jeroen Schokking from the HKU Fine Art Department in Utrecht who created huge candles in pastel colours based on his own legs and feet that performed a dance together.

OBJECT Rotterdam, Pauline Neiser
A work that particularly caught my eye was an installation of mass produced balloons by young Korean artist Sung-Hwan Ahn. The artist scanned his own face with a portable 3D scanner and then uploaded the finished 3D file to a Chinese balloon factory he found using Alibaba, China's biggest online B2B service. The company then created a negative mold and 3,000 packaged up balloons wound up delivered to Ahn's studio door.


OBJECT Rotterdam – Ejaculation Series
As every exhibitor was present at their booth, I had the opportunity to chat with Ahn and ask him about the concept and title of his project. Ahn's work focuses on the idea of mass-producing identity, something he sees as prevalent among contemporary society. He references Walter Benjamin's essay The Work of Art in the Age of Mechanical Reproduction as a starting point for his work and for where we have arrived today.  "individual identity can be easily mass-produced and spread through big data, A.I., SNS, etc. [Our] age is a polytheistic [one], in which anyone can make their own mass-produced statues".
The work is titled Ejaculation Series. For Ahn, the term is not the literal transmission of genetic information through sperm but the spreading of personal stories, philosophies, culture, symbols, and objects. Through his performance, Ahn seeks to redefine the individual and questioning personal survival strategy: " [By] making balloons [from] an individual, we can talk about the 'power of the individual' in this present age. In the past, mass production was the exclusive property of only a big company – but now, individuals can mass-produce themselves if they want."

OBJECT Rotterdam – Ejaculation Series
I asked Anne if she had any favourite pieces from OBJECT 2020 herself. She replied: "Since I am personally responsible for the selection, I feel that every participant contributes something to the fair, so it is hard to choose. I very much enjoyed the leather carpets by Zand-erover, the new furniture pieces by Bas Vellekoop, the huge sustainable table from Occony, and the subtle glass stained window pieces by Velowa. The scents created by Lingua Planta are irresistible, and of course the wearables of Bas Kosters are must-haves. That's the nice thing about OBJECT, the designers can sell their pieces and all of the revenue from the sales goes directly to them. I am a design lover, collector and curator myself and many of the Dutch designers are personal friends [of mine], so I know how important it is for them to make a living out of what they do"
I left Rotterdam with the impression that it is truly at the forefront of social design at the moment, and very in touch with the fact that contemporary challenges require multidisciplinary solutions.  Anne upholds this view: "People such as Joep van Lieshout and Richard Hutten pioneered in this area years ago, and now you see many creatives have settled here. Rotterdam has space, and embraces culture and creativity. This combination is an important and proven recipe for success – it is of the essence that there is still physical space for artists and designers once an area becomes popular. That might be the biggest challenge, to make sure that Rotterdam keeps its cutting edge and stays on the forefront of innovation."
Categories
Tags