The Armory Show returns to Manhattan's Piers 90 and 94 tomorrow Thursday 5th March, featuring 183 galleries from 32 countries and with 33 first-time exhibitors. We have put together a list of ten artist we think you should see.
1 Sheida Soleimani at Edel Assanti London Pier 94, Booth P20

Iran Heavy 2019 Archival pigment print
Sheida Soleimani is an Iranian-American multimedia artist, activist, and professor. She is most known for her work on Iranian human-rights violation victims, and her outspoken comments on the Iranian regime.
2 Jeffery Gibson at Roberts Projects Los Angeles Pier 94, Booth 710

The Future Is Present 2019 Glass beads, plastic beads, copper-finished jingles, artiifical sinew, nylon thread, nylon fringe, acrylic felt, poly-fil, rawhide, steel rods, wooden block
Jeffrey Gibson grew up in major urban centers in the United States, Germany, Korea, England and elsewhere. He is also a member of the Mississippi Band of Choctaw Indians and half Cherokee. This unique combination of global cultural influences converge in his multi-disciplinary practice of more than a decade since the completion of his Master of Arts degree in painting at The Royal College of Art, London in 1998 and his Bachelor of Fine Arts degree in painting from the School of the Art Institute of Chicago in 1995.
Gibson's artwork intermingles elements of traditional Native American art with contemporary artistic references. Thus powwow regalia, 19th century parfleche containers, and drums are seamlessly merged with elements of Modernist geometric abstraction, Minimalism, and Pattern and Decoration. Here there is an echo of Frank Stella and Josef Albers – canonized in our current dialogue which has little or no inclusion of Native American art which Gibson provides comparable weight and equivalence.
3 Olga de Amaral at Richard Saltoun Gallery London Pier 94, Booth 708

Olga de Amaral Cuatro Paisajes (Modulo ) [Four Landscapes (Module B)] 1976-1977 Wool and horsehair
Olga de Amaral is a textile artist, who combines, art, craft and design. Using fibre, paint, gesso and precious metals, she creates two-dimensional, textile-based sculptures. In her engagement with materials and process, Amaral's work become essentially unclassifiable and self-reflexively authentic. In their engagement with materials and process her works become essentially unclassifiable and self-reflexively authentic. Amaral is an important figure in the development of post-war Latin American abstraction. Her work is deeply driven by her exploration of Colombian culture and her own identity. Architecture, mathematics, landscape and socio-cultural dichotomies in Colombia are woven together through the use of thread. Her creation of 'off-stretcher' works, using non-traditional materials, acquires greater historical resonance with each passing year.
4 Derek Fordjour at Josh Lilley London Pier 94, Booth 810
Derek Fordjour is an interdisciplinary artist whose work grappes with race, political insubordination, inequality, and American society. … In 2018, Fordjour rose to prominence after he was commissioned by the Whitney Museum to create a mural near its building in New York City.
5 Kumasi J. Barnett The Amazing Black-Man at Lowell Ryan Projects solo booth: Pier 90, Booth F26

Kumasi J. Barnett The Amazing Black-Man #199 America is Another Name for Madness! 2019Acrylic, marker, pen and oil marker on comic book 9 3/4h x 6 1/4w inches KB-215
Baltimore based artist Kumasi J. Barnett riffs on classic superhero series including; The Amazing Spider-Man, The Incredible Hulk, Superman, Daredevil and Captain America. For each work, Barnett has painted over the cover of an old Marvel or DC comic book, replacing familiar heroes with characters including "The Amazing Black-Man," "The Media's Thug," "Whitedevil," and "Police-Man." Barnett replaces Spider-Man's full-body leotard with a hoodie and jeans, Superman's logo with the stars and bars of the Confederate flag, and turns the supernatural villains into—a no less brutal nemesis––the police. Alteration here acts as an intervention. By addressing real world issues through a superhuman genre, Barnett's work dissolves the disconnect between contemporary American narratives and the reality of "justice," making us reexamine cultural conceptions surrounding the Good versus Evil paradigm.
6 Gerhard von Graevenitz + Terry Haggerty at Von Bartha Pier 94, Booth 912
To mark their 50th year Von Bartha von Bartha will present renowned artists from the gallery's 50 year history alongside contemporary artists. One dialogue is between Gerhard von Graevenitz and Terry Haggerty. Kinetic, optical wall-based works by artist Gerhard von Graevenitz are presented with British artist Terry Haggerty. Graevenitz' works are occasionally triggered through a motor, which allows a slow and conscious, almost hypnotic, movement. Although Haggerty's body of work is static, his precisely painted lines indicate sequences of motion and create a complex illusion.
7 Erika Verzutti at Alison Jacques Gallery London Pier 94, Booth 802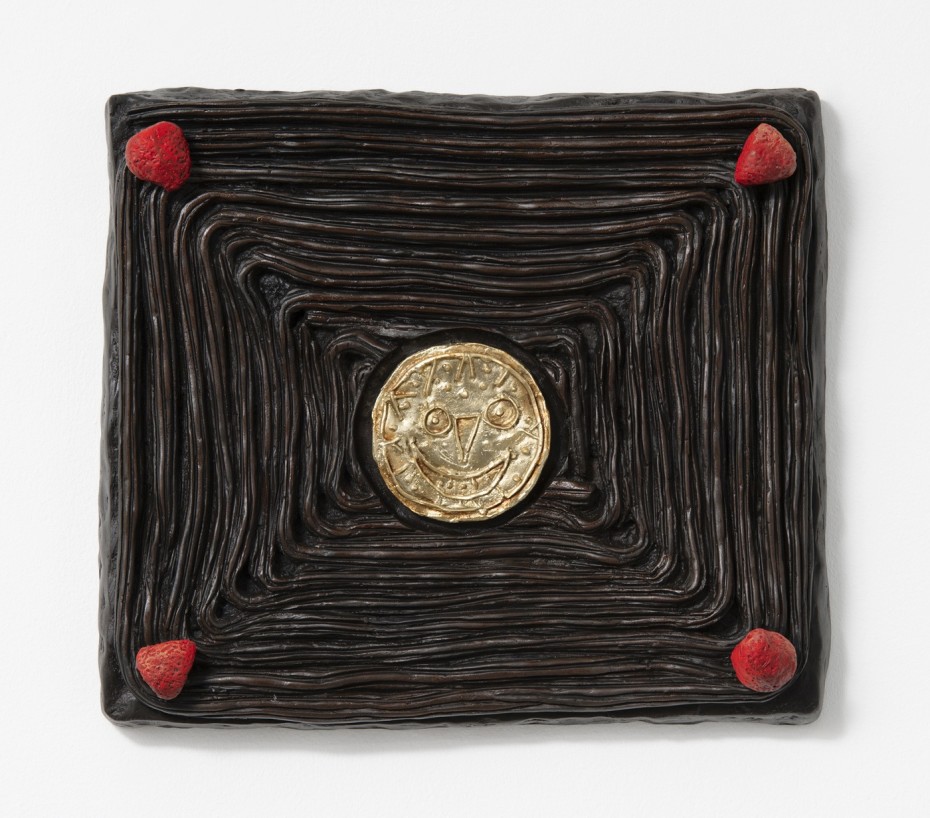 Erika Verzutti, Picasso with Strawberries 2019. © Erika Verzutti
Erika Verzutti is an artist who primarily creates sculptures, as well as drawings, photographs, paintings, and installations. Her work draws on observations of the natural and manmade world, with a firm rooting in materials and abstraction.
8 Rudolf Polanszky at Gagosian New York Pier 94, Booth 601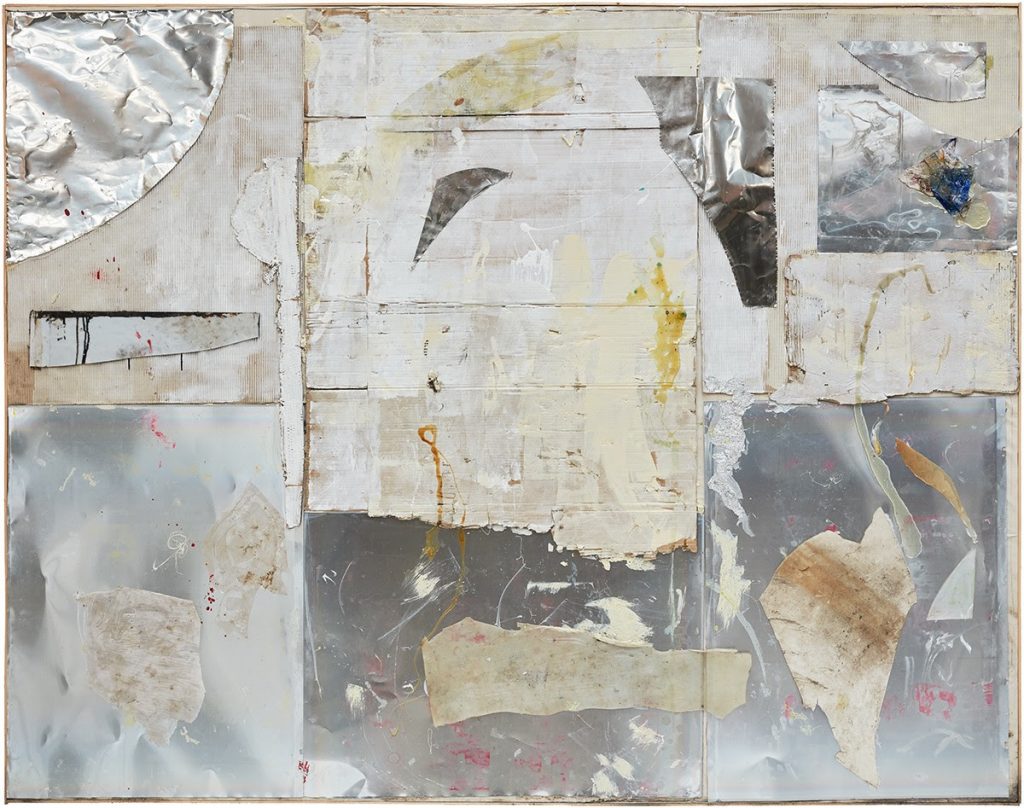 Rudolf Polanszky, Reconstructions, 2015, cardboard, aluminum, fiberglass, resin, and acrylic on linen, in artist's frame, 83 1/2 × 105 1/2 inches (211.9 × 268 cm) © Rudolf Polanszky. Photo: Thomas Lannes
Dating from 2013 to 2016, the wall-mounted Reconstructions presented at the Armory Show feature sheets of aluminum affixed to unprimed canvases at haphazard angles. Polanszky then layers translucent pools of resin and fractured panels of acrylic glass on top, producing silver-toned tableaux that spark an interplay of shimmering, reflective planes and weathered textures. Also on view are two sculptures from 2008 and 2014 that transfer Polanszky's signature process to a floor-based setting. He composes these freestanding works from similarly repurposed materials, employing their jutting, irregular shapes to create curving silhouettes that are elegant and austere in appearance while still retaining a rough-hewn grittiness that divulges their industrial origins.
9 Franz Ackermann at Galerie Templon Paris/Brussels Pier 94, Booth 604

Franz Ackermann Construction 2019 Mixed media
Born in 1963 in Germany, Franz Ackermann lives and works between Berlin and Miami. Travel as an experience, displacement and observation are the notions at the heart of his paintings and installations. Ackerman's exuberant works with their saturated colours are inhabited with overlapping forms that merge with fragments of images taken directly from urban reality. Globalisation and the issue of tourism also play an important part in his artistic explorations.
10 Anna Plesset Jack Barrett New York Pier 94, Booth P17

Anna Plesset Travelogue (21st Century Room) Interior Detail 2013-2018 Oil on panel
Anna Plesset is an interdisciplinary artist who uses painting, sculpture, and drawing to create installations that engage personal and shared histories to examine how history, memory, and knowledge are constructed and mediated.
The Armory Show 711 12th Avenue Pier 90 and Pier 94 New York City Thursday 5th March -Sunday 8th March
@thearmourynyc
Categories
Tags