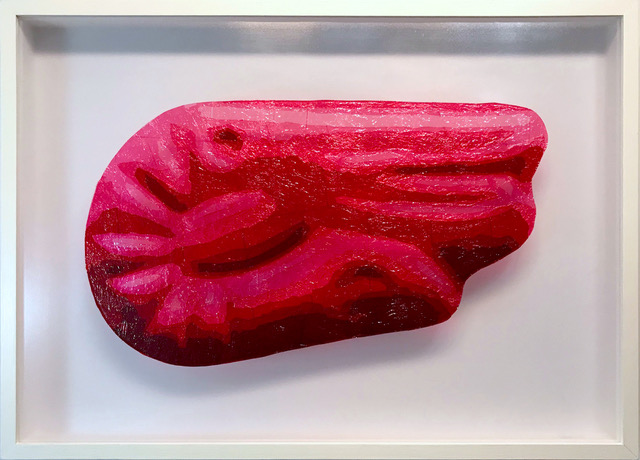 West Contemporary Editions presents 'Sweet Nostalgia' by up-cycle artist duo, SweetArt in Fitzrovia, featuring giant iconic sweets and treats made entirely of discarded Quality Street sweet wrappers resulting in meticulously hand-crafted collages set behind glass, as well as limited edition prints.
This is the second solo exhibition of the SweetArt husband and wife duo, Vic and Simon Dry. For this show, they invite the public to immerse themselves in the excitement of the sweet shop experience we all recall from when we were children. As well as their signature giant Quality street collage artworks, other works pay homage to Toblerone, Liquorice Coils, Black Jacks and Fruit Salads, as well as the Lindt Bunny and Cadbury's Creme Egg.
One of the highlights of the show for which many hold a sense of nostalgia is the much loved Coca Cola glass bottle, entitled, 'The Real Thing' which has been a new challenge for Simon of SweetArt to create. One of the most iconic objects in pop culture and pop art since the creation of its initial 'Contour' glass bottle in 1915, it was designed by The Root Glass Company of Terre Haute, Indiana and has made countless appearances in the art world ever since, such as in the work of Pop Art's creator, Andy Warhol.
Another key message of SweetArt's work is to raise awareness of the environmental global problem we face of how to tackle single-use plastics. They also hope their work will encourage more artists to re-use materials by up-cycling them, rehashing and reusing them in creative works of art.
"Following a sell-out show in Brick Lane and subsequent successful art fairs, we really wanted to fulfil the dream of having an art show that would offer the "kid in a candy shop" experience – for the big kid in all of us." says Vic Dry. "Rubbish up-cycled into a work of art that evokes happy memories – which doesn't in- volve consuming any calories!"
The 'Bashful' pink shrimp is the largest piece Simon has produced as it was Simon's favourite penny sweet when he was a kid, holding a great affection for him. Vic has a soft spot for the Quality Street "Goldfinger" – her favourite Christmas sweet – which has already sold.
"This time around the pieces are more complex, better crafted and took longer to make. We have also expanded our subject matter to include classic soft drinks," said Simon. Vic added, "It is still nerve-wrack- ing but there is even more love and nostalgia in this show – SweetArt has really touched people. Mention sweets and we all have memories of spending money at the local sweet shop, Christmases, birthdays and our favourites… it's an evocative subject and is always greeted with enthusiasm."
'Sweet Nostalgia' by SweetArt presented by West Contemporary Editions 14 Percy Street, Fitzrovia, W1T 1DR
Private View: Wednesday 4th March, 6:30pm – 9:30pm Show dates: 3rd March – 8th March
Originals and prints will be available to view and purchase at www.west-contemporary.com/buy-art/ available to art buyers globally
About The Artist
A few years ago, a pile of discarded Quality Street wrappers sat on the post Christmas dinner table. A light shone through the wrappers and created a beautiful shadow effect on the wall. Simon Dry thought there could be a way of creating some beautiful images using them, but had no idea how to do it or what the subject matter should be.
For years after, the couple collected used wrappers from family, friends, and neighbours until their studio was bursting. Once Simon had enough raw material, he toyed with various ideas until Vic had a brain- wave. 'Why not make big images of iconic sweets?' Then, after much experimentation, SweetArt was born.
Categories
Tags