Vue dinstallation de lexposition Le Monde Nouveau de Charlotte Perriand credit artiste succession Picasso-2019
Twenty years after the death of Charlotte Perriand, the Fondation Louis Vuitton is commemorating the imaginative creator with an outstanding exhibition. Her brazen, nonconformist, youthful spirit is thrilling Paris as an epic exhibition of her life and work. This showcase emphasises the associations between her design, architecture and artworks.
Perriand lived from 1903 to 1999, nearly crossing the 20th century, and she made the most of her decades, designing structures, furniture, rooms and objects at an extraordinary passage. She found a way to contest with the austere Modernist demand for utility and practicality with the intangible quality known as good taste. Perriand was a Parisian native but she traveled outside France often, sometimes for years at a time. She had a dialogue with other cultures in Vietnam, Brazil, Mexico and Japan.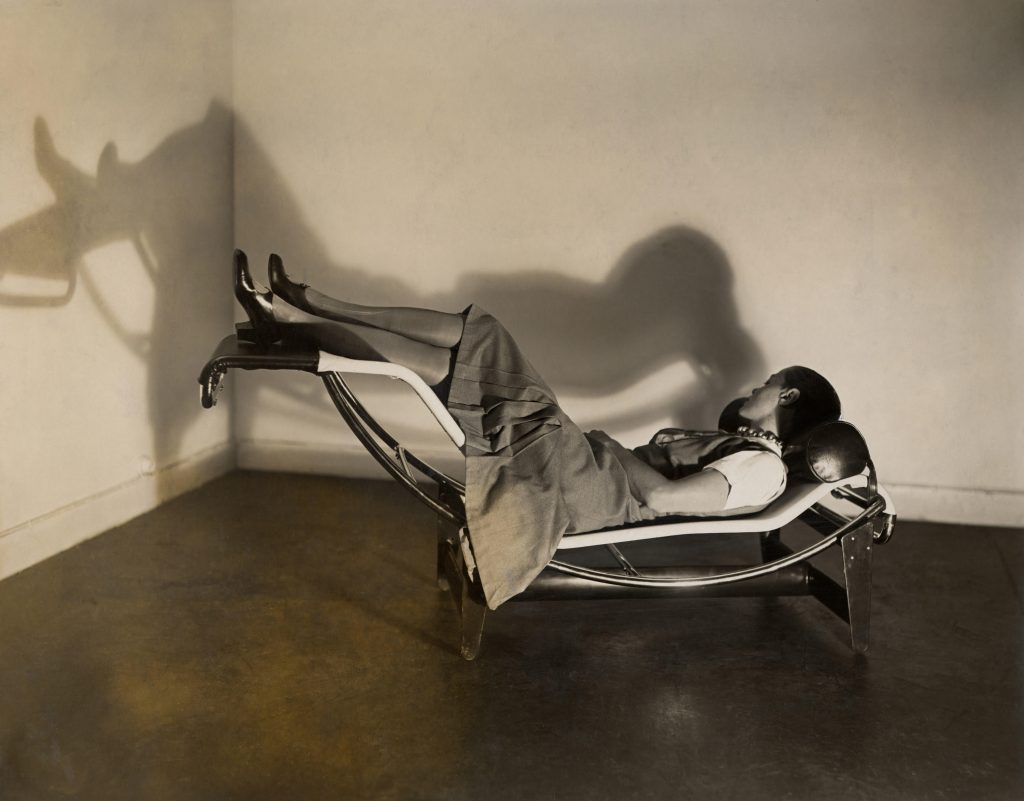 Charlotte Perriand sur la « Chaise longue basculante, B306 », (1928-1929) – Le Corbusier, P. Jeanneret, C. Perriand, vers 1928 © F.L.C. / ADAGP,
"Charlotte Perriand: Inventing a New World," the largest exhibition of her work to date, needed four years and five curators to organise. It features 200 of her own pieces (some of them being collaborations), works by Fernand Léger, Pablo Picasso along with other artists. The galleries of the Fondation Louis Vuitton, the rising Frank Gehry designed art museum in Paris are filled with works of art and design by some of the twentieth century's greatest masters- Alexander Calder, Joan Miro and so on. Generally, these paintings, mobile structures and sculptures might comprise of a show of their own, but presently they are supporting this pioneering new exhibition.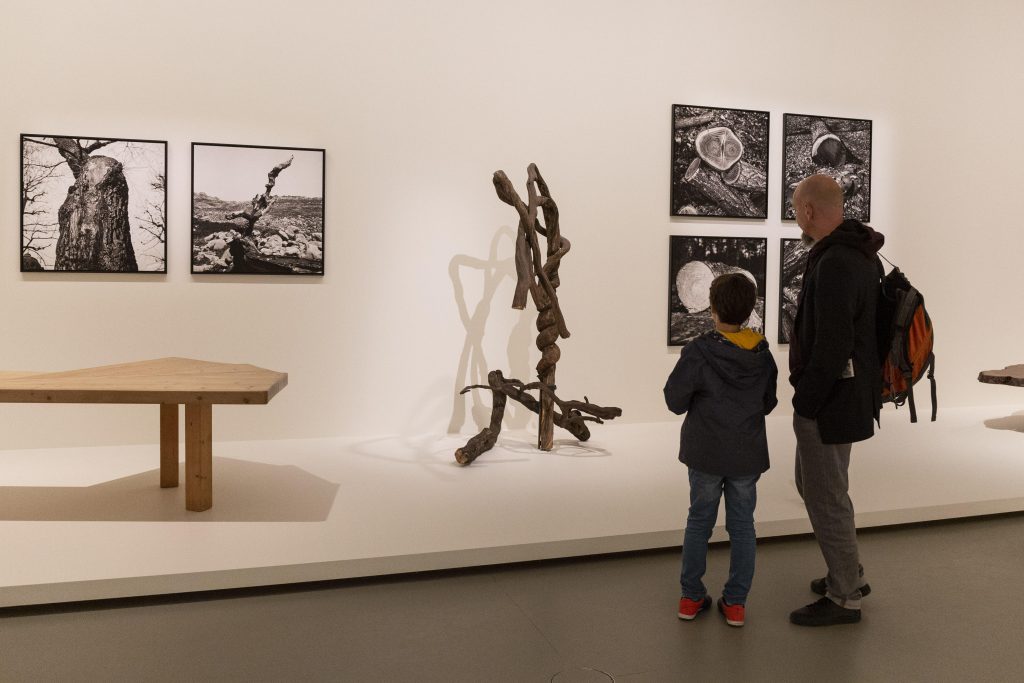 Visiteurs de lexposition Le Monde Nouveau-de Charlotte Perriand
Around are rooms woven with trapeze bars, a metallic alpine cabin that looks more like a lunar landing module and chairs in wonderful colours. One assumes 1920s modernism as a somber, stagnant black-and-white affair, represented in coarse archive photographs. This shows Perriand's world to be as bright as a rainbow and alive with ideas. The offerings include not only Charlotte Perriand's greatest hits — seating and cabinetry from the 1920s to the 1950s — but also black-and-white photographs. The exhibition also has nine of her most prominent rooms, including the Salon d'Automne which features chrome tube furniture in an uncluttered plan that was outstandingly revolutionary during the period.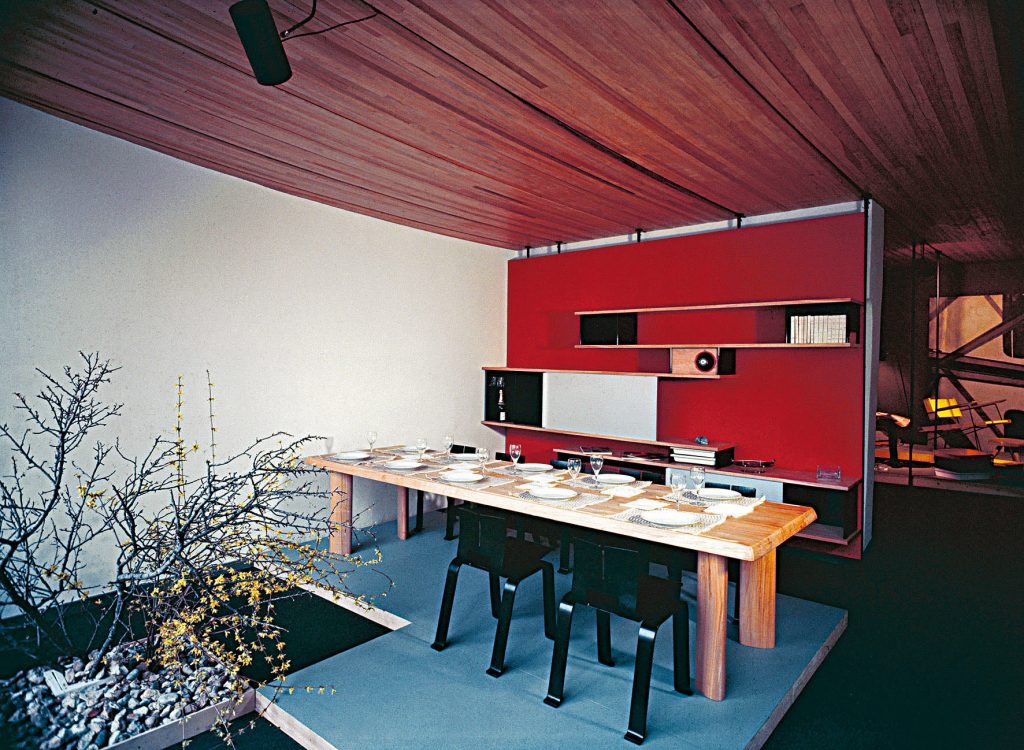 Charlotte Perriand, Furniture and scenography, Steph Simon gallery, 1956 © Adagp, Paris, 2019 © Gaston Karquel / AChP
Visitors are able to engage in a painstakingly fabricated world of modernity consisting of selflessly researched, full-scale reconstructions of spaces that embody Perriand's oeuvre. Paintings by Picasso hang next to Le Corbusier chairs and Fernand Léger's works stand beside "L'Art Brut" photographs and free form furniture. Onlookers are encouraged to rethink the role of art in society particularly currently.
In gallery 1, The Ideal Apartment, is dedicated to Perriand's formative years in the 1920s, when she embraced the industrial aesthetic, taking inspiration from automobiles and cinema to create modern chrome tube furniture for her Saint-Sulpice studio. From the start, between 1927 and 1929, Perriand reinvents housing (gallery 1), remarkably by collaborating with Le Corbusier and Pierre Jeanneret. The 1930s (gallery 1) are the scene of her political, social and artistic engagement, often alongside Fernand Léger. It is also with the latter that, mindful of the restrictions of progress and technology, she imagines a raw art inspired by nature (Gallery 2).
Her breakout piece the "Bar sous le toit" (bar in the attic), displayed at the Salon d'Automne in 1927, convinced the renowned architect and designer Le Corbusier to take her on in his studio. There, she collaborated with Le Corbusier and Pierre Jeanneret to create such timeless icons as the "chaise longue" and the "fauteuil grand confort" armchair envisioned for an "ideal apartment," as exhibited at the 1929 Salon d'Automne.
Other thematic galleries include Japan & Reconstruction (gallery 4) based on her time spent in Japan in the early 1940s, advising the country on industrial arts. Her crucial stay in Japan reinforces her understanding of the links between creation and tradition and it initiated one of the central contributions of her work, the dialogue among cultures. Her 1941 exhibition Selection, Tradition, Creation at Tokyo's Takishimaya department store presented fresh interpretations of living spaces using traditional materials, such as bamboo. As she found inspiration in Zen philosophy and Japanese culture, a new generation of Japanese designers was, in turn, influenced by her work. Galleries 5, 6, and 7 are dedicated to A Synthesis of Arts and Cultures, exploring continuity between art and architecture as presented in the 1995 Tokyo exhibition Proposal for a Synthesis of the Arts. Her stay in Rio at the beginning of the 1960s (gallery 7) allowed her to further enrich her imagination.
In gallery 9, Perriand's works links with those of Robert Delaunay, Simon Hantaï, Alexander Calder, Pablo Picasso, Henri Laurens and Fernand Léger in places understood of by her to comprehend and exhibit Art. Her love of the mountains (galleries 8 and 10) is also echoed in several of her constructions, from the 'Refuge Tonneau' to the ski resort of Les Arcs ski resort in Savoy France. Her building concept harmoniously integrated each structure into the slopes, while making the most of the majestic Alpine views. Conclusively, it is the close relationship that she founded with Japan that concludes this itinerary:  the Maison de Thé (1993), created for UNESCO, is rebuilt in Gallery 11, reverberating the architecture of Frank Gehry.
Perriand's work echoes with variations in the social and political order, the development and evolution of the role of women and the changes in approaches towards urban living.
Charlotte Perriand at Fondation Louis Vuitton runs through Feb. 24th, 2020.
Categories
Tags