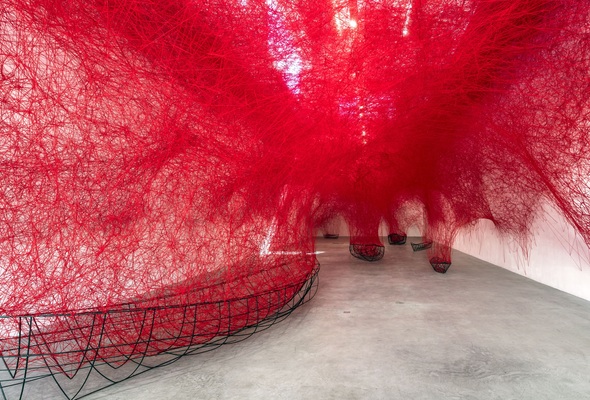 Installation View Uncertain Journey 2016 Courtesy the artist and Blain|Southern Photo: Christian Glaeser
So the worst kept secret in the art world is finally out Blain/Southern is finally over – the drip drip feed of senior staff leaving, artists in dispute, and the overstretching of the company with the opening of their New York space has reached its final destination. Last night Harry Blain released a statement about the closing of all Blain/Southern spaces.
Statement from Harry Blain, Founding Director, Blain|Southern
I have reached the difficult decision to close Blain|Southern's galleries in London, Berlin and New York.
Ten years ago, together with Graham Southern I established Blain|Southern. Throughout our partnership, it was an honour to collaborate with so many talented artists and build an exhibition programme that reflected and celebrated the breadth of contemporary art practice worldwide. Alongside the programme, the gallery facilitated new commissions, public loans and museum exhibitions for our artists whilst supporting their broader activities.
Despite the support of dedicated gallery staff, I deeply regret that I have been unable to secure the gallery's future long term. I want to thank all the artists, collectors, institutions, museums, staff and everyone who has worked with the gallery over the last decade.
Personally, it's a real shame I remember Harry from his Haunch of Venison days it was one of the venues that really helped and encouraged FAD's early days. As a gallerist it's really important to keep your artists on board with your vision when that starts to become problematic you know you are in trouble.
More on this story:
Artnet: news.artnet.com
The Art Newspaper: theartnewspaper.com/news/
Categories
Tags