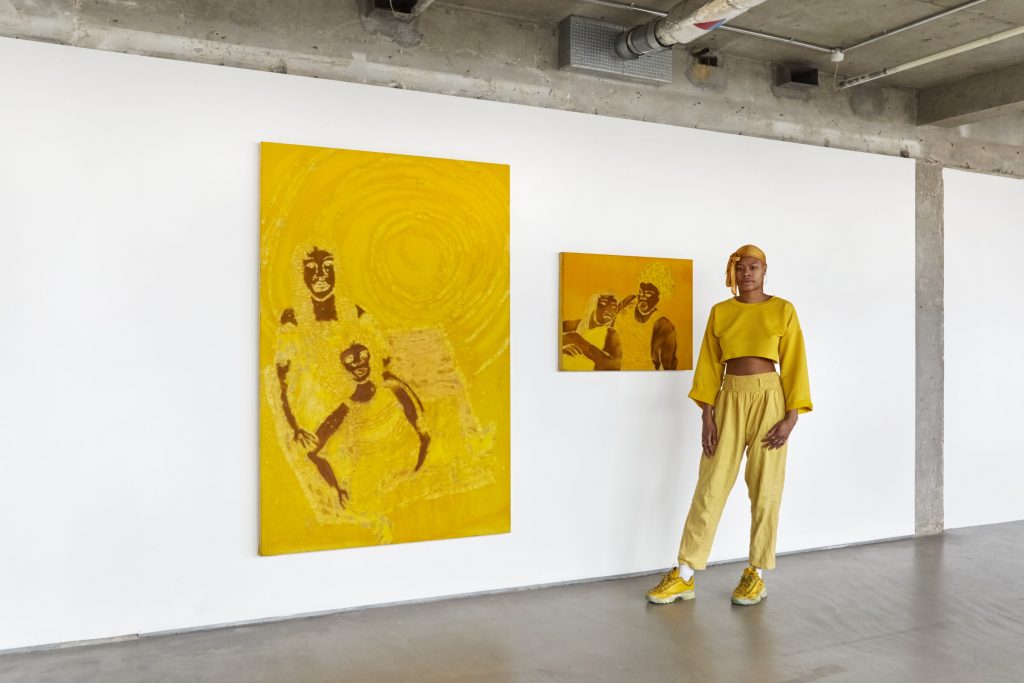 British-Nigerian artist Sola Olulode is currently in a 3-month residency at V.O Curations, resulting in a solo exhibition 'Where the Ocean Meets the Beach' taking place at V.O's 12th-floor gallery from 13th February to 28th March 2020. A fine art graduate from the University of Brighton and recently shortlisted for the Evening Standard Art Prize, Olulode has been developing a narrative investigating queerness and black identity through the lens of social interactions.

Sola Olulode, Where the Ocean Meets the Beach install shot

Sola Olulode, Where the Ocean Meets the Beach install shot
Olulode's previous work explored the relations of QTIBPOC (Queer Trans Intersex Black People & People of Colour) and their nightlife experiences: dancing, connecting and collective joy. 'Where the Ocean Meets the Beach' presents a new series of paintings where narratives of queer and black identity culminate in the representation of romantic relationships and their complexities, directly drawing upon the artist's personal experiences. Focusing on romance, the artist delves into the intimacy, courtship, complicity of dating, and the initial impassioned 'honeymoon' phase.
The diptych 'Loving You is Like Living on a Wave' represents Olulode's experimentation with the Adire technique, a dyed textile made by the Yoruba people in Nigeria. The melted wax on the indigo canvas creates pa erns that evoke the tranquil rhythm of the waves, gliding over the lovers, driving away to serene waters. From the deep tones that echo the atmosphere and the intimacy of nighttime to the warmer hues that veil day-to-day interactions, the exhibition explores love as a protective barrier, a refuge from the misrepresentation and the confinement within a heteronormative ideal that both denies and depreciates queer relationships.

Sola Olulode, The Feels (2019)
Taken from artist Travis Alabanza's poem The Sea, the exhibition title refers to Alabanza's feeling on gender fluidity as a boundless place similar to 'where the ocean meets the beach'. Analogously to Alabanza's sentiment, Olulode renders the fluidity of emotions that chronicle the falling in love.
Exhibition: 'Where the Ocean Meets the Beach' runs 13 February to 28 March 2020 Opening Times: Wednesday – Saturday 11am to 5pm, and by appointment otherwise Location: VO Curations – 12th Floor, 11 York Road, London SE1 7NX

Sola Olulode, In The Middle (2018)
V.O Curations is a contemporary gallery, residency and studio programme based between London and Paris, founded in 2018 by Zina Vieille and Nnamdi Obiekwe. Their role as mediators between artist and institution is illustrated by their culture spaces across Central London: from exhibition sites to artist studios or publishing hubs, their spaces are primed for cultural exchange, in search of urban revitalisation.
Categories
Tags