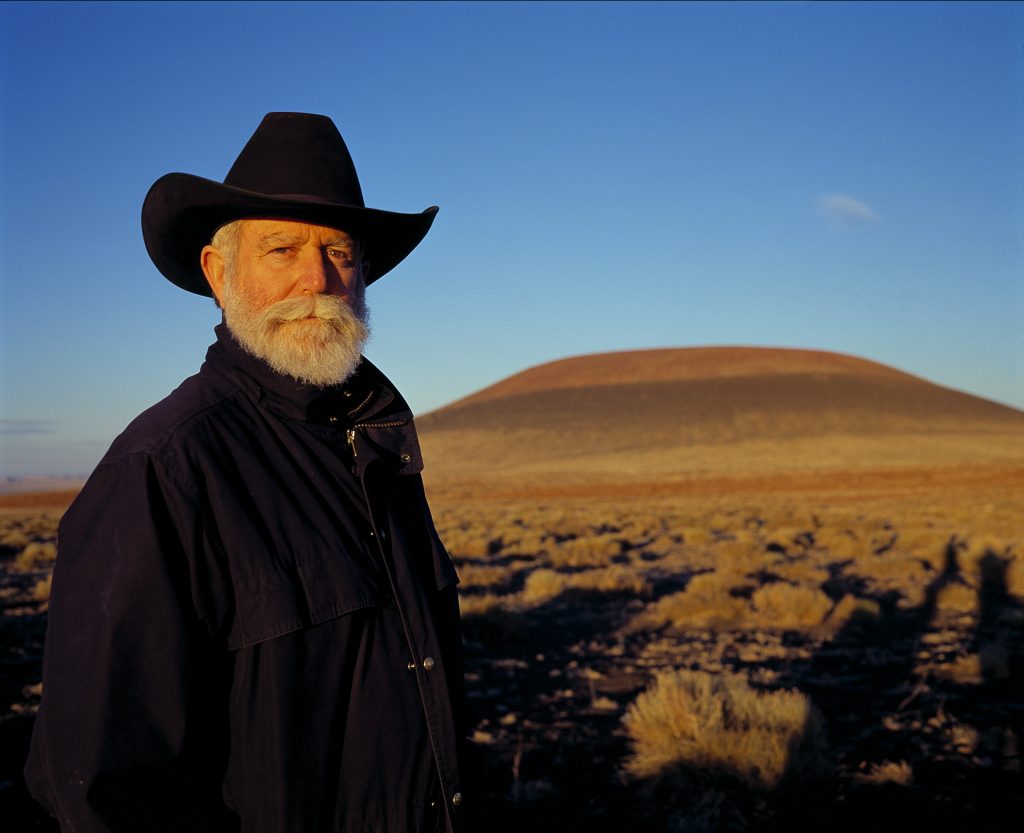 James Turrell, Photograph by Florian Holzherr Copyright James Turrell,
This will be James Turrell's second solo exhibition at PACE and will consist of new works by the Light and Space master. The exhibition will be on view from 11th February to 27th March 2020. Turrell is among the most influential artists of the past fifty years and Pace is proud to continue its long commitment to him stretching back to 1967. This is the gallery's ninth exhibition of Turrell works.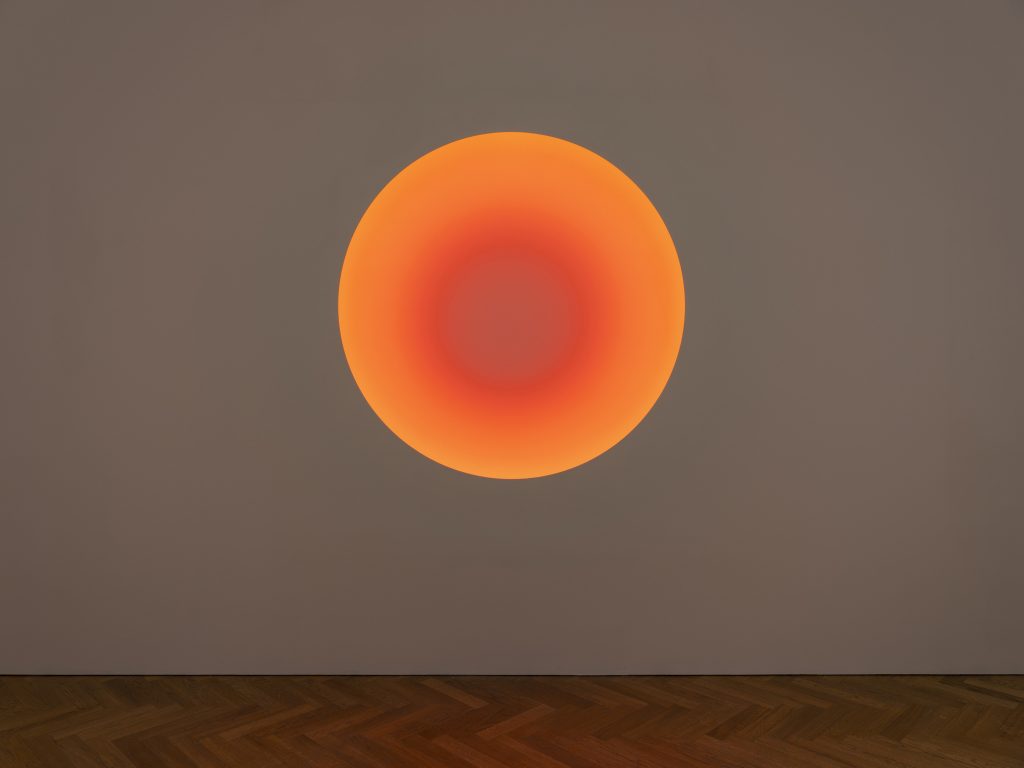 James Turrell, Aquarius, Medium Circle Glass, 2019 © James Turrell, courtesy Pace Gallery
Influenced by the notion of phenomenology in pictorial art, Turrell focused, in his earliest work, on the dialectic between constructing light and painting with it, building on the sensorial experience of space, colour, and perception. These interactions became the foundation for Turrell's oeuvre, which evolved to an investigation of the immateriality of light itself.
Turrell's exhibition at Pace features four new works from the Constellation series staged in site-designed chambers. The works will feature elliptical and circular shapes with a frosted and curved glass surface animated by an array of technically advanced LED lights, which are mounted to a wall and generated by a computer programme. The light changes are subtle and hypnotic, one colour morphing into the next. The programme runs on a loop that is imperceptible to the viewer, prompting a transcendental experience. With these new works, Turrell continues his exploration of technological possibilities combined with sensory practices and gradient colours.
"To some degree, to control light I have to have a way to form it, so I use form almost like the stretcher bar of a canvas… When I prepare walls, I make them so perfect that you actually don't pay attention to them. This is true of the architecture of form I use: I am interested in the form of the space and the form of territory, of how we consciously inhabit space."
James Turrell.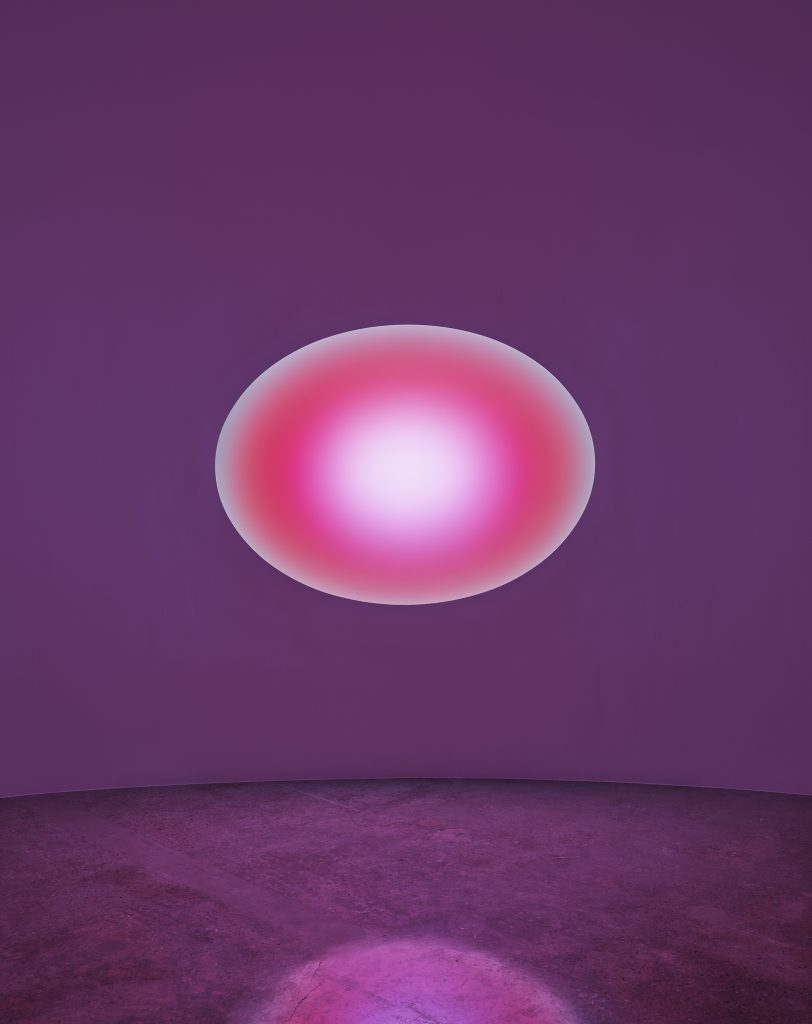 James Turrell, VARDA (03), 2017, LED light, etched glass, shallow space, 71″ × 53″ (180.3 cm × 134.6 cm), INSTALLATION, © James Turrell, courtesy Pace Gallery
Since his earliest Projection Pieces (1966–69), Turrell's exploration has expanded through various series, including Skyspaces (1974–), Ganzfelds (1976–), and perhaps most notably, his Roden Crater Project (1977–) near Flagstaff, Arizona. Representing the culmination of the artist's lifelong research in the field of human visual and psychological perception, Roden Crater is a controlled environment for the experiencing and contemplation of light and stars, a shared interest with Pace's exhibition in London. Fundraising is underway to complete the construction and open it to the public.
Turrell's practice has equally materialized in small-scale works, including architectural models, holograms, and works on paper. His inspiration draws from astronomy, physics, architecture and theology.
James Turrell 11th February – 27th March 2020 6 Burlington Gardens, W1S 3ET London
Opening Reception: Monday 10th February 2020 6–8pm. pacegallery.com
About The Artist
James Turrell (b. 1943, Los Angeles) attended Pomona College, where his studies concentrated on psychology and mathematics. Since 1966, he has created art works made primarily out of light. In 1973 he received a master's degree in art from Claremont Graduate School. His work is represented in international public collections including Tate Modern, London; Los Angeles County Museum of Art; Museum of Fine Arts, Houston; the Solomon R. Guggenheim Museum, New York; Whitney Museum, New York; Chichu Art Museum, Naoshima Island, Japan; The Museum of Modern Art, New York; and the Israel Museum, Jerusalem.
Turrell's first one-person exhibition, James Turrell: Light Projections, was held in the fall of 1967 at the Pasadena Art Museum, curated by John Coplans. An accompanying catalogue essay, written by Coplans, was also published in the October 1967 issue of Artforum. This seminal exhibition positioned Turrell at the forefront of the Light and Space movement and set the stage for nearly 200 one-person exhibitions and 250 group shows worldwide.
Notable recent one-person exhibitions include James Turrell, held at the Solomon R. Guggenheim Museum, New York (2013) as well as James Turrell: The Light Inside, Museum of Fine Arts, Houston (2013). These exhibitions were held concurrently with James Turrell: A Retrospective, organized by the Los Angeles County Museum of Art, California (2013), which subsequently traveled to the National Gallery of Australia, Canberra (2014), before closing at the Israel Museum in Jerusalem (2015). Another retrospective of his work was exhibited at Mass MoCA, North Adams, Massachusetts (2017). In 2018, The Substance of Light was organized by Museum Frieder Burda, Baden- Wu?rttemberg, Germany (2018), and in 2019 Asia Society, Hong Kong, presented Yukaloo.
In addition to twenty-two permanent installations at institutions such as the Henry Art Gallery, Seattle; Fine Arts Museums of San Francisco, de Young Museum; and P.S. 1, Long Island City, New York, James Turrell's work is held in over eighty collections throughout the United States and abroad. In 2009, the Hess Art Collection inaugurated the James Turrell Museum in Colome?, Argentina, housing a collection devoted exclusively to the artist's oeuvre.
Turrell has been the recipient of numerous awards and honors throughout his artistic career, beginning with a grant from the National Endowment for the Arts (1968, 1975). Turrell received a Guggenheim Fellowship (1974), which, coinciding with the loss of his studio, allowed him to initiate the Roden Crater Project. Other awards and honours include The John D. and Catherine T. MacArthur Foundation Fellowship (1984); Chevalier des Arts et des Lettres (1991); as well as the Commandeur de l'Ordre des Arts et des Lettres (2006), conferred by the French government. Turrell was elected member of the American Academy of Arts and Letters, New York (2011), and presented with the National Medal of Arts, awarded by President Obama (2013). In 2017, Turrell received The School of the Museum of Fine Arts at Tufts University Medal Award.
James Turrell has received honorary doctorates from several academic institutions, including the Art Institute of Chicago (1999); Claremont Graduate University, California (2001); Royal Academy of Art, London (2002); and Pratt Institute, New York (2015).
Pace has represented James Turrell since 2002. The exhibition is organised in collaboration with Kayne Grif n Corcoran.
Categories
Tags