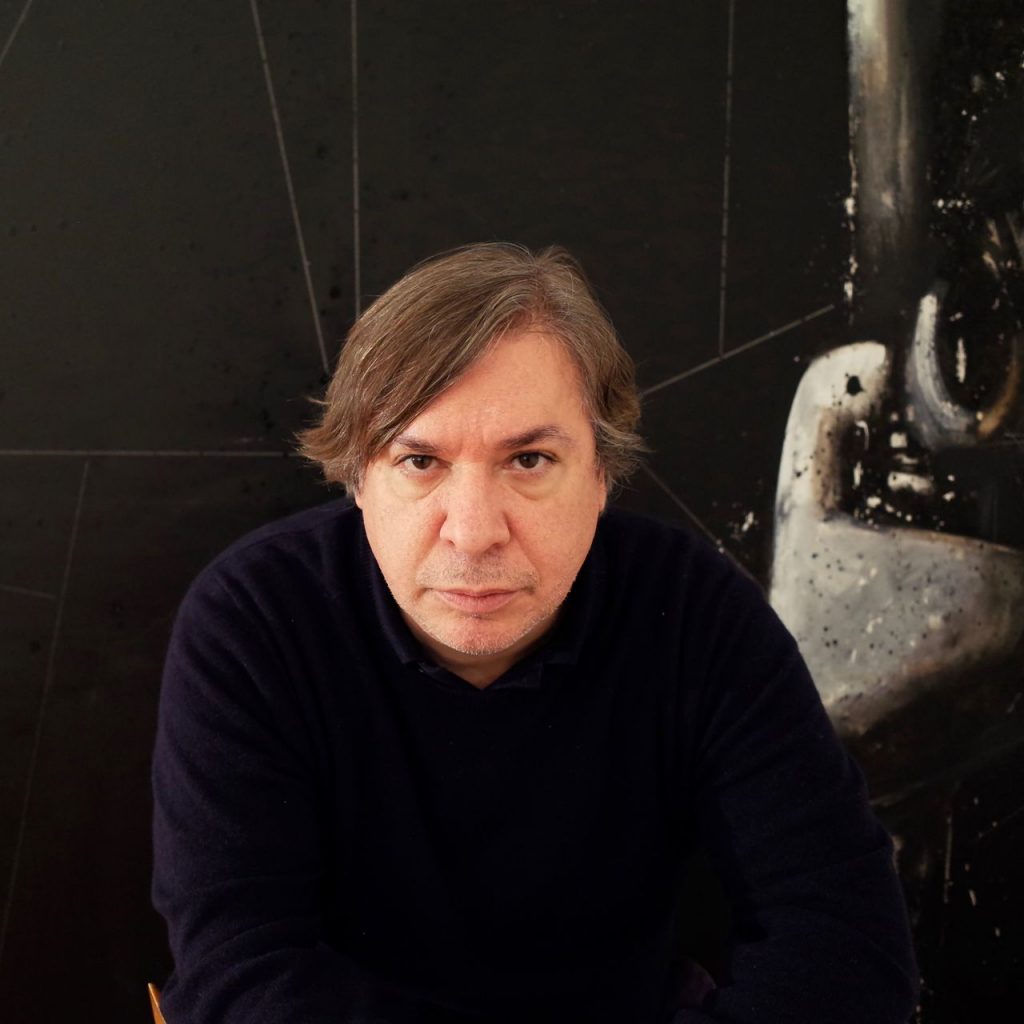 Portrait of George Condo © George Condo Courtesy the artist and Hauser & Wirth
Marc Payot, President, Hauser & Wirth, today announced the gallery's worldwide representation of George Condo.
In a statement, George Condo wrote:
'I look forward to starting this new decade with Hauser & Wirth. 2020 will be a chance to begin working with a gallery that has created an exceptional global platform for artists and viewers to discover, engage and study a range of multi-generational and cross-cultural artists. They have consistently mounted landmark exhibitions around the world opening the eyes of the viewer to the new and unfamiliar. It is of great interest to me that Hauser & Wirth takes a very comprehensive and academic approach to the artist's legacy.'
George Condo is a defining figure of contemporary American painting. Over the past four decades, he has forged a relentlessly inventive path, deploying technical skill and canonical art historical knowledge to channel the painterly modes of American and European art history into works of astonishing originality. Condo synthesizes past pictorial languages and motifs to create, as he has put it, 'composites of various psychological states painted in different ways.' Oftentimes, the influence of multiple historical moments can be felt in a single work. Most of Condo's paintings are portraits, not of living individuals but of invented characters, captured in ways that reveal the humanity inherent in their fractured psychological states.
Condo collapses hierarchies, between painting and drawing, the beautiful and the grotesque, and the comic and the tragic. A breakthrough moment came in 1984 in Cologne at Monika Spru?th Gallery when he rst showed his hybrid paintings or 'fake Old Masters.' To produce these, he applied the style of 17th-century paintings to contemporary subjects, as Simon Baker referred to in his book 'Condo: Painting Recon gured': 'Rembrandt paints Bugs Bunny.' While other Postmodern artists were at that time using appropriation to create collage-style works marked by an intentional sense of disjuncture, Condo's unique approach to the remix yielded a powerfully uni ed image. He subsequently coined the term 'arti cial realism' – the realistic representation of that which is arti cial – to describe his aesthetic.
While Condo's practice has undergone a series of shifts and steady evolution over the years, his life-long love of drawing and music remains constant. Drawing constitutes a rich strand of the artist's creative practice in its own right. He uses the terms 'rhythm' and 'tempo' to describe the process of drawing and the freedom it brings. He has produced 'jazz paintings' depicting imaginary record covers for a number of musicians like John Coltrane and Miles Davis in the style of artists like Kandinsky and de Kooning, evolving into a technical breakthrough of the artist silk-screening his own abstractions; 'orgy paintings' inspired by Toulouse-Lautrec, Degas, and Ce?zanne; portraits of 'antipodal creatures' depicting misshapen, big-eared, bug-eyed humanoids inspired by Aldous Huxley's 1956 essay 'Heaven and Hell'; a body of 'commedia dell'arte' works featuring recurrent fictitious characters like Rodrigo and Jean-Louis; 'royal portraits' of Queen Elizabeth II; and 'drawing paintings' which marry the abstract and the figurative in a teeming field of forms. Alongside his paintings, which combine abstract and figurative forms, Condo has developed a rich vocabulary of sculpture since the 1980s when he began to meld found objects with materials like wood, plaster and paint to create three-dimensional bronze sculptures. In his 2019 commission for the Metropolitan Opera, Condo created Constellation of Voices, a 13.6 foot sculpture with a 24 carat gold leaf surface sitting on the terrace above the entrance to the Met overlooking Lincoln Plaza. A sculptural beacon of light uniting abstraction with classical iconography.
Condo's style is instantly recognizable and yet impossible to pin down. Bespeaking the rich complexity of his approach, curator Ralph Rugoff, who included the artist to critical acclaim in the 2019 Venice Biennale exhibition 'May You Live in Interesting Times,' has said, 'George's paintings have a life that's very different from what you get in other artists. There's real heat on the surface, and things are changing all the time.'
Hauser & Wirth's first project with George Condo will be an exhibition at Hauser & Wirth Zurich June 2020, coinciding with Art Basel. Another forthcoming project is the group exhibition 'Pablo Picasso & Les Femmes d'Alger' at Staatliche Museen zu Berlin – Museum Berggruen, which opens in June 2020. Condo will maintain a relationship with Sprueth Magers, with whom he has worked since 1983.
Marc Payot, President of Hauser & Wirth, commented,
'We are profoundly honoured to welcome George Condo to the gallery. He is a pioneer, a seeker, a technical master who has continually expanded the language of painting through his passionate and unconventional engagement with art history. George is immersed in the conundrums of the human condition, exquisitely sensitive to what he has called 'the madness of everyday life' and its effects on us all. This results in an art that is deeply empathetic even while pointing to the dystopian. He is, quite simply, one of our greatest contemporary painters. Given his professed love of so many of our artists across generations, we are particularly excited to explore the connections between his work and those of other iconic Americans in our program, including the titans Arshile Gorky, Philip Guston, and Jack Whitten. We're enormously excited and humbled to be working with him.'
About the Artist
Born in Concord, New Hampshire in 1957, George Condo lives and works in New York City. He studied Art History and Music Theory at the University of Massachusetts in Lowell, where he became particularly inspired by a course on Baroque and Rococo painting. He moved to Boston and played in a punk band, 'The Girls'; relocated to New York, where he worked as a printer for Andy Warhol; and spent a year studying Old Master glazing techniques in Los Angeles. During his first trip to Europe in 1983, Condo connected with the anarchic Mu?lheimer Freiheit group in Cologne which included painters Jiri Georg Dokoupil and Walter Dahn.
Condo would soon go on to spend a decade in Europe: in 1985 he moved to Paris and did not return to New York permanently until 1995, with the birth of his second child. During this period, Condo invented his hallmark 'artificial realism' and made his first foray into sculpture. Firmly rooted back in New York, he received his first major award, the Academy Award in Art from the American Academy of Arts and Letters, in 1999, followed by the Francis J. Greenberger Award in 2005. Further accolades for this constant innovator would follow: Condo was a 2013 honoree of the New York Studio School alongside writer Musa Mayer and poet Bill Berkson, and BOMB Magazine's 2018 Anniversary Gala Honoree.
Condo had his first solo show in 1983 at the Ulrike Kantor Gallery in Los Angeles. Since then, his work has appeared in a number of solo exhibitions. In 2017, a retrospective of Condo's works on paper, 'The Way I Think,' traveled internationally from The Phillips Collection, Washington DC to the Louisiana Museum of Modern Art, Humlebæk, Denmark. In a large-scale exhibition one year prior, 'Confrontation' at the Staatliche Museen zu Berlin – Museum Berggruen in Berlin, Germany, work by Condo was presented alongside some of his major art historical reference points: masterpieces by Ce?zanne, Picasso, Matisse, Klee, and Giacometti. Condo's portraiture was the subject of the 2011 – 2012 'Mental States,' a mid-career survey exhibition which traveled from the New Museum, New York to the Museum Boijmans Van Beuningen, Rotterdam, Netherlands, Hayward Gallery, London, United Kingdom, and Schirn Kunsthalle, Frankfurt, Germany; and the 2005 'One Hundred Women. Retrospective' shown at the Museum of Modern Art, Salzburg, Austria, and Kunsthalle Bielefeld, Bielefeld, Germany.
Categories
Tags