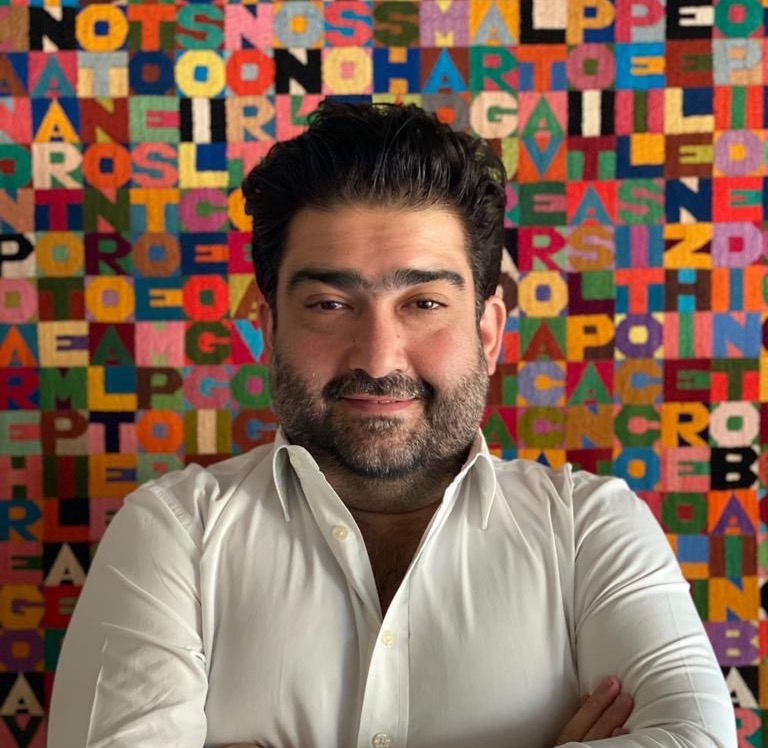 We caught up with London-based collector and philanthropist Kamiar Maleki, who served as director of Contemporary Istanbul from 2016 to 2018 to talk about his new appointment as director off VOLTA and PULSE.
Kamiar I know that after you left Istanbul Contemporary you had been thinking of setting up a new USA art fair, what persuaded to work on VOLTA?
When the opportunity of running VOLTA and PULSE came along, I could not refuse. I have been an avid VOLTA attendee for many years as a collector, both in New York and in Basel, and have met some amazing galleries and artists via that platform. So I had a deep knowledge of the fair: its history, its image, and the potential of the fair.
Having run Contemporary Istanbul successfully for two editions I knew that I wanted to have a little break to focus on my next move. While starting my own fair is a longterm ambition of mine, the history of VOLTA, in combination with Ramsay Fairs — its new owners —, was such an intriguing opportunity. Ramsay Fairs owns the Affordable Art Fair brand and is invested in many other fairs throughout the world, and I felt that their ambition, drive, and enthusiasm for VOLTA and PULSE gave it an edge. Having spoken to Amanda Coulsen the founder of VOLTA, and Will Ramsay, the founder of Ramsay Fairs, I felt an instant synergy in thought process, ambition, and desire to position this fair back to being a fair where one can discover great art. Working in three amazing cities like Basel, New York and Miami was also an intriguing factor. The team is passionate, dedicated, and hard-working, which makes this process even more attractive.
VOLTA New York is moving to a new venue Metropolitan West – as well as this will you be implementing any other changes?
We have relaxed the New York edition's initial mandate of being a solo-only production, while maintaining a curatorial rigor in all booth presentations, whether these are solo, two-artist, or in a very few cases three-artist projects. Truth be told, many prior VOLTA New York fairs featured a handful of two-artist booth projects, so long as that booth was large enough to divide the projects up properly into "solos". I feel the time is right to be bold and just state it as such. Galleries face tremendous pressure in applying to and participating in art fairs. Ideally this easing of "solo-only" requirement contributes some relief to certain galleries unable or unwilling to go "all in" with all the risk that comes with a solo project.
How do you plan to stand out as an art fair as there now seems to be so many?
VOLTA's New York edition has defined the solo-project format for over a decade. I believe this move to the more boutique-sized Metropolitan West, coupled with what I mention above about the potential for applicants to present two or perhaps three artists in a booth project, will reflect and emphasize what VOLTA is best known for and always endeavors to be: a place for artistic discovery and collecting. There will be artists making their New York, U.S., even Western debuts here in March, as well as notable names in all stages of their artistic careers.
How has it been working within Ramsay Fairs?
So far it has been an immense pleasure working for Ramsay Fairs. I sit in their London office together with the Affordable Art Fair team who have been nothing but welcoming towards me. In the office we get to talk, discuss, collaborate and find out ways on how we can learn from each other. The board and owner are very approachable and have allowed me to express my creative freedom on the three fairs. The endgame is for VOLTA and PULSE to be a successful international brand, and with this kind of collaboration, it makes life a lot easier. As mentioned before, the team is incredibly hard-working and is dedicated 24/7.
Finally, do you have any plans to move VOLTA to new cities building on the success of New York and Basel?
I always believe that we first have to improve the quality what we have. Make us stand out again, then we can consider of adding to the VOLTA Brand. But I am sure that with the ambition in this group there could be more opportunities to add to the VOLTA Brand.
VOLTA New York March 4–8, 2020 Metropolitan West
ny.voltashow.com
VOLTA Basel June 15–20, 2020 Elsässerstrasse 215
voltashow.com
Categories
Tags