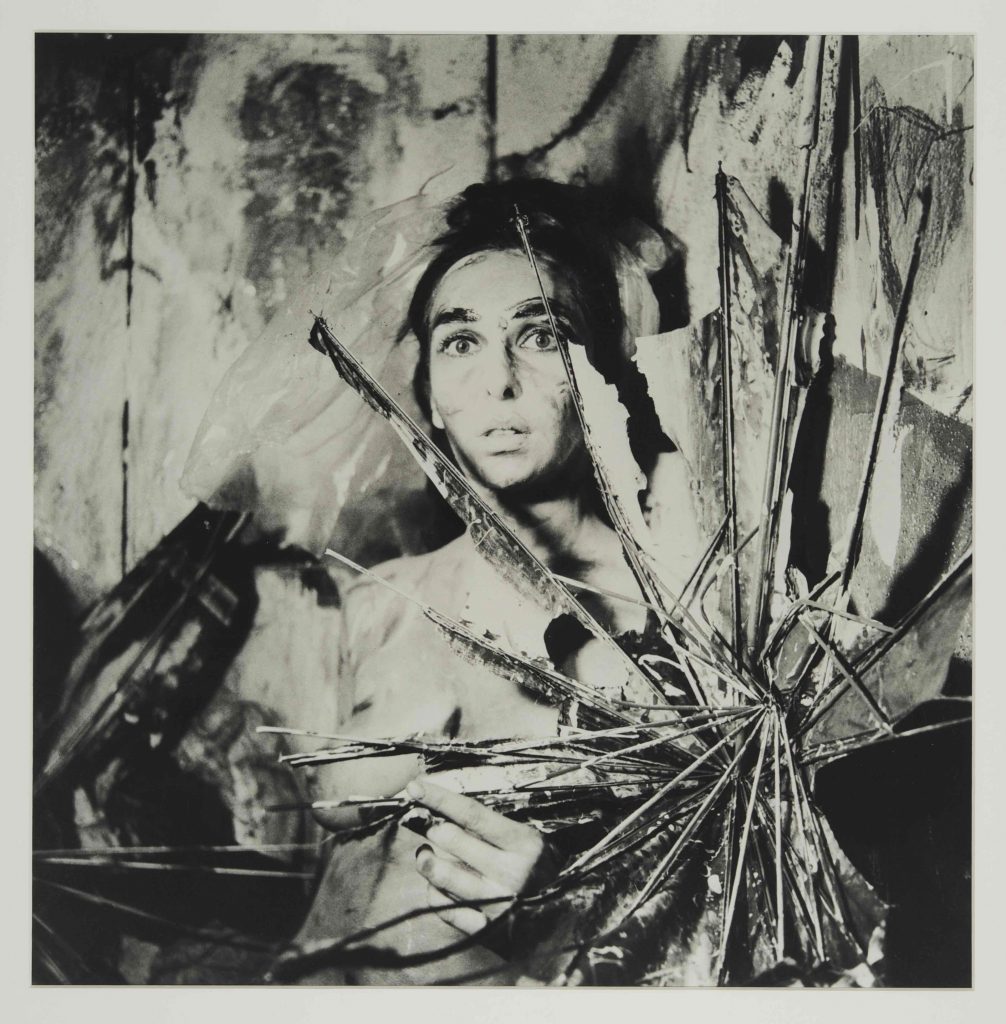 Carolee Schneemann, from the series Eye Body: 36 Transformative Actions for Camera, 1963 / 2005, 18 gelatin silver prints. Courtesy of the Estate of Carolee Schneemann, Galerie Lelong & Co., Hales Gallery, and P•P•O•W, New York © Carolee Schneemann
Featured artists: Matthew Barney, Chicks on Speed, Katrina Daschner, Andrea Fraser, Mette Ingvartsen, Ragnar Kjartansson, Elke Silvia Krystufek, Kris Lemsalu, Sarah Lucas, Paulina Oowska, Lia Perjovschi, Pipilotti Rist, Aura Rosenberg and Carolee Schneemann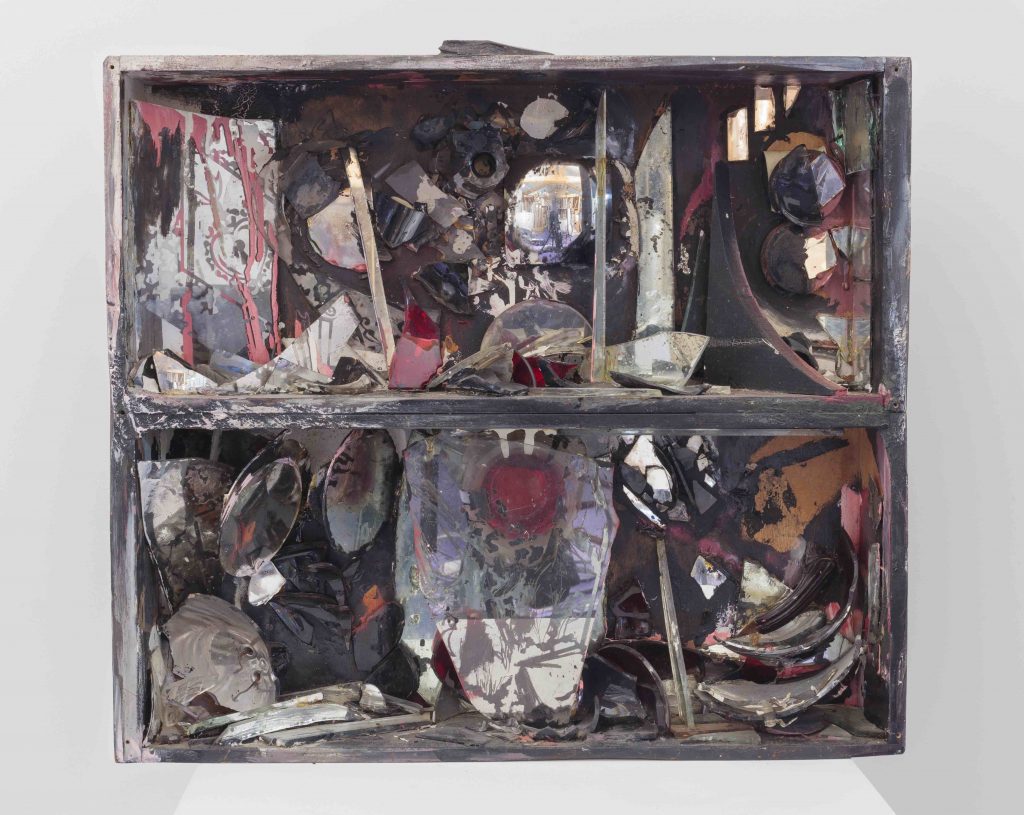 Carolee Schneemann, Controlled Burning: Fireplace, 1963–1964, Wooden box, glass, shards, burnt paint, adhesive. Courtesy of the Estate of Carolee Schneemann, Galerie Lelong & Co., Hales Gallery, and P•P•O•W, New York © Carolee Schneemann
Taking the influential work of the late American artist Carolee Schneemann (1939–2019) as a point of departure, Up to and Including Limits: After Carolee Schneemann, illuminates how Schneemann's artistic legacy resonates in the work of generations of artists succeeding her. Featuring over 60 works by 13 artists and collectives, spanning from the 1980s to the present-day, in dialogue with ten seminal works by Schneemann, the exhibition examines the shifting boundaries of disciplines, medium and content in art over time.
Schneemann worked across various mediums ranging from painting, assemblage, to performance, film, video and photography, but primarily understood herself as a painter. She created new forms of art that emerged as paintings literally set in motion. Using her own body, the artist's expansive choreographies and installations evolved into what she coined 'kinetic theatre'. In addition to her experimental and multidisciplinary approach to artistic media, Schneemann explored how she "can be image and image-maker". She examined her role in society, and struggle for recognition as a woman artist and emancipated and re-determined the representation of women in art through reclaiming the image of the female body in the public realm. The title of the exhibition is taken from one of her seminal pieces, Up to and Including Her Limits (1973-1976). In this work, Schneemann is strapped into a harness and is suspended from the ceiling, using crayons to mark her movements into a large- scale drawing; a work she performed several times before it became transformed into a video installation. By introducing personal subjects, in particular sex and lust from a woman's perspective, like in her film Fuses (1964-1967), Schneemann challenged traditional and patriarchal attitudes towards nudity and sexuality. Her approach was considered highly provocative, and at times caused controversies.
Up to and Including Limits: After Carolee Schneemann is curated by Sabine Breitwieser, former Director of the Museum der Moderne Salzburg, where she originated the 2015 exhibition 'Carolee Schneemann, Kinetic Painting', which toured to the Museum fu?r Moderne Kunst MMK, Frankfurt am Main and MoMA PS1, New York.
Breitwieser says:
"This exhibition is driven by limits, both in media and society: how they can be overcome, transformed and transgressed through time. While Carolee's goal was to extend visual principles off the canvas and into life, this exhibition also considers the new challenges and limits our society is confronted with. It is exploring how and in which forms the expansive and innovative use of artistic media further emerge in works of the generation 'after Carolee Schneemann' and what kind of questions in regards to the body are at stake."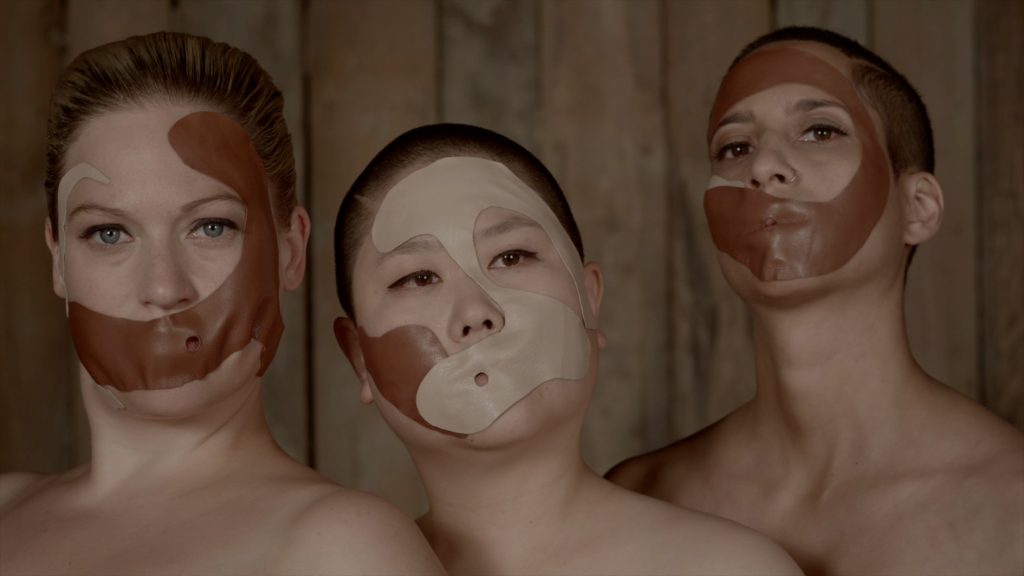 Katrina Daschner, Pferdebusen, 2017, video still, courtesy the artist and Sixpackfilm Vienna
This exhibition evaluates how the next generations of artists have experimented with new forms of making and engaged with new contents in art following Schneemann's ground- breaking work from the 1960s and 70s. It asks how artists of the middle and younger generation confront the body and images of nudity and sexuality, in particular, the female body – which remains pervasive in the public realm. How have these artists explored issues of the media and the emancipated body? What changes have the representation and notion of the body in general undergone? What kind of questions and topics are addressed anew when these artists use their own bodies or address them in various socio-political contexts?
The exhibition is organised as a parcours across the four floors of Muzeum Susch, proposing dialogues between seminal works by Schneemann and works by artists of following generations. Mirroring Schneemann's multidisciplinary approach, the selected artworks range from photography and film to painting, sculpture, performance and choreography.
Echoing Schneemann's use of body as medium, Chicks on Speed premiered Noise Bodies (2019), a music-performance inspired by Schneemann's work of the same name created in 1965 using vernacular objects mounted on the body. The live performance at Muzeum Susch was during the opening weekend of the exhibition and was recorded and has been transformed into an immersive installation in the exhibition.
Raising dialogue across multiple selected works of art is Schneemann's Meat Joy (1964/2008), in which an ensemble of men and women perform orchestrated movements with lighting, sound, and flesh as material in all conceivable forms, from raw fish and chicken to plastic, ropes, paper scrap and paint, what the artists called an "opulently ecstatic erotic rite". Both Ragnar Kjartansson's Variation on Meat Joy (2013) and Mette Ingvartsen's 69 Positions (2014) directly refer to this work. The latter is part of Ingvartsen's The Red Pieces series, exploring relationships between sexuality and the public sphere, and will premier as a video after its celebrated original live performances. Similarly, early works of Pipilotti Rist, who likes to refer to Schneemann and challenges notions of women and sexual desire in popular culture, are included in the show.

Study for Up to and Including Her Limits, New Paltz, NY, US, 1973, chromogenic print, photograph: Anthony McCall. Courtesy of the estate of Carolee Schneemann, Galerie Lelong & Co., Hales Gallery, and P·P·O·W, New York.
In considering the artist's expanded notion of artistic medium, the exhibition also challenges the boundaries embedded in Schneemann's own work. Schneemann's Vulva's Morphia (1995) is shown in juxtaposition with Katrina Daschner's Zuha?lter (1999), a series of collages of knitted body applications, addressing Schneemann's heteronormative perspective. Up to and Including Limits: After Carolee Schneemann shares the ground broken by the artist and the boundaries left to be challenged by artists of our current time.
Up to and Including Limits: After Carolee Schneemann to 29th June at Muzeum Susch Surpunt 78 CH-7542 Susch Switzerland @muzeumsusch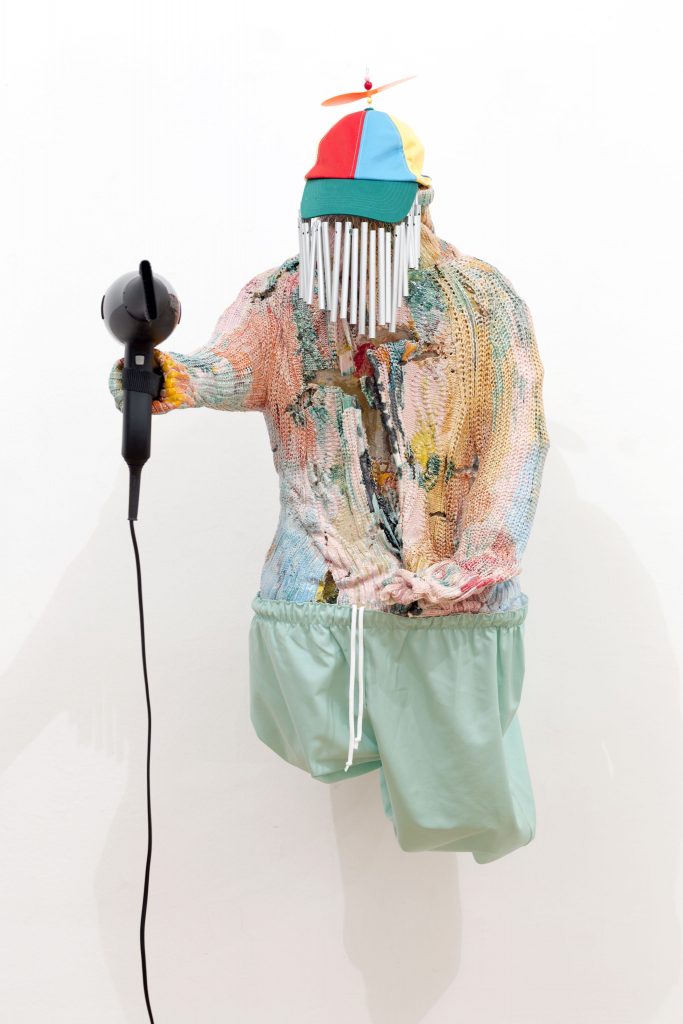 Kris Lemsalu, I Will Be Seven When We Meet In Heaven, 2016, installation view (fragment). Photo, Matthias Bildstein, Courtesy of Georg Kargl Fine Arts, Vienna
About The Artist
Carolee Schneemann (1939-2019) received a B.A. from Bard College and an M.F.A. from the University of Illinois, and Honorary Doctor of Fine Arts degrees from the California Institute of the Arts and the Maine College of Art. In 2017, Schneemann received the Golden Lion for Life Time Achievement of the 57th International Art Exhibition of La Biennale di Venezia – VIVA ARTE VIVA. Carolee Schneemann's works are included in major museum collections around the world, such as: Generali Foundation Collection at the Museum der Moderne Salzburg, Museo Nacional Centro de Arte Reina Sofia (Madrid), The Museum of Modern Art (New York), Whitney Museum of American Art, New York (New York), Tate (London), Centre Georges Pompidou (Paris), Hirshhorn Museum and Sculpture Garden (Washington).
Muzeum Susch / Art Stations Foundation CH
A new kind of 'laboratory', Muzeum Susch opened in January 2019, founded and created by Gra yna Kulczyk, the Polish entrepreneur and long-term supporter of contemporary art whose past flagship ventures have nurtured novel platforms for dialogues in the arts and beyond. The museum is housed in an extraordinary campus located on the site of a 12th-century former monastery and brewery in Susch, a remote town on the ancient pilgrim route to Santiago de Compostela in the Engadin valley of the Swiss Alps. The multi-faceted project comprises over 1,500 m2 of gallery spaces which show both site-specific permanent artworks and a regular programme of curated, temporary exhibitions. Art Stations Foundation CH runs a programme beyond exhibition-making with the annual conference Disputaziuns, the interdisciplinary residency Temporars, the research collaboration Instituto Susch and the Women's Center of Excellency, the choreography and performance programme Akziun, as well as ongoing series of related publications and events. The foundation has been awarded as the European Cultural Investor 2019 and is shortlisted in the category of New Culture Destinations of The Year for the Leading Culture Destinations Awards 2020. muzeumsusch.ch
Categories
Tags