Christian de Portzamparc, Il y eût les plages, 2019, ink and acrylic on canvas © Christian de Portzamparc, Courtesy the artist
The dark canvases in the show Illuminations have such an extraordinary clarity, it's as if a camera had been taken into someone's dreams. Some take us into rational architectural spaces invaded by atmospheric agents, others dissect the structure of a cloud. The artist has never exhibited paintings before. Nevertheless, his works on a very different different scale have lifted cities around the world, from New York to Seoul…
Illuminations is a solo show by one of France's most acclaimed architects, Christian de Portzamparc. In 1994, he won architecture's greatest prize, the Pritzker. No wonder the works peer deeply into ideas of space and materiality. All architects should know how to sketch, but these paintings are not expanded designs of actual buildings (except two, one by architect Yona Friedman). The architecture painted is from a world within the mind. The works explore an imaginary mathematics and physics of matter, and excel in representing it with precision and texture. In one work, Trois états en mutation (Three states in mutation), three forms are stacked in a black void — a cloud, above a shape that seems wrapped in cloth, above a stone slab. Their transition in mass and surface is also a transition from eternal to ephemeral.
The most intriguing paintings are where architectural space and forces of nature are in play. Take for example the vast acrylic canvas Il y eût les plages (There were beaches). We are drawn inside a solid rectilinear structure which looks out onto ominous clouds above a dark sea. A wisp of luminous mist and a finely-patterned shell structure float inside. This object, like a microscopic calcite sea creature, fascinates, focuses and teases the viewer. Like surrealism, the scene feels profound yet enigmatic, but its enigmas are more conceptual than Freudian.
When architects produce art, the art world is reluctant to embrace it, as if architects should stay within their own territory. De Portzamparc's visions are unique. It looks like a significant new artist has declared himself.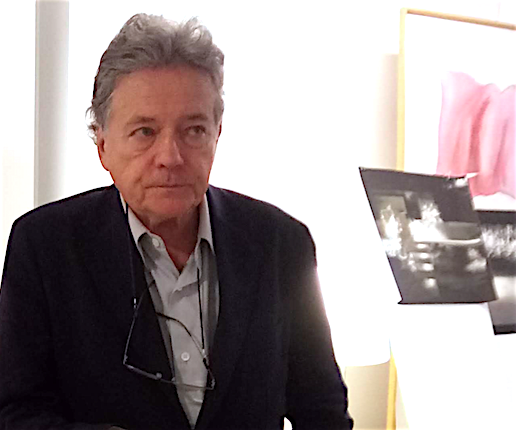 Christian de Portzamparc. Photo: Herbert Wright
Christian de Portzamparc: Illuminations is at at Kamel Mennour, 47 rue Saint Andre des Arts, Paris 6 until 18 Jan 2020
Categories
Tags