Art critic Tabish Khan brings you 'The Top Art Exhibitions to see in London'. Each one comes with a concise review to help you decide whether it's for you. Some of last week's top 7 are still open to visit as well: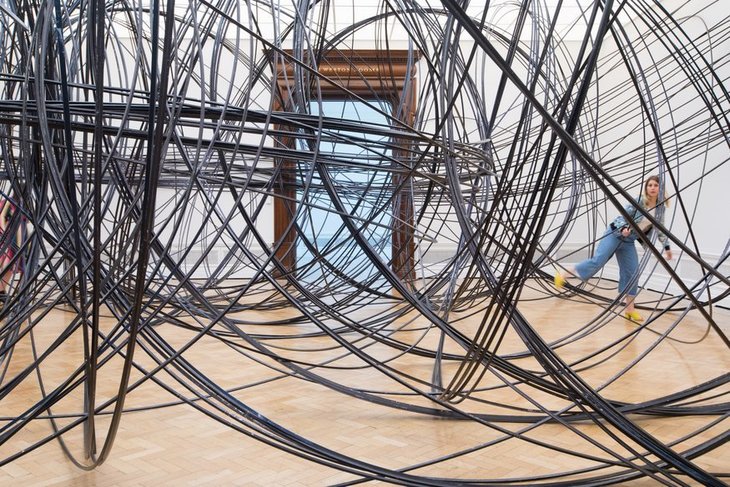 Antony Gormley at Royal Academy of Arts
From a tiny baby in the courtyard to a giant man you can climb inside to the point of being blinded by the darkness, it's a figurative extravaganza in this major Gormley show. The most impressive works is a swirl of metal tubing I have to clamber through and any little knock sets it a-clanging — I've never been so conscious of my own dimensions when seconds ago I was doing the same to others in a room filled with casts of the Gormley himself. This is an impressive exhibition and you can read my full thoughts on the show here. Until 3 December. 
Other Spaces with United Visual Artists @ 180 The Strand
Animal sounds from wolf howls to squawking seagulls fill the darkness as visual cues in bright colours on the screen. It's a meditative experience so sink into one of the beanbags and get lost in nature. Coupled with two other installations featuring laser grids and swinging lights that throw you off balance and this is a brilliant sensory experience. Read my full review here. Until 8 December. 
CurAte: Feasting on Femininity @ Les Fetes Galantes, London Fields
A miniature version of a debauched exhibition where the walls are covered in female genitalia sits alongside ceramic bowls, baguettes and sandwiches in an exhibition that both celebrates opulence and femininity. Rich foods and soft breasts adorn the walls in this playful and wonderfully over the top exhibition. The gallery is also a coffee shop, so I recommend sitting down with cup of tea or coffee to drink it all in. Until 30 November.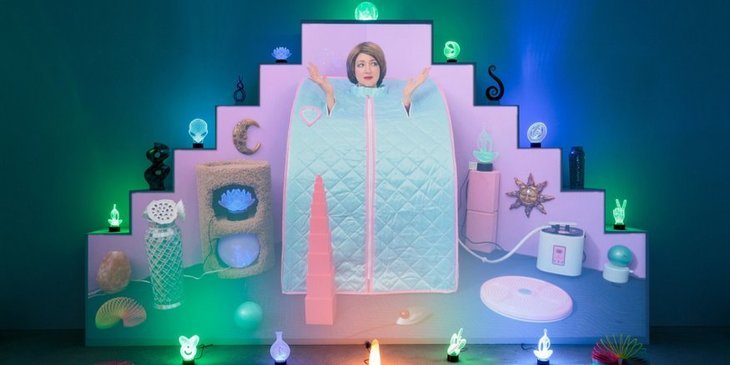 Shana Moulton @ Zabludowicz Collection
Eyes beam out of the walls as a projection shows a cascading waterfall. The artists spins around as if in zero gravity and short films are embedded in a giant pink tower. Welcome to the utterly mad and insanely fun world of Shana Moulton. This former church has been home to many an exhibition that uses this amazing space to its full potential and this is another one that hits the spot. Until 15 December. 
Jean David Nkot @ Jack Bell: Voyage en lethargie
Migrant workers sleep in wheelbarrows and young refugee children stare back at me. These beautifully executed figures are painted over maps of migration routes, complete with travel stamps to mark the routes they've taken. These works give human faces to the statistics we see in news stories about the difficult lives of migrants and refugees. Until 15 November. 
All images copyright artist and gallery unless otherwise stated. Gormley photo: David Parry. CurAte image copyright Eitenne Clement. 
Categories
Tags