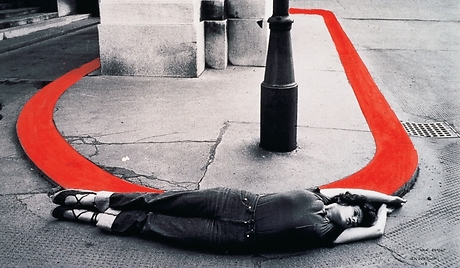 Galerie Thaddaeus Ropac has announced its first London exhibition of VALIE EXPORT, The 1980 Venice Biennale Works, opening at Ely House late November. A pioneer in film, video and installation art, with a career spanning five decades, VALIE EXPORT has produced one of the most significant bodies of feminist art in the post-war period. Awarded this year's Roswitha Haftmann Prize, in recognition of her outstanding contribution to the visual arts, EXPORT's groundbreaking films and performances throughout the 1960s and 70s introduced a new form of radical feminism to Europe and were among the most revolutionary – and definitive – statements of their time.
Marking a key moment for the internationally acclaimed artist, The 1980 Venice Biennale Works will recreate EXPORT's innovative multimedia installation from the 39th Venice Biennale. Originally shown alongside Maria Lassnig in the 1980 Austrian Pavilion, EXPORT's installation embodies the fierce and fearless interrogation of oppressive power structures and hierarchical systems of control at the heart of the artist's practice. The installation includes 17 large-scale photographs mounted on wooden panels from her important photographic series, Body Configurations (1972–82), centred around the monumental sculpture, Gerburtenbett (1980).
Experienced as a gesamtkunstwerk, the sculpture and photographic works are demonstrative of the multi-disciplinary nature of EXPORT's 'Expanded Cinema' practice and emblematic of her iconic use of her own body as an artistic medium, positioning her as one of the earliest performance artists alongside Joseph Beuys and Allan Kaprow. The sexually charged Venice Biennale installation employs a combination of investigative photography, sculpture and novel image-making techniques, challenging audiences by examining the politics of the body, eroticism, the male gaze and feminist concerns with liberation.
Simultaneously exploring the physical, urban fabric of her environments and the metaphysical structures of the behaviours they incite, EXPORT's practice not only pre-empted the radical performances of the self explored by (female) American artists at the turn of the 21st century, but the proliferation of discourses concerning imposed behaviours and identities in society today. In the wake of the digital revolution, boundaries between the real and the virtual and their socio-cultural impact have sparked continued debate, and VALIE EXPORT's early explorations into the effects of such boundaries position her as an artist ahead of her time. Symptomatic of an oeuvre built on bold experimentation and provocation, the upcoming exhibition will reposition EXPORT's interrogations into 'the drama of human self-realisation' within the context of the present cultural climate.
My artistic work centres on the human body as medium of information, as signal bearer of meaning and communication. I occupy myself with the pictorial representation of mental states, with the sensations of the body when it loses its identity, when the ego gnaws its way through the scraps of skin, when steel casings straighten the joints and the worn-out identity is nailed with steel pins to modern mythomania… I try to shape the social structures (power current) and standards (mutilations) of life into a metanoia of pictures. – VALIE EXPORT, 1980
28th Nov 2019 – 25th Jan 2020 Galerie Thaddaeus Ropac London @thaddaeusropac
About The Artist
Categories
Tags