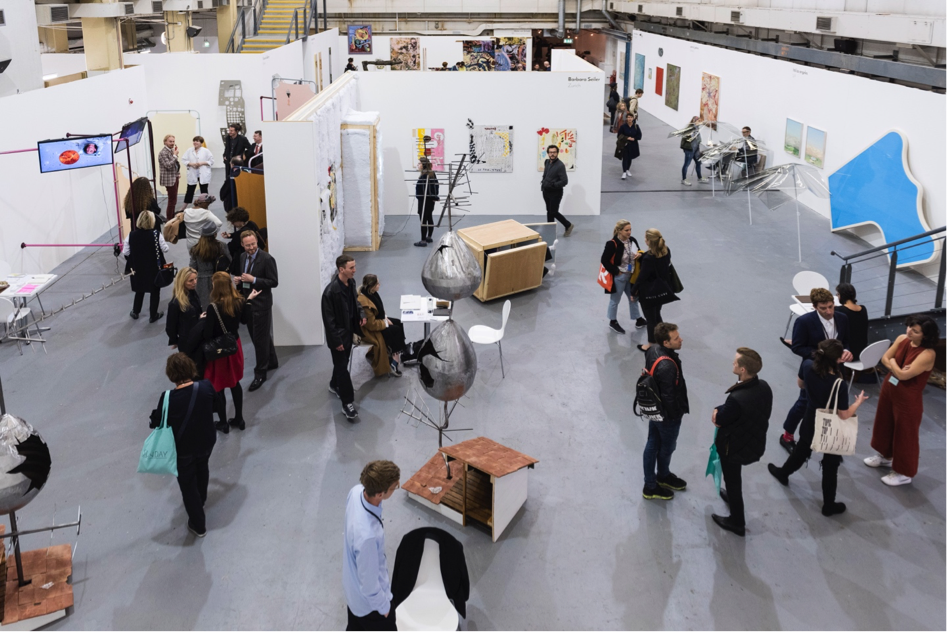 Sunday Art Fair, London's international contemporary art fair for young galleries and artists, returns from 3rd–6th October 2019 with a selection of 30 galleries from over 20 cities. Marking its 10th anniversary, the fair will affirm its engagement and support of newly established galleries and emerging artists. The selected galleries, 16 of which will be participating for the first time, will take over the 14,000-square-foot concrete space of Ambika P3, located in the University of Westminster's School of Engineering, through a curated presentation of solo projects and group shows.
Sunday Art Fair was launched in 2010 by galleries Tulips and Roses (Brussels, Vilnius), Croy Nielsen (Vienna) and Limoncello (London). Over the past ten years, the fair has established itself as the leading London contemporary art fair committed to supporting young galleries and artists at early stages in their career. Intentionally renewing its participating galleries each year, Sunday Art Fair is committed to presenting them with an opportunity to introduce global collectors to their artists. Sunday has acted – and still acts today – as a platform for artistic experimentation, thereby encouraging the discovery and promotion of new forms of art.
Steering away from the traditional booth structure to adopt an open-plan layout, Sunday invites galleries and artists to rethink and appropriate the space, encouraging the dialogue between visitors, gallerists and artists. Free and open to the public, the fair aims to make contemporary art accessible to all, attracting younger audiences and aspiring collectors.
This year, Sunday will be partnering up with the Glasgow International (GI) Festival 2020, Scotland's largest festival for contemporary art, for a special exhibition curated by its director Richard Parry. An alternative to the yearly Editions booths, which previously invited UK regional institutions to present dedicated projects, this exhibition will address the theme of "distraction", a response to the GI's 2020 festival theme around "attention." The exhibition will feature unique works for sale by a selection of artists from past and previous editions of the festival.
A New York-based initiative founded to drive visibility and sales to emerging and mid-tier galleries, the Young Collectors League will be offering free advising tours to attendees to assist with acquisitions throughout the course of the fair.
The contemporary Sunday Art Fair welcomes 30 international galleries to its 14,000-square- foot London space during October Art Week. 3–6 October 2019 Ambika P3, University of Westminster, London | Free Entry
VIP + Press Preview: Thursday, October 3th | 12–6 PM ((by invitation only) where you can pick up a free copy of our sister magazine Art of Conversation Issue 4
Categories
Tags