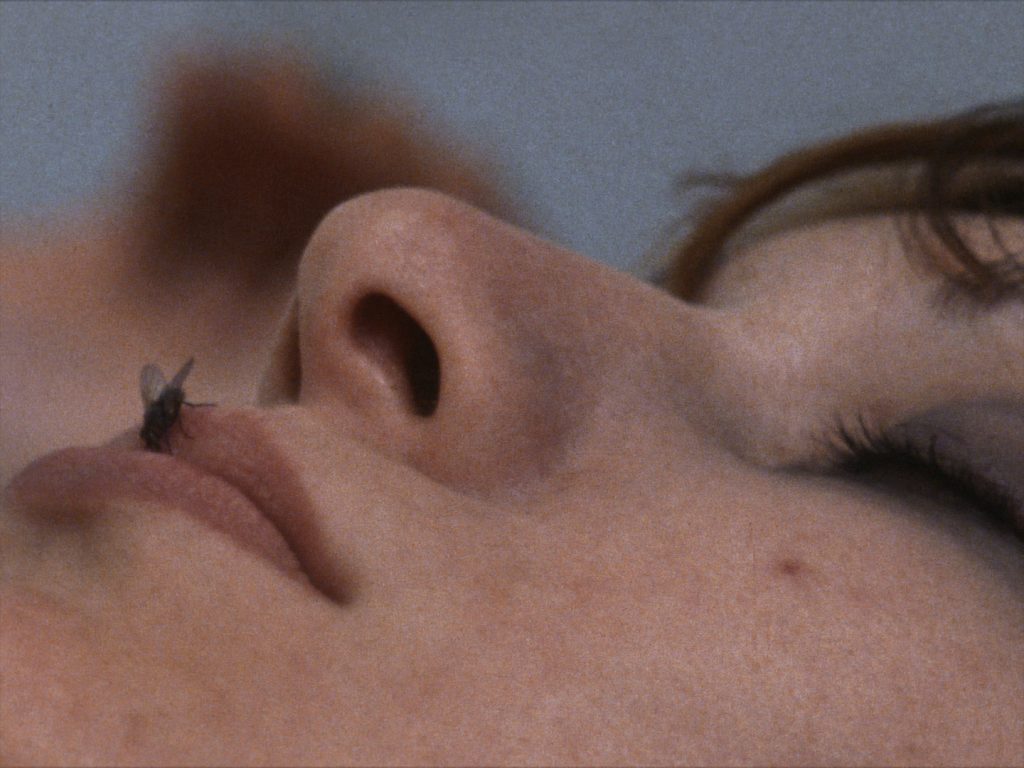 Yoko Ono, Still image from "FLY" 1970. ©Yoko Ono
Opening this weekend at The Georgian House Museum, part of The Bristol Museum group, is YOKO ONO: INTERVENTIONS/2. INTERVENTIONS, comes from a show that Yoko Ono did (October 22 – December 21, 2013) in the villa of Ernst Fuchs, designed by Otto Wagner in 1888; this show had elements of Yoko Ono's films shown on television monitors in each room, and also for the opening, a performance of Yoko Ono's Cut Piece. The current show, curated by Jimmy Galvin, in The Georgian House Museum, has aspects of this, but added to it, has Wish Trees, and Yoko Ono's more recent work, ARISING, which incorporates a filmed element, and addresses the abuse of women by men.
Yoko Ono is an artist whose thought-provoking work challenges people's understanding of art and the world around them. From the beginning of her career, she was a Conceptualist whose work encompassed performance, instructions, film, music, and writing.
Ono was born in Tokyo in 1933, and moved to New York in 1953, following her studies in philosophy in Japan. By the late 1950s, she had become part of New York City?s vibrant avant-garde activities. In 1960, she opened her Chambers Street loft, where she and La Monte Young presented a series of radical performances and exhibited realizations of some of her early conceptual works. In 1961, she had a one-person show of her Instruction Paintings at George Maciunas' legendary AG Gallery in New York, and later that year, she performed a solo concert at Carnegie Recital Hall of revolutionary works involving movement, sound, and voice. In 1962, she returned to Tokyo, where, at the Sogetsu Art Center, she extended her New York performance and exhibited her Instructions for Paintings. In 1964, Ono performed Cut Piece in Kyoto and Tokyo, and published Grapefruit, a book of her collected conceptual instruction pieces. At the end of that year, she returned to New York. In 1965, she performed Cut Piece during her concert at Carnegie Recital Hall, Bag Piece during a solo event for the Perpetual Fluxus Festival, and she performed Sky Piece to Jesus Christ during the Fluxorchestra concert at Carnegie Recital Hall that September. In 1966, she made the first version of Film No. 4 (Bottoms), and realized a collaborative installation The Stone, at the Judson Gallery. In the fall of 1966, she was invited to take part in the Destruction in Art Symposium in London, and later that year, held one-person exhibitions at the Indica Gallery, and the Lisson Gallery the following year. During this period, she also performed a number of concerts throughout England. In 1969,
together with John Lennon, she realized Bed-In, and the worldwide War Is Over! (if you want it) campaign for peace. Yoko Ono travels annually to Iceland for the lighting of her IMAGINE PEACE TOWER, which she created in 2007 as a permanent installation on Viðey Island, Iceland. She continues to work tirelessly for peace with her IMAGINE PEACE campaign.
Today, Ono is widely recognized for her groundbreaking films and her radical music, recordings, concerts, as well as her performance art. Her films Fly, "RAPE", Film No. 4 to name a few, are considered classics of 20th century film, and her music has finally been acknowledged as the genesis of much of the new wave of musical forms that have circled the world.
YOKO ONO: INTERVENTIONS/2 September 28, 2019, running until December 31, 2019. bristolmuseums.org.uk/georgian-house-museum/
Categories
Tags