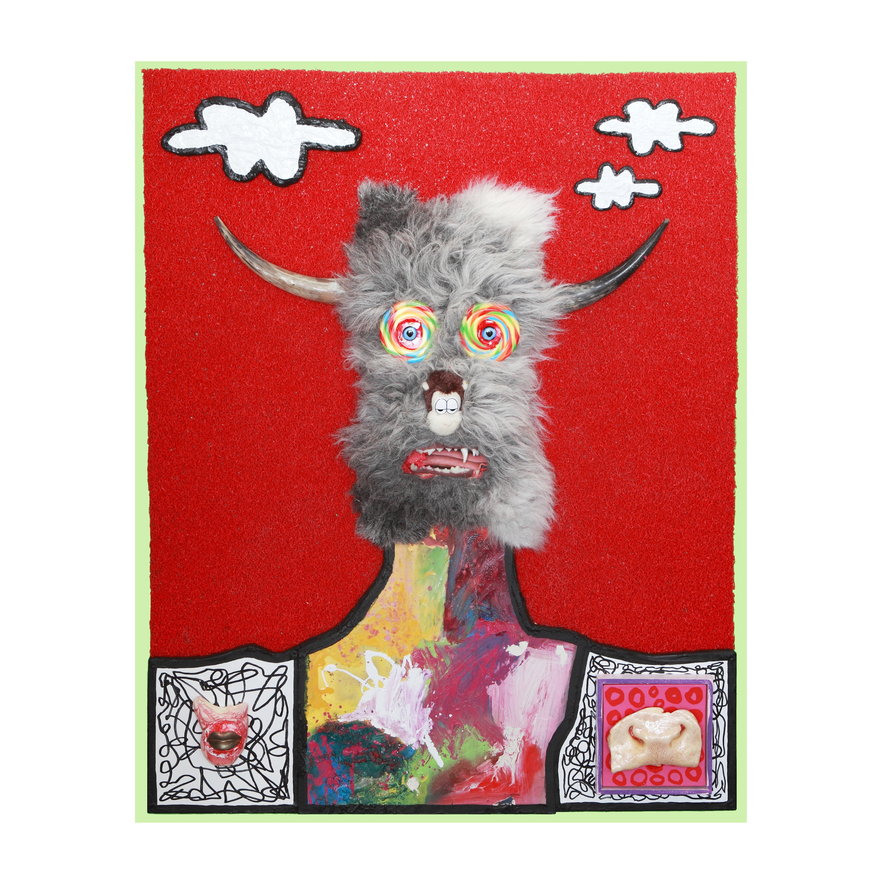 James Ostrer_Clouded Thoughts_Cow horns, sheepskin, bronze lips, deep-fried cow nose, plastic jaw set, stuffed toy head, glass eyes, floor matting from Turkey, enamel paint, spray paint, marker, canvas and wood_150 x 120 x 15 cm
'Imagine being inside Tracey Emin's tent if it were to comeback from its burnt ashes through the medium of an LSD trip'
– James Ostrer
Video berlinartlink.com/
Apocalypse by the Greek definition of the word means a revelation or an unveiling of things not previously known. Driven by this concept, London-based artist James Ostrer's latest body of work presents a powerfully intimate portrait of his evolving state of consciousness.
View this post on Instagram
The artworks have been created during a residency at Melior Place in Bermondsey (Kristin Hjellegjerde gallery's new space that will later be rebuilt as their new London home in 2021), and lead the viewer on a surreal, sensory journey through the building, and ultimately the artist's mind.

James Ostrer_Overlooked, 2019_Enamel paint on canvas and gaffa tape_150 x 120 x 4 cm
Ostrer is well known for the extremities of his work whether that is being stitched into a pig's face whilst stuffing it full of pizza or visiting brothels and having the prostitutes photograph him 'anyway they want'. For Post Apoca-Lips the artist pushes against the confines of a gallery space by filling an entire building with bold, multi-dimensional artworks that stitch together ephemera from the past: casts of Ostrer's teeth from when he was twelve, his mother's cigarette butts and fur coats, huge animal horns, childhood toys, even a kitchen table top from an ex-girlfriend's house, the list goes on.

James Ostrer_ What You Looking At , 2019_Plastic biscuits, glass eyes, gaffa tape, vintage taxidermy deer nose, sheep skin, resin, enamel paint on canvas and wood_129 x 103 x 20 cm
These objects become hybrid, cartoonesque creatures that appear simultaneously familiar and strange, comforting and threatening. This is the fine line Ostrer treads as he explodes and reconstructs popular culture and everyday materials into a means of self-expression, while expanding the conversation of how we relate and why.
Ostrer's art practise is one of self-interrogation and personal development which through acute creative sophistication and humour explores the wider emotional cadences of the human psyche.
On entering into Melior Place, the viewer is confronted with a spider's web sprawl of hand-painted black squiggles that expand upwards into the eaves of the building's vast glass atrium. These fluid marks are the result of a free-flowing creative process that Ostrer describes as a form of 'catharsis', and appear both chaotic and calm. This sets the rhythm of the exhibition as we move into the main room, and hear Ostrer's own voice answering a series of questions that are seemingly set to find out who someone is. Recorded directly in response to a therapist's questionnaire, the revelation of the artist's personal information builds up an emotional algorithm or map, through which we begin to form an impression of who this person is and reflect on who we ourselves are in relation to that.

James Ostrer_Donald, Mischievous And Temperamental Personality_2019_plastic teeht, oil stick, spray paint, pencil, charcoal on paper, enamel paint and resin on canvas, 75.9×51.3×7 cm
Ostrer commented:
'The greatest art and literature in history addresses love and conflict and what it is behind those emotions that perpetuates the extremities. My aim through my art practice is to interrogate my own core personality traits and behaviour with a view to becoming an improved version of myself. I believe this art can then have a positive effect on a wider level. '
Whilst the artist's revelations involve vulnerable exposure, we are also encouraged to laugh so as to find a release and form an organic sense of unity. Post Apoca-lips is a thought-provoking and powerful show that reaffirms art's ability to heal and connect.
"Post Apoca-Lips" JAMES OSTRER 20th September – 2nd November 2019 Kristin Hjellegjerde London, Melior Place Private view: 19th of September, 6:30 -9pm 2 Melior Place, London SE1 3SZ
About The Artist
James Ostrer was born in 1979 in the UK. The artist lives and works between London, New York and LA. Ostrer's work often tests the limits of body politics in the ever-evolving analysis of the western body, sexuality, and society at large. Much like Paul McCarthy's or George Condo's seminal works, Ostrer's work form a bizarre pattern of post capitalist tribalism with cartoon-like absurdity. They are rife with a sense of ritual endeavor and colour-saturated sensitivity; while palpitating with a nostalgia for various ephemera including junk food and animal parts they present themselves with an emphasis on the potential havoc the over consumption of these things wreak within our collective life experience. His works are often a catalogue of self- destructive behaviors, and are also managed in such a way that while transgressing themselves as odes to great works of historical art practice, they become re-packaged eye candy for uncomfortable consumption. Guru Jimmy has often played a large part in Ostrer's creative process. James describes him as, "a life saving friend who is a spiritually connected amplifier of positive thinking and happiness that pushes me on a continuous journey of self-discovery and learning". Solo exhibitions include the upcoming Post Apoco-Lips, Kristin Hjellegjerde Gallery (Project space), London (2019); Finding Me Through You, Feld + Haus, Frankfurt, Germany (2019); Johnny Just Came, Gazelli Art House, London, UK (2018); Johnny Just Came, Spring Break – Armoury Week, New York (2018); The Opera House, Bombay Beach Biennale, Bombay Beach, CA (2017); Guru Jimmyin collaboration with Absolut and Zuma Restaurant, Hong Kong (2016) and Ego System, Art Central Hong Kong, with Gazelli Art House, London (2016). Recent group exhibitions I, Cyborg, Gazelli Art House, London, UK (2016); Photo Junctions, Thought Pyramid Art Centre, Abuja, Nigeria (2016); Art Week, Hong Kong, China (2016); On the Table, Curated by Blair Fornwald, Jennifer Matotek, and Wendy Peart, Central and Sherwood Galleries, Regina, Canada (2016) and Guru Jimmy, Rob Pruitt's Venice Flea Market, Venice Biennale, Venice, Italy (2014).  In 2011, his portrait of Nicky Haslam in Lucien Freud's chair was "Curator's choice" for the Taylor Wessing exhibition at the National Portrait Gallery.
About Kristin Hjellegjerde 
Established in 2012, Kristin Hjellegjerde quickly gained recognition as an international gallery dedicated to exhibiting a roster of innovative, international artists, both emerging and established, with strong theoretical and aesthetic bases.
Known for its multicultural curatorial approach, the gallery has, over the past years, fostered close and cooperative relationships with museums and curators worldwide, maintaining a deep devotion to the artists it represents.
Drawing on her own international background, Kristin Hjellegjerde seeks to discover new talents by creating a platform through which they can be exposed to local and international clients. She collaborates with curators and collectors, as well as with developers and architects.
In April 2018 the gallery opened its second space in Berlin. Whilst this year the gallery has opened a Project Space in London, which will expand to a larger space by London Bridge in 2021. Kristin Hjellegjerde is the curator of 'Kubatana', a museum exhibition focused on African artists at Vestfossen Kunstlaboratorium, Norway.
Categories
Tags