Dialectical Materialism: Aspects of British Sculpture since the 1960s offers a glimpse into the shifting terrain of British sculpture over the last fifty years. Conceived by the esteemed art dealer and writer Karsten Schubert (1961-2019), the exhibition celebrates his lasting legacy and vision after his recent death.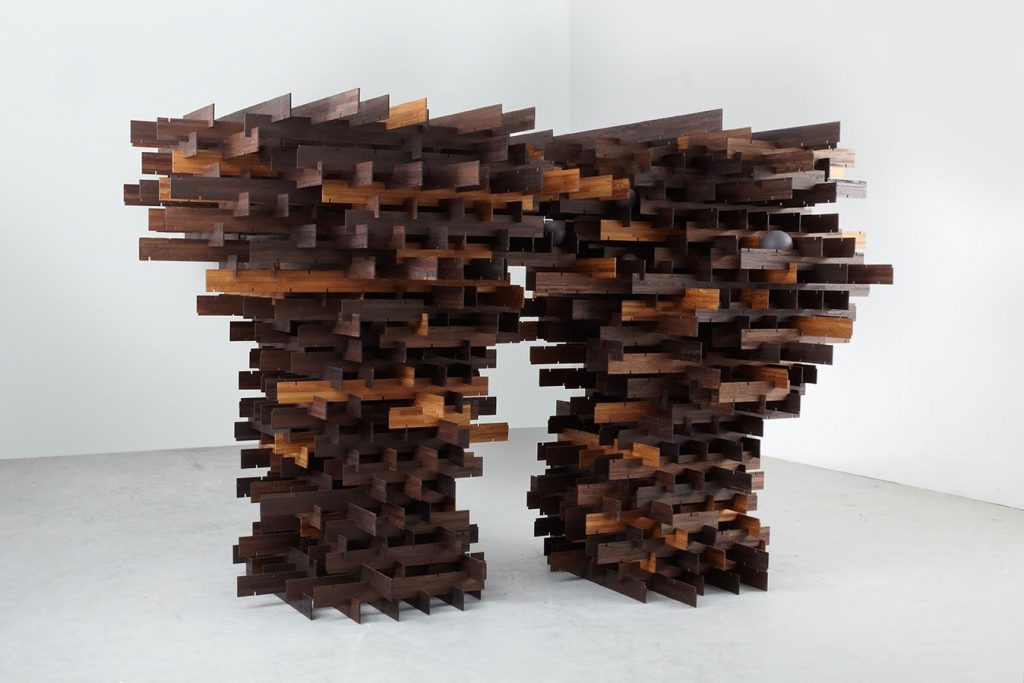 ALISON WILDING In a Dark Wood, 2012 Reclaimed laminated iroko and acrylic 210 x 370 x 217 cm
Reflecting on his own relationships, Karsten Schubert selected the six artists for their ground-breaking abstraction and emphasis on the physicality of their materials. The exhibition will include museum quality pieces by Anthony Caro, Barry Flanagan, Richard Long, William Turnbull, Rachel Whiteread and Alison Wilding. These six hugely talented sculptors not only dealt with their own ideas about material and space, but also boldly responded to what came before them.
The exhibition begins with pieces from the 1960s by Anthony Caro, Barry Flanagan, and William Turnbull, whose work liberated sculpture from the plinth, allowing for a new freedom of space. Likewise, Alison Wilding, whose work Schubert showed at his first gallery exhibition in 1986, is renowned as one of today's most respected sculptors for her use of diverse materials and scales.
This exhibition takes up the potentialities of juxtaposition, exploring pairings and dialogues and celebrating the creative and highly productive tensions that can lie both within and between sculptures and sculptors.
– Dr Jon Wood, Curatorial Advisor
Coinciding with Frieze Week, Dialectical Materialism is presented at the alternative location and exhibition space offered at 1 Park Village East: a former Victorian riding school just next to Regent's Park on the North-East side. Steeped in creative history, Schubert was inspired by the unaffected and unusual space to show large-scale, indoor sculptures in dialogue with each other and the viewer.
Dialectical Materialism: Aspects of British Sculpture since the 1960s
Park Village Studios 1 Park Village East London NW1 7PX 28 September – 6 October 2019 | 11.00am – 6.00pm
Press Views Friday 27 September & Wednesday 2 October | 11.00am – 2.00pm
Hosting Dialectical Materialism Karsten Schubert London has programmed a series of talks and events throughout the 10-day exhibition. An on-site pop-up bookshop with related and recent books published by Ridinghouse will be open throughout.
Categories
Tags