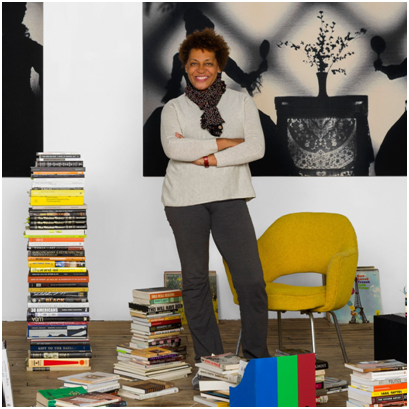 Pioneering American artist Carrie Mae Weems
Pioneering American artist Carrie Mae Weems has been announced for the final COS x Serpentine Park Night of 2019, on Friday 4 October. Weems's work investigates family relationships, cultural identity, sexism, class, political systems and the consequences of power. With a practice that encompasses photography, text, fabric, audio, digital images, installation, video and performance, Weems has sustained an on-going dialogue with contemporary discourse, increasingly broadening her view to include global struggles for equality and justice.

COS x Serpentine Park Nights Klein by Josiane M.H. Pozi at CDY
PLUS also announced today, Klein, an artist whose neoteric vision has seen her quickly become one of the UK's most intriguing producers and performers, will present a rare DJ set as part of a specially conceived off-site COS x Serpentine Park Night at the COS store in Coal Drops Yard, King's Cross on 18th September.
This additional Park Night follows Lifetime, a multisensory performance by Klein on 6th September at the Serpentine Pavilion, which will explore the fragility of one's culture through memory and loss, featuring original music written and performed by Klein and wearable technology devised by Carolin Schnurrer.
Hans Ulrich Obrist, Artistic Director of Serpentine Galleries said:
"COS x Serpentine Park Nights welcomes some of the most exciting artists in the world to create radical new work, happenings that are genuine dialogues between the artists, the audience and the space. We are delighted that our friends at COS are supporting the Park Nights programme for a seventh year, allowing us to provide an essential platform for artists at every stage in their career to expand the possibilities of their art forms."
More Info: serpentinegalleries.org/exhibitions-events/park-nights
About Mark Westall