We Sing the Body Electric is an all-female, multimedia exhibition at East London's Gallery 46, curated by Camilla Cole and featuring: Juliette Mahieux Bartoli, Ingrid Berthmoine, Stine Deja, Enam Gbewonyo, Bex Ilsley , Laila Majid, Stacie McCormick, Alix Marie, Marie Munk, Fern O' Carolan, Katarzyna Perlak, Cherelle Sappleton, Karolina Stellaki and Rebecca Wallis.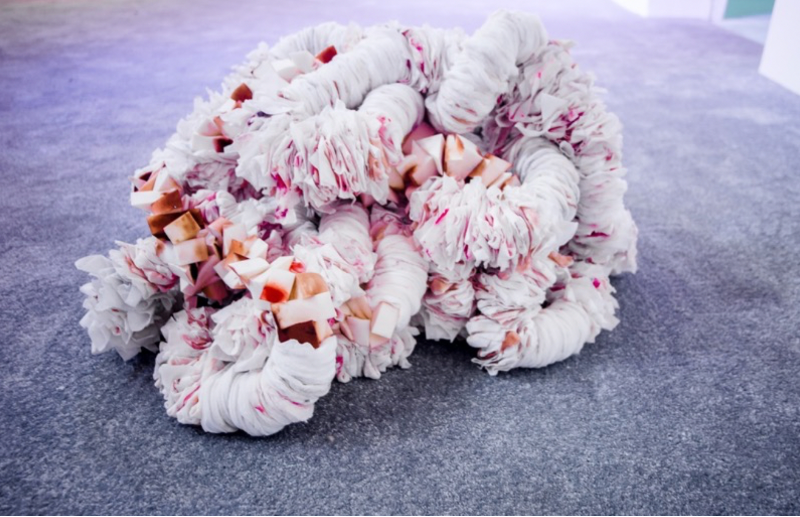 Skintight by Katarzyna Perlak
The exhibition title is taken from the Walt Whitman's poem I Sing the Body Electric published in 1855. Visionary for his time, Whitman made the case for the inclusion of women in the democratic body by deconstructing the idea that the figure is always gendered, reducing social constructions to the idea of the "naked meat of the body". Whitman's thoughts about bodily communion as a metaphor for addressing America's demons, and his inability to openly write about the male body as he was unable to divulge his unconfirmed homosexuality at the time, effectively created a universal love-poem. I Sing the Body Electric can be applied to all bodies and is increasingly relevant today, with the identity politics having moved beyond binaries of gender to create a fluid, fragmented, and dynamic collectivity of possible sexualities.
The poem focuses on one part of the body at a time, essentially fragmenting the human body into separate parts, removing the traditionally scopophilic qualities of observing naked female bodies: "lung-sponges, the stomach-sac, the bowels sweet and clean". This challenges the idea of the active male gaze put forward by feminist theorist Laura Mulvey, where men get pleasure and power from looking upon a passive female subject. The male gaze is dismantled and decentralised, thereby removing the male position of authority and exposing the system of oppression.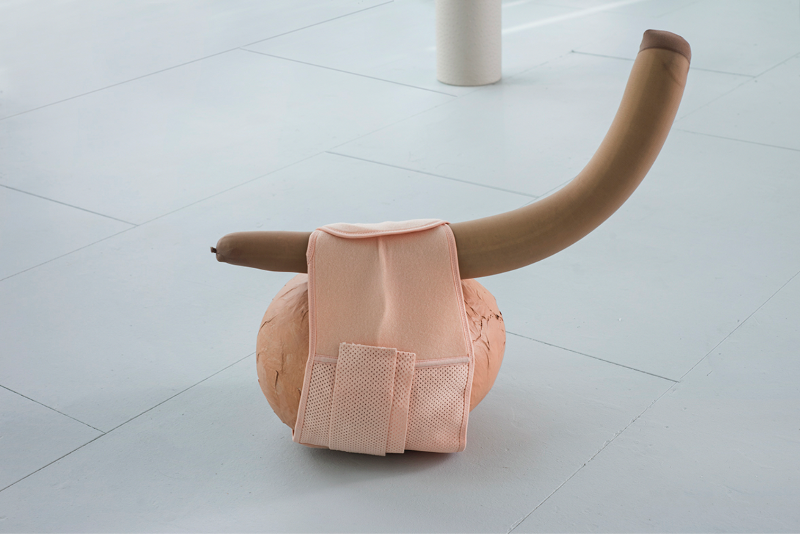 Under the Belt by Ingrid Berthon-Moine
'We are witnessing the regrouping of feminism as a social movement across every area of society – from the "Time's Up" movement in Hollywood to the International Women's Strike – and the art industry is no exception. The increased efforts of art institutions and exhibitions pushing female-only shows, like this one, has been met with some criticism, discrediting the merit of the work, instead placing priority on gender and nationalities.'
Camilla Cole

NONSEQUITUR by Juliette Mahieux Bartoli, photo credit: Hannes Wiedemann
The diversity of the practices in We Sing The Body Electric highlight new ways that artists are dealing with the body with a focus on its materiality, recalibrating the traditional female nude from the objectified into a confrontational subject, conveying an idea or universal reality, like Whitman's poem.
Gallery 46 presents We Sing the Body Electric By Various Artists Gallery 46, Ashfield Street London, E1 2AJ
Exhibition runs: 2nd – 28th August Private view: 6-9pm, Thursday 1st August

Alix Marie, Dirty Dancing, 2019. Print on PVC on a copper and concrete structure, 100 x 60 x 20 cm, unique. Courtesy of Roman Road and the artist
Categories
Tags