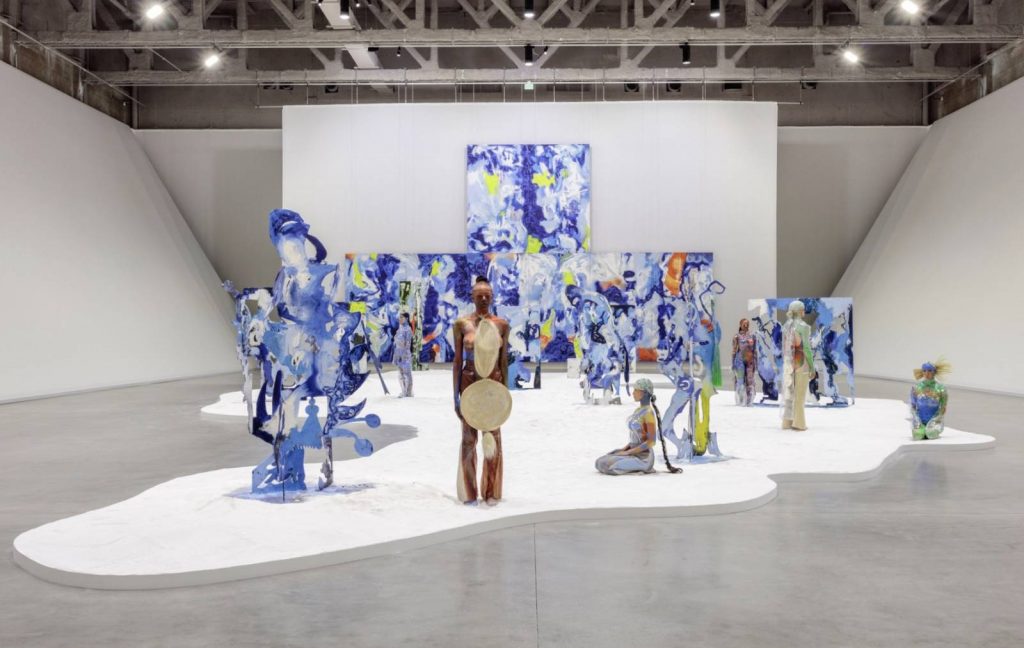 Installation view of Donna Huanca: OBSIDIAN LADDER. Courtesy the artist, Marciano Art Foundation, Los Angeles and Peres Projects, Berlin. Photo by Joshua White/JWPictures.com.
Peres Projects are to present OBSIDIAN LADDER, the first large-scale solo exhibition in the United States of Donna Huanca. Huanca's site-specific installation for Marciano Art Foundation's Theater Gallery will reveal a new topography of triggered senses, combining sound, scent, and live performance. These elements will be experienced together against a backdrop of carved steel sculptures and large format skin paintings.
OBSIDIAN LADDER June 28th, 2019 – December 1st, 2019 Opening: Thursday, June 27th, 2019 (by invitation)
Marciano Art Foundation 4357 Wilshire Boulevard Los Angeles, CA 90010 USA marcianoartfoundation.org
About The Artist
Born in Chicago, Donna Huanca studied painting at the Städelschule in Frankfurt am Main, the Skowhegan School of Painting and Sculpture in Maine, and the University of Houston in Texas. OBSIDIAN LADDER is Donna Huanca's first major solo exhibition in the United States. She has previously had museum exhibitions at the Zabludowicz Collection in London, United Kingdom (2016), the Yuz Museum in Shanghai, China (2018), the Belvedere Museum in Vienna, Austria (2018), and Copenhagen Contemporary, Denmark (2019). Huanca lives and works in Berlin.
Categories
Tags