Sam Shendi is an Egyptian/British sculptor, who has been gaining a lot of attention of late for his large scale vividly coloured and somewhat surreal pieces. Sam understands the impact of size, of the monumental. At the Conrad, Algarve with Artcatto, Sam is showcasing a selection of pieces from his series – 'Only Human'.
His background in design and furniture production means that his technical skills are superlative, the pieces are constructed from a durable fibre resin and then sprayed with car paint and polished to high finish. His work can therefore be placed in an interior or exterior and will not fade or weather over time.
The series – 'Only Human' refer to the fragilities and emotions that we all experience. Shendi enjoys playing between the notions of figuration and abstraction. He has incorporated a colour coding system to the work, where red signifies anger, green to envy and black denotes depression with white relating to purity and even hope. The primary colours and swirling patterns hark back to different era, with a nod to 60's psychedelia. Shendi delves into aspects of nostalgia, memory and childhood. There is a sense of loss (he was deeply affected by the death of a relative's child) and his own, perhaps irrational fear and anxiety of having to deal with a parent's worst nightmare.
When one looks at his large pink, black and green leaning form 'Moving Forward', we are struck by the tension between the desire to go forward yet the figure is firmly stuck in one place by its' weighty massive black feet. There is uneasy equilibrium, an uncertain balancing act at play here.
Play is also a word to describe Sam's work, for even with its' undercurrents of seriousness and personal reflection, there is much humour to be found here. We cannot help but to smile at the figure bent over backwards – 'Falling into the Past' as everyone can identify with that seemingly impossible feat, but we are also prone to the psychological trap that the title implies.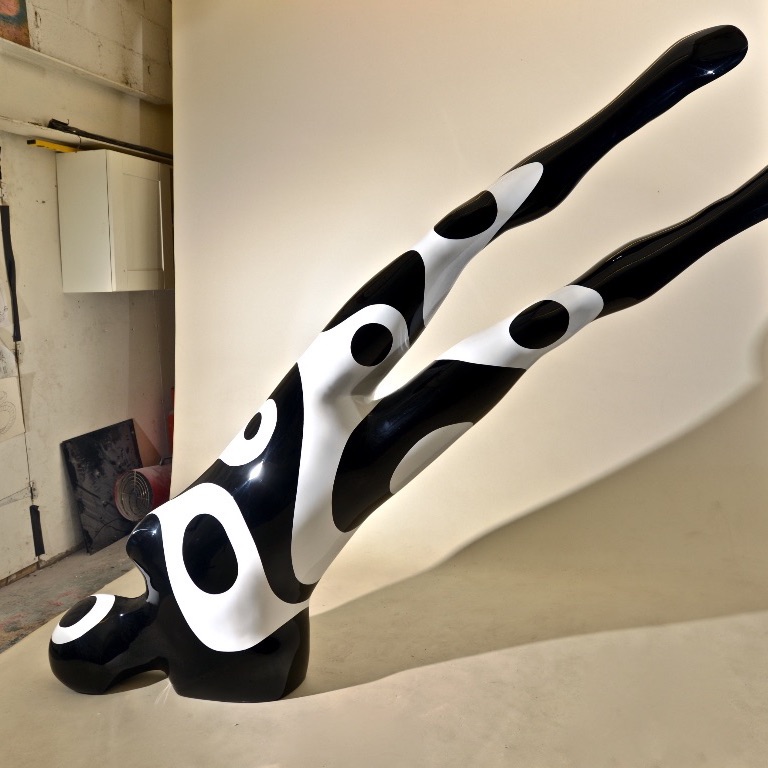 The universal acclaim for Shendi's work is ever growing and he has developed quite a considerable fan base on social media with nearly 60,000 followers on Instagram alone. His futuristic work was selected to be in the art collection of Ironman – 'Tony Stark' and it appears in his house in the 'Avengers' movie.
He is a member of the Royal Society of Sculptors and is the winner of the First@108 Public Art Award in 2013 and it has been recently announced that his piece 'Split Decision' has been selected as the winning piece for Liverpool plinth public art award 2019, it will be on the plinth for a year beginning this June.
Categories
Tags