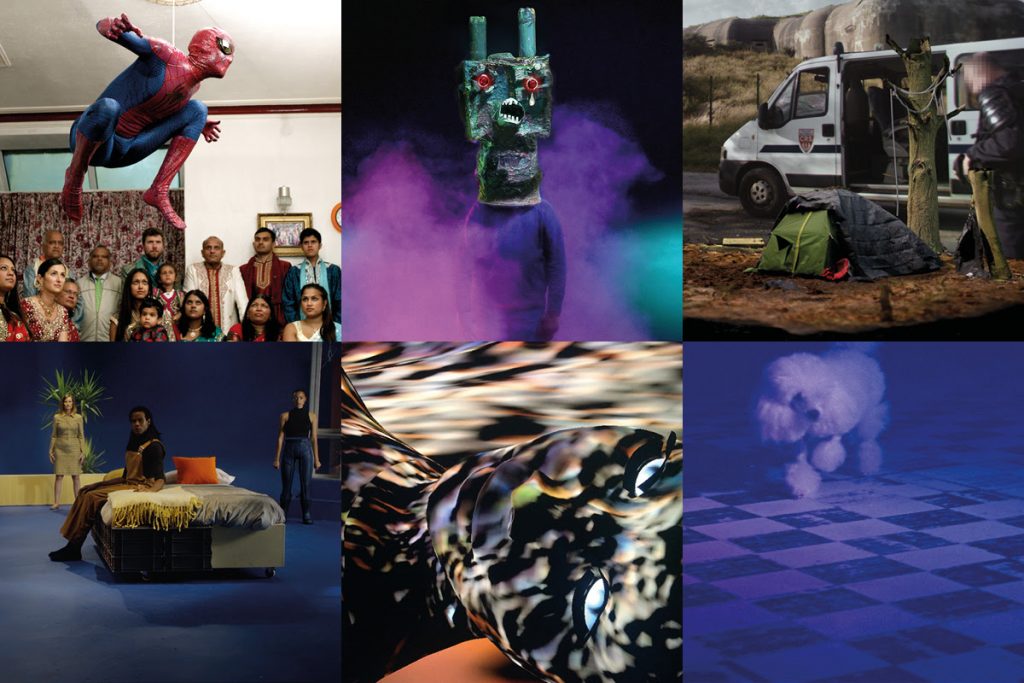 The shortlist for this year's Film London Jarman Award has been announced.The prestigious £10,000 prize celebrates the pioneering work of the UK's foremost artist filmmakers. The artists selected this year are:
Cécile B. Evans, Beatrice Gibson, Mikhail Karikis, Hetain Patel, Imran Perretta, Rehana Zaman
From cutting edge digital animation to analogue 16mm film, the work of the shortlisted artists provides a barometer of the strength and diversity of artists working with moving image today. Flickering montages of news footage, real life action, surreal TV soap operas, intense musical scoring and collaborative work with children demonstrate the spectrum of innovation within the medium. Audiences are drawn into imagined realms and are gripped by compelling narratives, whilst continually being confronted with the urgent political climate of today.
Adrian Wootton OBE, Chief Executive of Film London and the British Film Commission said:
"This year's Jarman Award shortlist is a fantastic showcase of original work that seeks to question, alter and articulate the modern world around us by exploring prevalent topics such as environment, identity and consumerism. With practices ranging from puppetry and animation to dance and poetry, these artists highlight the breadth of creativity and craftsmanship that art-film has to offer, as well as its powerful ability to immerse and provoke audiences. I'd like to congratulate all six shortlisted artists, and thank our funders Arts Council England as well as new and returning partners Whitechapel Gallery, Genesis Cinema and h Club London for all their vital support."
The winner of the £10,000 Jarman Award will be announced on 25 November at the Barbican Centre. In the run-up to the event, art lovers can explore the work of the shortlisted artists as part of a specially-curated tour that will travel the length and breadth of the UK. Events will take place in ten major arts venues from Belfast and Bristol to Glasgow and Cardiff, culminating in a special weekend of screenings, discussions and performances at the Whitechapel Gallery, London on 16 and 17 November.
The jury who selected this year's shortlist are: Andrea Lissoni, Senior Curator, International Art (Film). Tate Modern and Film London Board Member; Iwona Blazwick OBE, Director, Whitechapel Gallery; Artists Larry Achiampong & David Blandy; Melanie Keen, Director, Inivia and Tyrone Walker-Hebborn, Director, Genesis Cinema.
About The Artists
Cécile B. Evans examines the value of emotions in contemporary societies, and their rebellion as they come into contact with the physical and technological structures that increasingly impact our daily lives. Her videos, which combine live action and digital animation, use narrative to negotiate the possibility of many diverse realities within a common space.
Beatrice Gibson works with 16mm film and digital formats. Her recent body of work champions community, creativity, and motherhood as ways of living through times of political turmoil. With an interest in sound and music as well as contemporary poetry, her films are improvised and experimental in nature, exploring the pull between the chaos and control in the process of their making.
Mikhail Karikis employs filmmaking strategies that undermine dominant frames of representation. With an interest in sound, he works in sustained collaborations with individuals and communities located outside the context of contemporary art, often pushed into economic and socio-geographic fringes. This results in participatory film projects that highlight alternative modes of human existence, solidarity and action while nurturing dignity and tenderness.
Hetain Patel is interested in connecting marginalised identities with the mainstream in an effort to destabilise notions of authenticity and promote personal freedom. Often with an autobiographical starting point, he uses humour and the languages of popular culture to highlight familiarity within the exotic. He also works with photography, sculpture and performance.
Imran Perretta works across the moving-image, sound, performance and poetry. Perretta's practice addresses biopower, marginality and the (de)construction of cultural histories. Underpinning his work are questions of alterity and neo-coloniality, meditating on the process of identity forming in a post-9/11 era characterized by austerity, state-sponsored Islamophobia and the War on Terror.
Rehana Zaman works predominantly with moving image to examine how social dynamics are produced and performed. Her work speaks to the entanglement of personal experience and social life, where intimacy is framed against the hostility of state legislation, surveillance and control.
Categories
Tags