Art critic Tabish Khan brings you 'The Top Art Exhibitions to see in London'. Each one comes with a concise review to help you decide whether it's for you. All end soon, so hurry if you want to catch them, and there's a chance to catch three from last week's top 7 as well: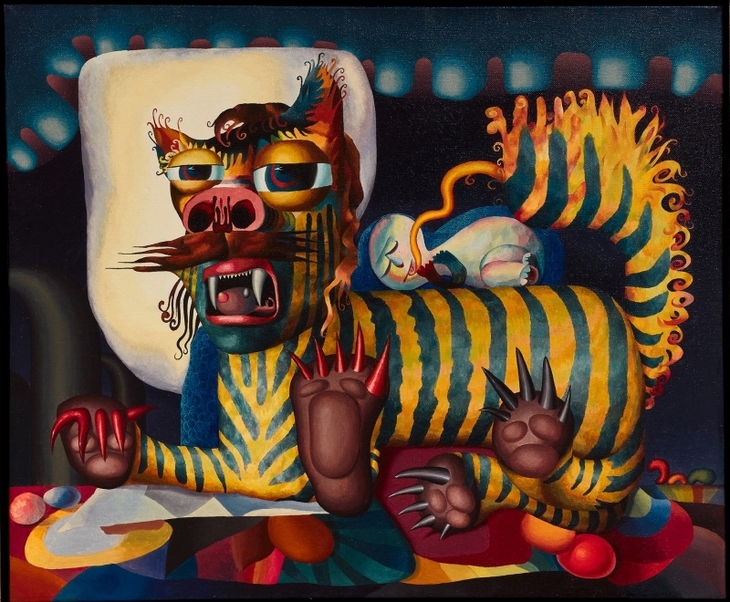 A Tale of Mother's Bones: Grace Pailthorpe, Reuben Mednikoff and the Birth of Psychorealism & Jonathan Baldock – Facecrime @ Camden Arts Centre 
A baby sucks on the tail of a moustachioed tiger and a grotesque pig flies by in an exhibition on a pair of British Surrealists at Camden Arts Centre. In the adjacent exhibition contemporary Surrealist Jonathan Baldock keeps it equally playful with arms and lips jutting out of haphazardly constructed pillars. It's a double bill of quirky brilliance. Until 23 June, free.
Fyodor Pavlov-Andreevich: Decorative Sacredness @ Gazelli Art House
Exposing himself to vultures and tying himself to a lamp post to recreate a horrific incident of racism, performance artist Fyodor Pavlov-Andreevich goes to extreme lengths to highlight the injustices of the past and recent history. Visitors have to contort themselves too by ducking under booths to sit on little chairs so they can watch videos of the performances. Until 23 June.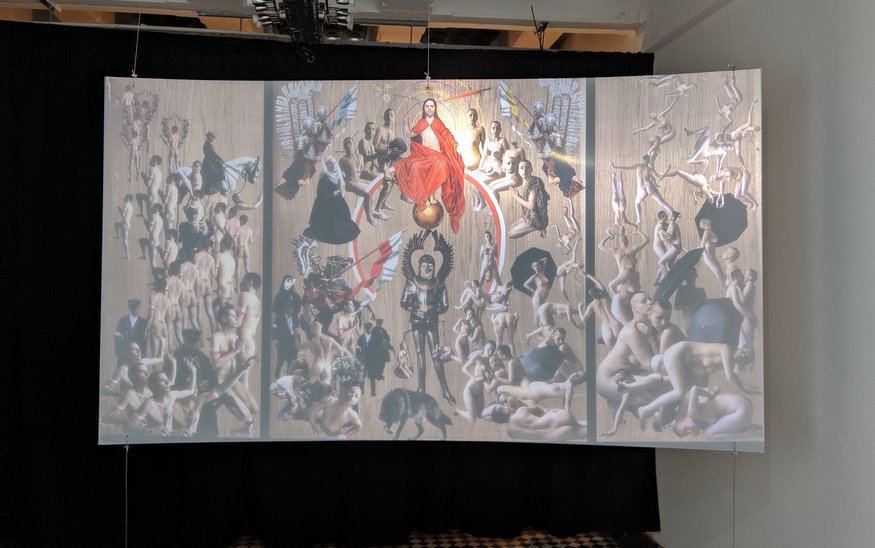 Kle Mens: Hybrid Prophecy @ Rejekt Gallery, 82a Commercial Street
Catholic imagery is subverted as a video triptych shows men ascending to heaven on one side and women damned on the other. Elsewhere breasts are sliced off and women are martyred in a contemporary take on feminism and religion in an a fab underground space that used to be a public toilet. Until 23 June.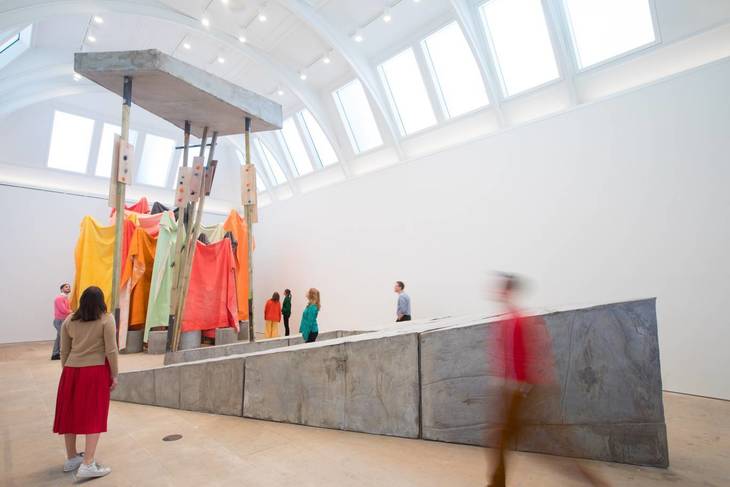 Phyllida Barlow: cul-de-sac @ Royal Academy of Arts
Big wooden structures look like they've been thrown together but they're holding up massive blocks so I walk under them with hesitation, as if it could all collapse and bury me. Elsewhere giant sculptures lie beaten and broken, or project from walls. While these large works are small by Phyllida Barlow's standards they still have a monumental presence in this three gallery show. Until 23 June.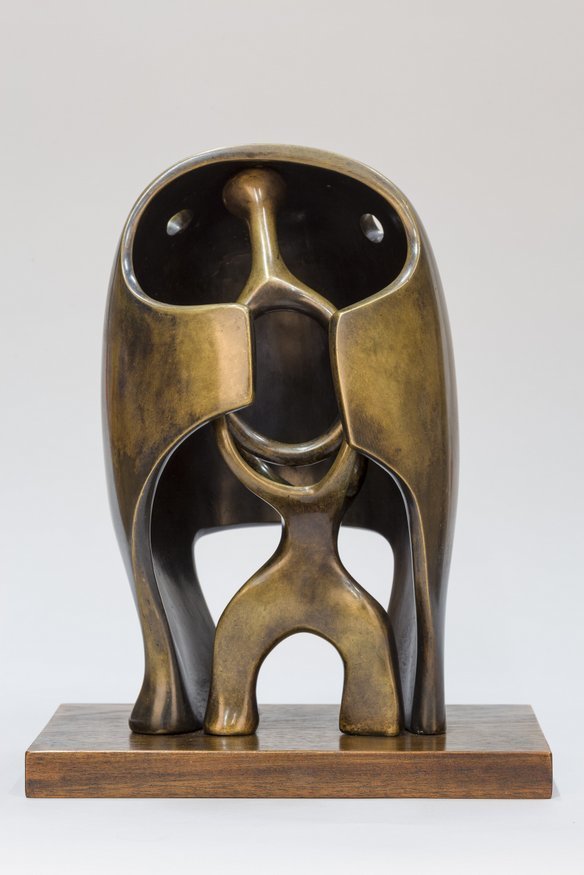 Henry Moore: The Helmet Heads @ Wallace Collection
Helmets are a practical item to protect a soldier's head but Henry Moore also saw them as works of art, so we get to see Moore's mechanical looking creations next to the armour that inspired them. It's a series I'm a lot less familiar with, compared to his reclining figures, and it's great to see a different side to a familiar artist. Until 23 June.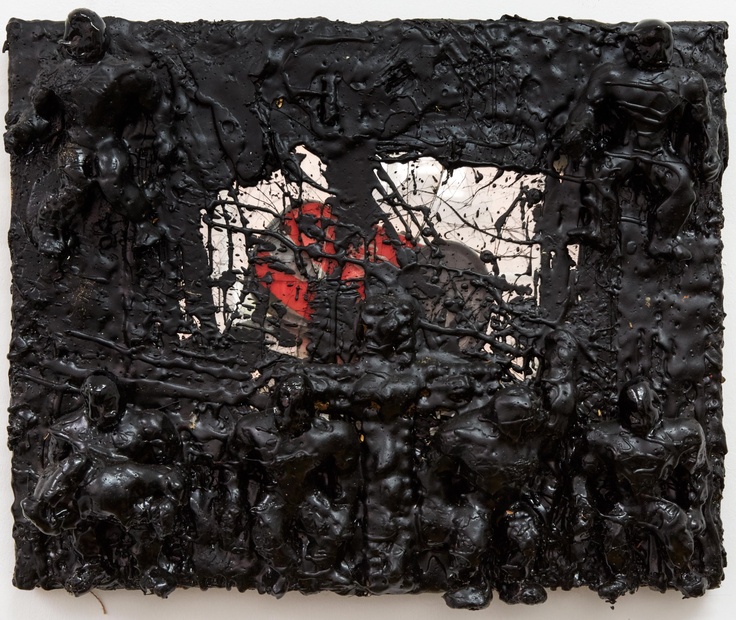 Derek Jarman: Shadow Is the Queen of Colour @ Amanda Wilkinson
Thick tar paintings that appear to ooze out of the walls, covering references from the artist's life including childhood toys and crucifixes. These are deeply personal works and I've always been a fan of the texture of his tar covered works. Until 22 June. 
Elizabeth Neel: Nightjars and Allies @ Pilar Corrias
Big broad gestural brush strokes give these abstract paintings an injection of texture and vibrant colour. I recommend getting lost in the swirls of these works, particularly the immense painting downstairs. Until 28 June.
All images copyright artists and courtesy gallery. Kle Mens photo Tabish Khan. Phyllida Barlow photo: David Parry. Moore image © The Henry Moore Foundation. 
Categories
Tags