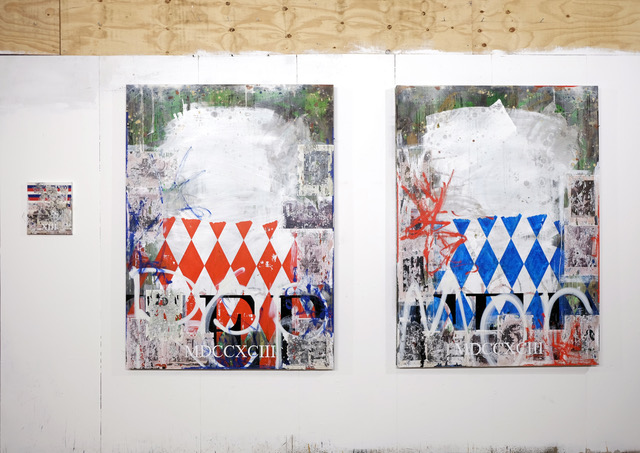 Zavier Ellis has become the first gallerist to both exhibit and be shown as an artist at VOLTA.
"I'm delighted to be the first gallerist to exhibit as an artist simultaneously at Volta Basel art fair. Similar to me, Galerie Heike Strelow (Frankfurt) has a very curatorial perspective and my paintings are working superbly well with Winter / Hoerbelt and Irene Grau. My mission is to prove that it is possible to work as a high level gallerist, curator and artist and Volta is the perfect context to illustrate that."
Zavier Ellis
Zavier (Charlie Smith London of London) longtime exhibitor at VOLTA, has created his seventh consecutive curated project for his booth at VOLTA Basel 2019 called "Thresholds" – featuring Geraldine Swayne, Emma Bennett, Barry Thompson, Dominic Shepherd, Florian Heinke and Hugh Mendes, but, in addition to this, Zavier as a practising visual artist himself has several examples of his new works on view in a group booth by Galerie Heike Strelow (Frankfurt am Main).
"We have had the pleasure of working with Charlie Smith London and Galerie Heike Strelow for many years now. They each have a strong international program of artists and a track record of compelling curated booth projects at our fairs. Likewise, their concurrent showings at past VOLTA editions has resulted in a distinct synergy between the two galleries, which is very present now at our 15th Basel fair."
– The VOLTA Team
VOLTA Basel ELSÄSSERSTRASSE 215, BASEL MONDAY, JUNE 10 – SATURDAY, JUNE 15 voltashow.com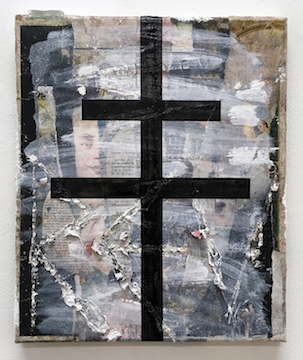 Zavier Ellis Revolt 2018, Oil, house paint, and collage on canvas, 30 x 25.5 cm
Categories
Tags