Los Angeles based artist Sterling Ruby will be launching a new ready-to-wear collection at the upcoming Pitti Uomo no.96 in Florence.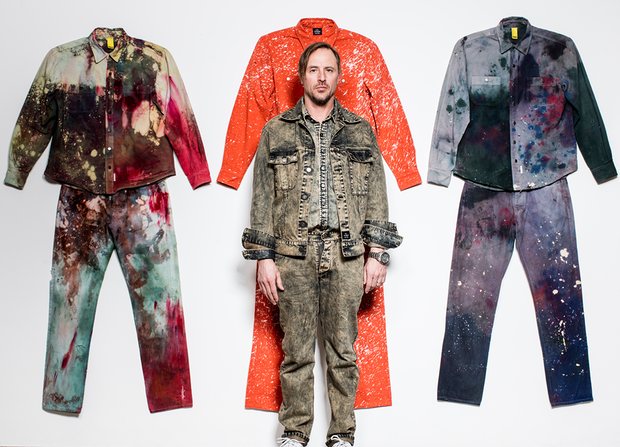 Sterling Ruby WORK WEAR: Garment and Textile Archive 2008-2016 Sprüth Magers
Sterling will be showing as a special guest of fashion show, Ruby will unveil the S.R. Studio. La. Ca. label at the Pagliere venue on June 13. Including both men's wear and women's wear, the brand will embody the evolution of Ruby's artwork — which spans from painting, ceramics, collage, and video to sculpture, photography and installation — revisiting the American workwear style.
"Pitti Uomo has a special spot in the world of fashion," "It has affirmed itself as a central stage with its specific identity, without compromise….The invitation to be special guest at Pitti represents for me the perfect moment to realize a project I've been exploring privately in my studio for 10 years."
Ruby said.
This is not the first time Ruby has ventured into fashion, as he has frequently collaborated with Raf Simons both for the designer's namesake label — co-creating the fall 2014 collection — and at Calvin Klein, where he conceived the brand's offices, numerous installations for runway shows and retooled the Madison Avenue flagship in a bright yellow space.
"We have been very interested in the work of the artist Sterling Ruby for a long time"
says Lapo Cianchi, Pitti Immagine's director of communication and event
"endeavors which are suspended between different areas with, at the center, a heterogeneous project dedicated to reinterpreting American workwear. This alone would be enough to justify Pitti Uomo's invitation to host the debut of the collection that will convey the project on to the fashion market. But Sterling Ruby is also one of the protagonists of the powerful and creative Los Angeles artistic scene that still moves between a thrust towards experimentation free from the burdens of success and competition and an adherence to industrial models of cinema, music, entertainment…and, naturally, fashion."
About The Artist
Sterling Ruby's work engages with issues related to the violence and pressures within society, autobiography, and art history. Drawing on diverse aesthetic strategies and mediums—glossy and color-saturated poured-polyurethane sculptures, drawings, collages, richly glazed ceramics, graffiti-inspired spray paintings, and video—he maintains a constant tension within a multitude of elements. Throughout, he vacillates between fluid and static, minimalist and expressionist, pristine and dirty. Of the diverse forms that constitute his oeuvre, the paintings are the most formally abstract. Ruby has long been influenced by the sociological implications of urban demarcation, vandalism, and the power struggles of gang graffiti. In his paintings, acts of defacement are transformed into a painterly sublime.
Ruby was born in 1972 on Bitburg Air Base, Germany. He graduated in 1996 from the Pennsylvania School of Art and Design, Lancaster, and went on to receive a BFA in 2002 from the School of the Art Institute of Chicago and an MFA in 2005 from the Art Center College of Design, Pasadena, California. Recent solo exhibitions include CHRON, Drawing Center, New York (2008); SUPERMAX 2008, Museum of Contemporary Art, Los Angeles (2008); Grid Ripper, Galleria d'Arte Moderna e Contemporanea, Bergamo, Italy (2008–09); SOFT WORK, Centre d'Art Contemporain, Geneva (2012, traveled to FRAC Champagne-Ardenne, France; and Bonniers Konsthall, Stockholm); CHRON II, Fondazione Memmo Arte Contemporanea, Rome (2013, traveled to Kunsthalle Mainz, Germany); DROPPA BLOCKA, Museum Dhondt-Dhaenens, Sint-Martens-Latem, Belgium (2013); Baltimore Museum of Art (2014); STOVES, Musée de la Chasse et de la Nature, Paris (2015); Belvedere Museum, Vienna (2016); and Sterling Ruby: Ceramics, Des Moines Art Center, Iowa (2018, traveling to Museum of Arts and Design, New York). Ruby's work is featured in museum collections worldwide, including the Museum of Modern Art, New York; Solomon R. Guggenheim Museum, New York; Whitney Museum of American Art, New York; Museum of Contemporary Art, Chicago; Museum of Contemporary Art, North Miami; Museum of Contemporary Art, Los Angeles; Los Angeles County Museum of Art; San Francisco Museum of Modern Art; Montreal Museum of Fine Arts, Quebec; Tate, London; Centre Pompidou, Paris; and Moderna Museet, Stockholm.
Ruby participated in the Taipei, Gwangju, South Korea, and Whitney Biennials in 2014; and Made in L.A. 2016: a, the, though, only, the Hammer Museum's third biennial.
Ruby lives and works in Los Angeles.
Categories
Tags