Miehling, the Art Block's third resident artist, explores the merging of man-made spaces with the unspoiled space of nature through his installation, A Tree is a Big Plant with a stick up in the Middle (2019). Exposing a tree trunk from Hyde Park, London in a transitional state – positioned on an inclined ramp – the artwork's components create an ongoing opposing condition of movement and resistance, forming a hermetically-closed construction, which holds itself temporarily together.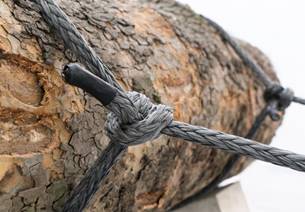 A Tree is a Big Plant with a stick up in the Middle, 2019. Digital render. Courtesy and © the artist
The tree trunk, removed as a result of contracting a fatal disease, is held in place by ropes bolted to the plinth, creating a perpetual state of tension. In this context, the plinth becomes a functional part of the artwork. It is integral to resisting the physical forces of gravity created by the installation's inclined construction and causes the tree trunk to remain motionless, despite it appearing to never fully rest. The plinth is no longer solely a physical support structure, rather, it becomes an active and enabling part of the work.
The installation at Selfridges shows the tree trunk under transformation, a process by which the object is converting into another form and context. By transforming the tree trunk from an object of nature (a tree) to an object of contemplation (an artwork), the work has different inherent purposes. The tree trunk's native surroundings remain, whilst a geographical de-contextualisation occurs.
A Tree is a Big Plant with a stick up in the Middle is accompanied by a video installation presented in the store's window, which extends the installation's reach to visitors both inside and outside the building, and connects the interior of Selfridges with the urban transformation outside it.
The Art Block is Selfridges' permanent destination for contemporary sculpture, presenting a series of six-month long residencies, showing newly commissioned artworks in captivating and unexpected ways. It is curated in partnership with Yorkshire Sculpture Park's Head of Curatorial Programme, Helen Pheby.
Pheby said:
"I'm delighted that the continued partnership with Selfridges has created an ambitious platform for Marco to extend his work into this high profile and prestigious context, where it will be experienced by millions of people, and allows us to continue to support his work and career."
Miehling's installation follows British artist Matthew Darbyshire's Brand Deities, three figurative works that play with, subvert and interrogate familiar classical symbols. Observing that many world-wide brands derive from classical deities, Darbyshire reinterpreted the traditional statuary of Nike, Hermes and Mars using the layering method typically seen in digital printing.
Yorkshire Sculpture Park (YSP) at Selfridges present a new commission by German artist Marco Miehling for the London store's Art Block, from 25th March until September 2019.
About The Artist
Marco Miehling – German artist Marco Miehling lives and works in London. He graduated with a Masters in Sculpture from the Royal College of Art in London in 2017. Miehling's work consists of site-responsive installations, sculptures, and virtual 3D-modelling. His artistic methodology is premised on a multidisciplinary way of working and involves collaborations with other artists and institutions. Miehling was awarded the Artists' Collecting Society Studio Prize 2017 and the Royal British Society of Sculptors Bursary Award 2017. Miehling was the 2017 Yorkshire Sculpture Park / RCA Graduate Award artist and returned to the Park in 2018 to present The Boatswain's Reclaim in the Boathouse. marcomiehling.com
Selfridges, the arts and the Art Block – Selfridges has long been a supporter of the arts, with a particular interest in British-based emerging talents across all arts genres – from music to sculpture. The artists who have contributed art to Selfridges or have been commissioned to create new art for the store include: Polly Morgan, Conrad Shawcross, Nick Hornby, Jodie Carey, Banksy, Sam Taylor Wood, Brian Eno, Tracey Emin, Marc Quinn, Antony Gormley, Grayson Perry, Ben Eine, and David Lachappelle, among many others. The Art Block is a marble and steel monolith designed by David Chipperfield as part of his commission to create Selfridges' new Accessories Hall, the world's largest destination for luxury handbags and accessories. The Art Block – situated right in the middle of the newly refurbished and extended Accessories Hall, has been designed to showcase large pieces of contemporary art that can weigh up to 3.5 tonnes and measure well over 4 metres in height, thanks to the very high ceilings within the space. The Art Block will present two new residencies every year (of six months each), curated by Helen Pheby of YSP. Discover more about Selfridges' ongoing support of the arts at selfridges.com/art
About Helen Pheby – Helen Pheby PhD is an international curator and Head of Curatorial Programme at Yorkshire Sculpture Park. She is a recognised specialist in cultural inclusion and impact, and an authority on art beyond the institution. Her PhD thesis considered controversial public art as a means to better understand the place of art in life and she has worked with international partners to co-curate off-site projects including the Kyiv Sculpture Project (2012) and A Place in Time (2016)
at NIROX Sculpture Foundation in the UNESCO Cradle of Humankind, South Africa, pioneering an appreciation of contemporary practices alongside artefacts. Dr Pheby's YSP projects include Katrina Palmer: The Coffin Jump (2018) a co-commission with 14-18 NOW; Occasional Geometries: Rana Begum Curates the Arts Council Collection (2017); and Fiona Banner: Wp Wp Wp (2014). She initiated YSP's programme of process-led and open-ended practice including Graduate Awards with Ayesha Tan Jones and Marco Miehling. She has extended the organisation's platform for artists to new territories and areas of conflict, such as Art by Email (2016) for practitioners with very limited travel opportunities.
About Yorkshire Sculpture Park – Yorkshire Sculpture Park (YSP) is the leading international centre for modern and contemporary sculpture. Founded in 1977 by Executive Director Peter Murray, YSP was the first sculpture park in the UK, and is the largest of its kind in Europe, providing the only place in Europe to see Barbara Hepworth's The Family of Man in its entirety alongside a significant collection of sculpture, including bronzes by Henry Moore, and site-specific works by Andy Goldsworthy, David Nash and James Turrell. YSP mounts a world-class, year-round temporary exhibitions programme including some of the world's leading artists across five indoor galleries and the open air. Recent highlights include exhibitions by Alfredo Jaar, Tony Cragg, Not Vital, KAWS, Bill Viola, Anthony Caro, Fiona Banner, Ai Weiwei, Ursula von Rydingsvard, Amar Kanwar, Yinka Shonibare MBE, Joan Miro? and Jaume Plensa. More than 80 works on display across the estate include major sculptures by Phyllida Barlow, Ai Weiwei, Roger Hiorns, Sol LeWitt, Joan Miro? and Dennis Oppenheim. YSP's core work is made possible by investment from Arts Council England, Wakefield Council, Liz and Terry Bramall Foundation, Sakurako and William Fisher through the Sakana Foundation, and Roger Evans. YSP was named Art Fund Museum of the Year in 2014. ysp.org.uk
Categories
Tags