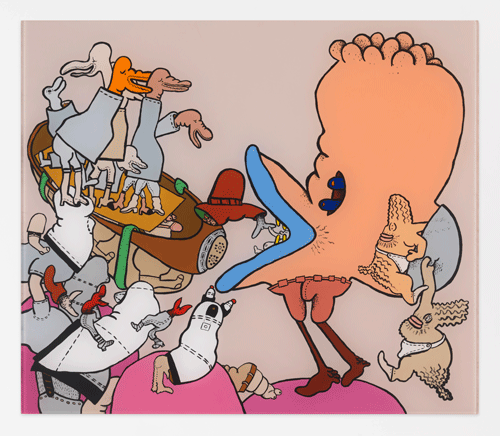 Gladys Nilsson, A Cold Mouth, 1968 © the artist. Courtesy the artist and Garth Greenan Gallery, New York
Goldsmiths Centre for Contemporary Art presents How Chicago! Imagists 1960s & 70s, the first significant UK exhibition in almost 40 years of work by the group of artists who have become known as the Chicago Imagists. The exhibition focuses on 14 artists highlighting their individual styles as well as their shared references and moments of connection through painting, objects, drawings, prints and ephemera. Co-curated by Sarah McCrory (Goldsmiths CCA) and Rosie Cooper (De La Warr Pavilion), and organised by Hayward Gallery Touring, Southbank Centre, the exhibition travels to De La Warr Pavilion, 15 June – 8 September 2019.
Having mostly studied in proximity to one another at the School of the Art Institute of Chicago throughout the 1960s, the artists in this show share an enthusiasm for Surrealism, Art Brut, comic books, non-Western and 'self-taught' artists, commercial advertising and the music, markets, sideshows and architecture of the city they lived in. They learned from teachers at the School of The Art Institute, such as Ray Yoshida, and in turn their teachers learned from them. In 1966, Jim Falconer, Art Green, Gladys Nilsson, Jim Nutt, Suellen Rocca and Karl Wirsum first presented their works together at the Hyde Park Art Center in Chicago under the name of the Hairy Who. Following the show's success, the Hyde Park Art Center staged a series of similar exhibitions in the years that followed, bringing together new constellations of artists under names such as Nonplussed Some, The False Image, Marriage Chicago Style and Chicago Antigua. The strong bonds developed between these artists during the 1960s and 70s has kept them affiliated under the moniker 'Chicago Imagism', despite the diversity of their work. How Chicago! will focus on works produced in those pivotal decades, a vital period in the development of these artists' practice.
The 14 Imagists in How Chicago! are united by humour and fondness for wordplay, bringing to the surface all that is funny, popular, ridiculous as well as grotesque, vulgar and serious. This exhibition gives UK audiences the chance to see an incredible and hugely influential body of work which has been rarely seen outside the USA. At a moment when many contemporary artists are reconnecting with ideas around imaginative figuration, this exhibition provides a vital and inspirational touch-point for emerging artists and the public alike.
Goldsmiths CCA How Chicago! Imagists 1960s & 70s 15 March – 26 May 2019 goldsmithscca.art
Categories
Tags