Misplaced, which opened at Eden Fine Art gallery in Mayfair on October 26th, presents an impressive body of work by Italian artist Angelo Accardi. Over sixty pieces, which include paintings, sculptures and an installation, are on display, creating an optimal point of entry into Accardi's vibrant and neo-surreal world.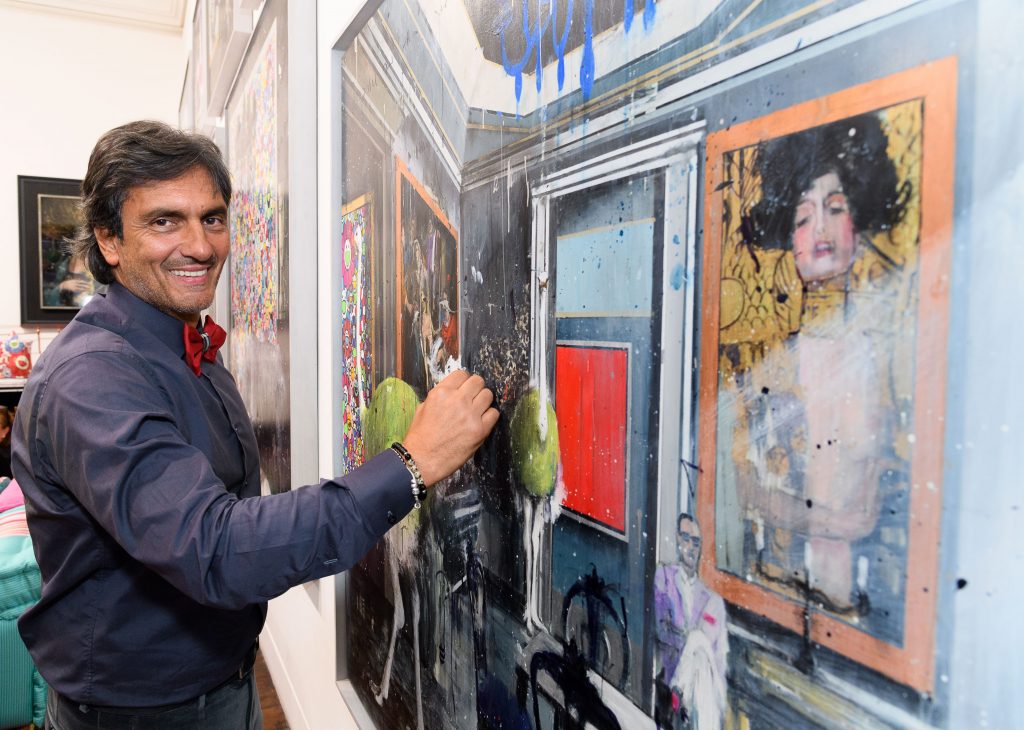 Angelo Accardi first UK exhibition at Eden Fine Art
Born in Sapri, a small town in southern Italy, Accardi has been working as an artist in his hometown since the early nineties. His work, however, distinguishes itself through its panoply of reference that span widely, not only across national borders but also, more arrestingly, across time and tone. Artworks of masters such as Klimt, Picasso, and Lichtenstein feature prominently in Accardi's paintings, but they do so alongside cartoon characters such as Pixar's Minions and Matt Groening's Simpsons. Dropped into the mix are Accardi's own cyphers: a gigantic high-heeled shoe, an imposing rhinoceros, and, amongst others, a striking ostrich.

I'M WAINTNG.. – Blend 2018 _ _ size 80x120cm
By placing these surreal elements and pop culture icons in settings that are familiar backdrops for human social interaction (rooms in museums, streets in iconic cities), Accardi creates a sense of unease, of things not being where they should. These inherently incongruous juxtapositions––a Minion peering up at a rhino standing in front of a Hockney; the parents from American Dad! posing beside a green-feathered ostrich in front of a Klimt––would seem random if Accardi's compositions weren't so masterfully executed. When discussing the guiding principles behind Accardi's work, it is therefore much more relevant to refer to randomness' cousin, chaos, which actually isn't random at all.
The foreign elements (cartoon characters, imposing and prehistoric-looking animals) in Accardi's familiar settings shift the initial conditions of the world as we know it. What will come of these new dynamics, as anyone who watches Rick and Morty or has seen Back to the Future well knows, will be wildly different from what we see in front of us. Looking at Accardi's work, the spectator is left to dream up these ensuing scenarios. Nothing, however, embodies the tipping point of Accardi's new world order quite like his ostrich, the most reoccurring symbol in his work. For Accardi, the ostrich is a dream, a manifestation of the subconscious. She is a powerful, elusive force, unfortunately, equated in the popular imagination with the epitome of denial, her head wilfully ducked into the sand to avert danger. In reality, the ostrich is extremely aggressive––in addition to being extremely elegant. She stands tall in Accardi's paintings, and is often depicted on the brink of movement, one of her long slender limbs aloft. Her ability to instigate chaos is immanent in these paintings, and what's at stake are the masterpieces––precious and one-of-a- kind––that hang unprotected on the walls in front of her.
The ostrich was Accardi's initial cypher and the paintings in which she appears as a predominant figure belongs to the collection Misplaced, after which the show at Eden Fine Art is titled. With Blend, a collection that succeeds Misplaced, Accardi incorporates new cyphers, new cartoon characters, and incorporates pop stars and movie stars such as John Travolta (as Tony Manero) in Saturday Night Fever. There is a clear progression in Accardi's practice, one that is marked by the technical evolution of his work. His paintings become more layered, more detailed, more populated; the scenes he creates increasingly meticulously orchestrated.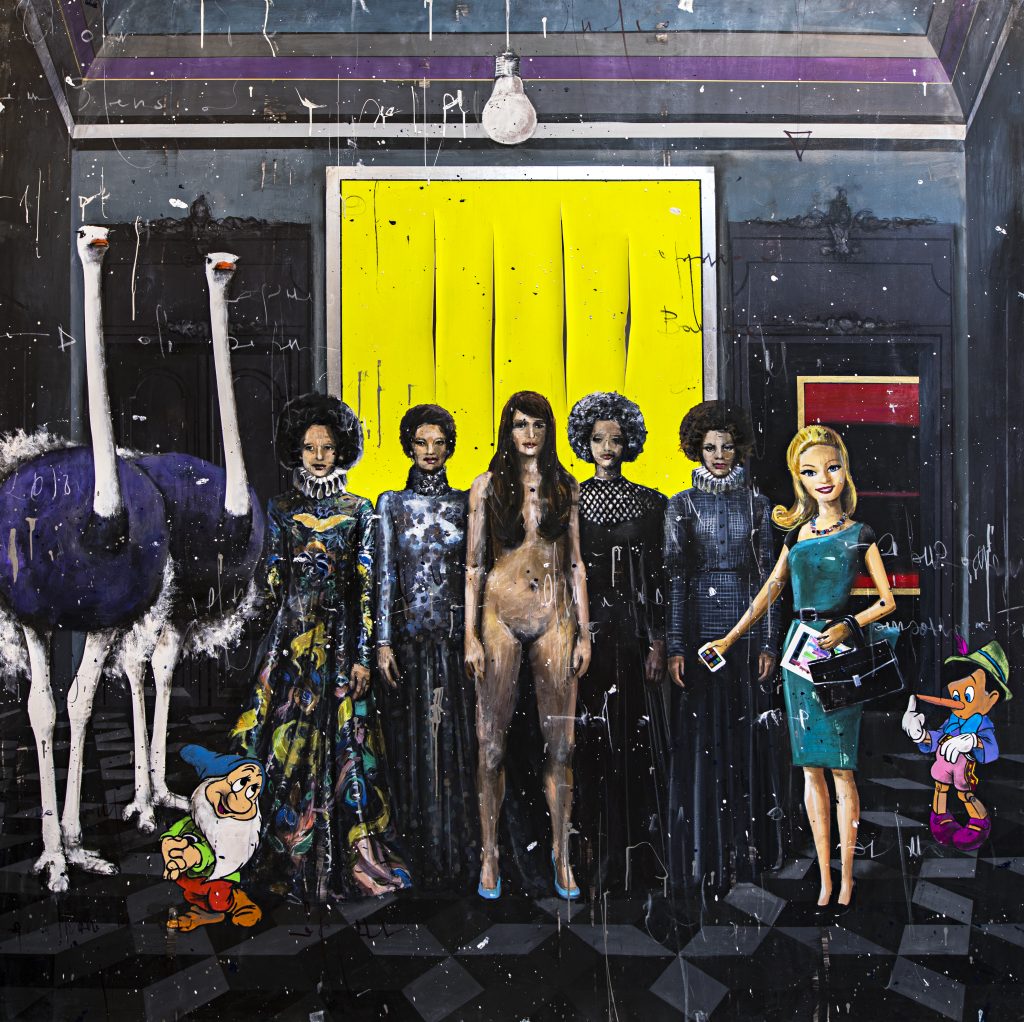 YELLOW FONTANA
For the show currently on view, Accardi exposes new sculptures and paintings as well. Two of his new paintings include references tailored to an English audience: there's the Beatles on the zebra crosswalk (Marge Simpson skipping alongside) in one painting, and a caricature of Margaret Thatcher hanging off the top of the frame by a rope in another. The latter denotes meditated violence that only rarely occurs in Accardi's work, with the exception of his Russian Roulette series, sculptures that outline the shape of a gun in galvanised steel and other metals. Often, the oppression of this symbol is abated through the presence of candy-coloured bullets, either in the cylinder of the gun or on the sculpture's base. To give you a sense of scale, one of these bullets could, theoretically, put a hole in your torso the size of your arm.
By and large, however, Accardi's work displays a reverence for creation rather than destruction. This reverence is most distilled in his portraits, a collection entitled Flowers' Daughters. While the portraits similarly make use of Accardi's transversal palette, they are much more serene compared to his maximal scenes. The frame of his portraits are traditional, the women shown from the bust up. Their clothes, the dark background––also references to the past. But their hair is bright and light, littered with tiny Keith Haring figures or full-blown flowers. For Accardi, Keith Haring represents the ultimate artistic freedom. In these portraits, the women's faces are painted white as the moon up high against the night's dark sky, and their hair floats above, a galaxy of neon colours and idealism.
Incongruity becomes connection in Accardi's work. Accardi's canvas transforms into a plane in which different characters, artistic styles, and time periods can coexist––in harmony and in disorder. Because where's the fun in a world that's fixed and predictable? And nothing carries through Accardi's work more than this element of fun, of celebration for the imagination's endless possibilities.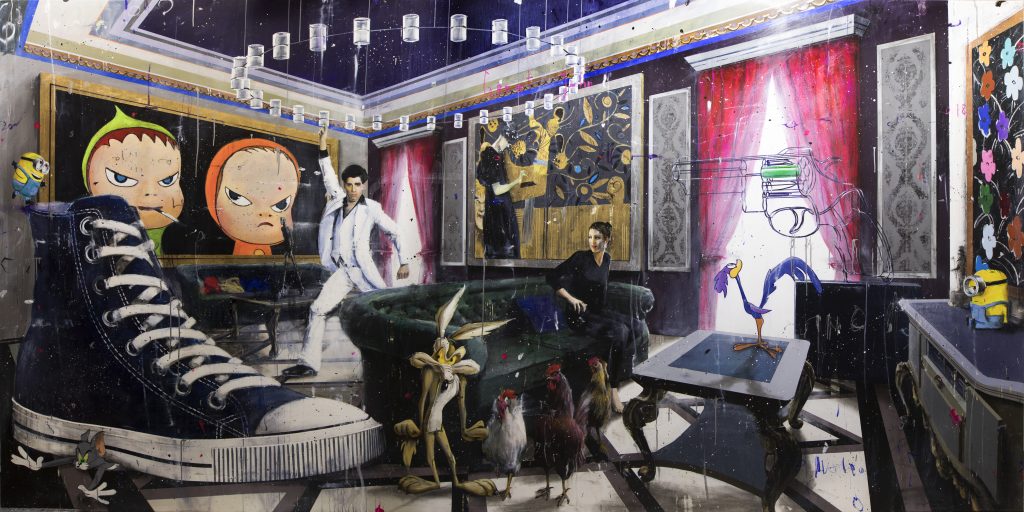 Categories
Tags