Call for entries now open for the third Jerwood/Photoworks Awards Deadline: 5 November 2018
Jerwood Charitable Foundation and Photoworks are seeking proposals from outstanding UK-based artists and photographers using new approaches to photography in their practice, to be considered for the third edition of the Jerwood/Photoworks Awards.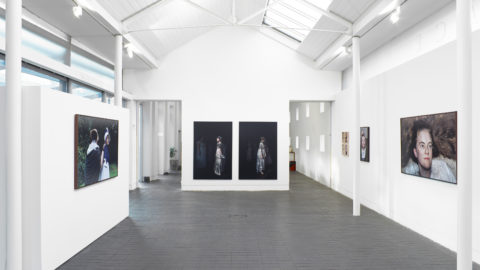 Two artists will receive £10,000 each and will undergo an extensive and high-profile mentoring programme during a year-long development period. They will also have access to additional production fund as they make a significant body of new work for a two-person exhibition in London in January 2020 as part of the Jerwood Visual Arts programme at Jerwood Space, with a subsequent UK exhibition tour.
Presented every two years, the Awards are open to arts practitioners using photography who are within 10 years of establishing their practice. There is no age limitation for applicants and there are no requirements for formal education or qualifications. In recognition of the increasing pressures faced by many artists, this edition will not require an application fee. Applicants also have the alternative of submitting a video or audio proposal. Alongside the extensive mentoring programme offered to the two awardees, shortlisted artists will be invited to undertake mentoring with the Photoworks team of expert curators and arts professionals.
The selection panel will include artist, writer and curator Aaron Schuman alongside Shoair Mavlian, Director, Photoworks and Lilli Geissendorfer, Director, Jerwood Charitable Foundation. Two further panellists will be announced over the coming weeks. The selection panel will consider applicants' track record and the potential of the ideas submitted. They will also assess what impact the opportunity would have on developing the artists' practice, career and profile.
Alumni of the Jerwood/ Photoworks Awards include Alejandra Carles-Tolra; Sam Laughlin; Lua Ribeira; Matthew Finn; Joanna Piotrowska; and Tereza Zelenkova. Joanna Piotrowska and Alejandra Carles-Tolra have both had works acquired for the Arts Council Collection and two of Joanna's works now also reside in MOMA's collection. Lua Ribeira was recently announced as a Magnum Nominee – a precursor to becoming an Associate Artist – and was a runner-up for the Bar-Tur Photobook Award.
The closing date for submissions is 5pm on 5 November 2018. More information and details of how to apply can be found at jerwoodvisualarts.org.
Tuesday 18 September – 5pm, Monday 5 November 2018: Jerwood/Photoworks Awards Call for Entries open
19 November: Longlisted candidates notified
26 November: Shortlist announced
28 November: Interviews held at Jerwood Space, London
December 2018: Awardees announced
January 2019 – January 2020: Mentoring and production period, new work(s) developed and produced
January – March 2020: Jerwood/Photoworks exhibition open at Jerwood Space, London
March 2020 – March 2021: Exhibition tours
The current, second edition of the Jerwood/Photoworks Awards exhibition tour continues:
Belfast Exposed, The Exchange Place, 23 Donegall St, Belfast BT1 2FF
2 November – 22 December 2018
The Awards are a collaboration between Jerwood Charitable Foundation and Photoworks, supported by Official Print Partner Spectrum Photographic. They are presented every two years as part of Jerwood Visual Arts, in London and on tour nationally.
Categories
Tags