Felix Carr's debut UK solo exhibition Only My Right Hand Is Mine, on view at PUBLIC Gallery from 9th October – 3rd November.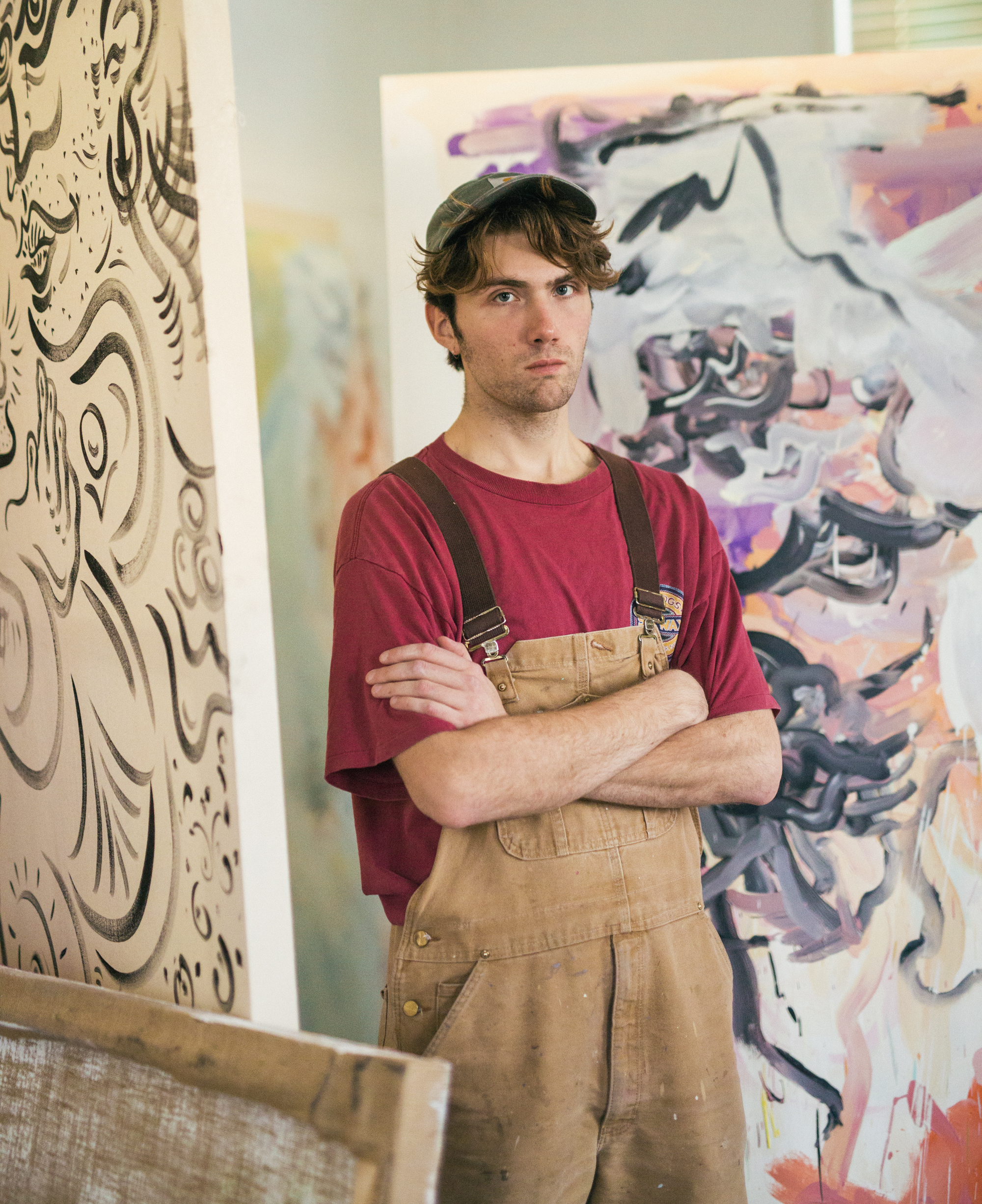 The show features a new series of paintings in which the artist explores both formalistic and subjective aspects of art making. In his investigation, he develops a tableau of bizarre, self-referential narratives that evoke sentiments of yearning, expectation and self-hood.
The works presented by the PUBLIC Gallery represent the culmination of Carr's developing practice in which he researches painting's enduring relationship with the figure, testing the interstices between representation and abstraction. Through continual negotiation with form and context, the works are marked by their fragmentary nature and emphasis on gesture and expressivity. The artist puts under pressure the fine line (ideally) separating man-made categories such as 'real' representation and abstraction.
Led by a constant stream of consciousness, Carr fluidly works to create hybrid imageries that are at once elusive and physically intimate. The inter-combining of such conventionally contrasting domains engenders works that are never naive, expected or easily categorizable. Often a result of continued reworking and alteration, the works develop a palimpsestic quality. Spectral forms peek through the surface, evincing layers of process and depth in which one can trace a history of the image.
The strong., inky, bold contours of the figures rapidly emerge from the canvas, only to go back to their universe of fears and broken dreams. The intermingling lines are in a constant battle against fantasy and nightmares. The (voluntarily) chaotic array of figures that uneasily surface on the canvas are at once imaginary and concrete vessels for emotive responses. Caught in the middle of their grotesque appearance, their concrete foundation, and their imaginary potential, the bodies that Carr so vehemently depicts never fail to engage with the spectators.
As a matter of fact, the depicted body features as a site for play and potentiation – a sphere of sensation in which gesture guides the image. The artist's gestures, visible all over his creations, expand to surpass their physical support. In doing so, they enter the mundane, everyday reality of the public.
As in a modern dance performance, bodily gestures rise up and float down in a coherent way. Marks and lines bleed freely into one another, compounds of movement that render the figures therein as intimations of exchange. Despite their apparent slipperiness, these images remain anchored in the concrete of a representational language – as polysemous, indexical entities.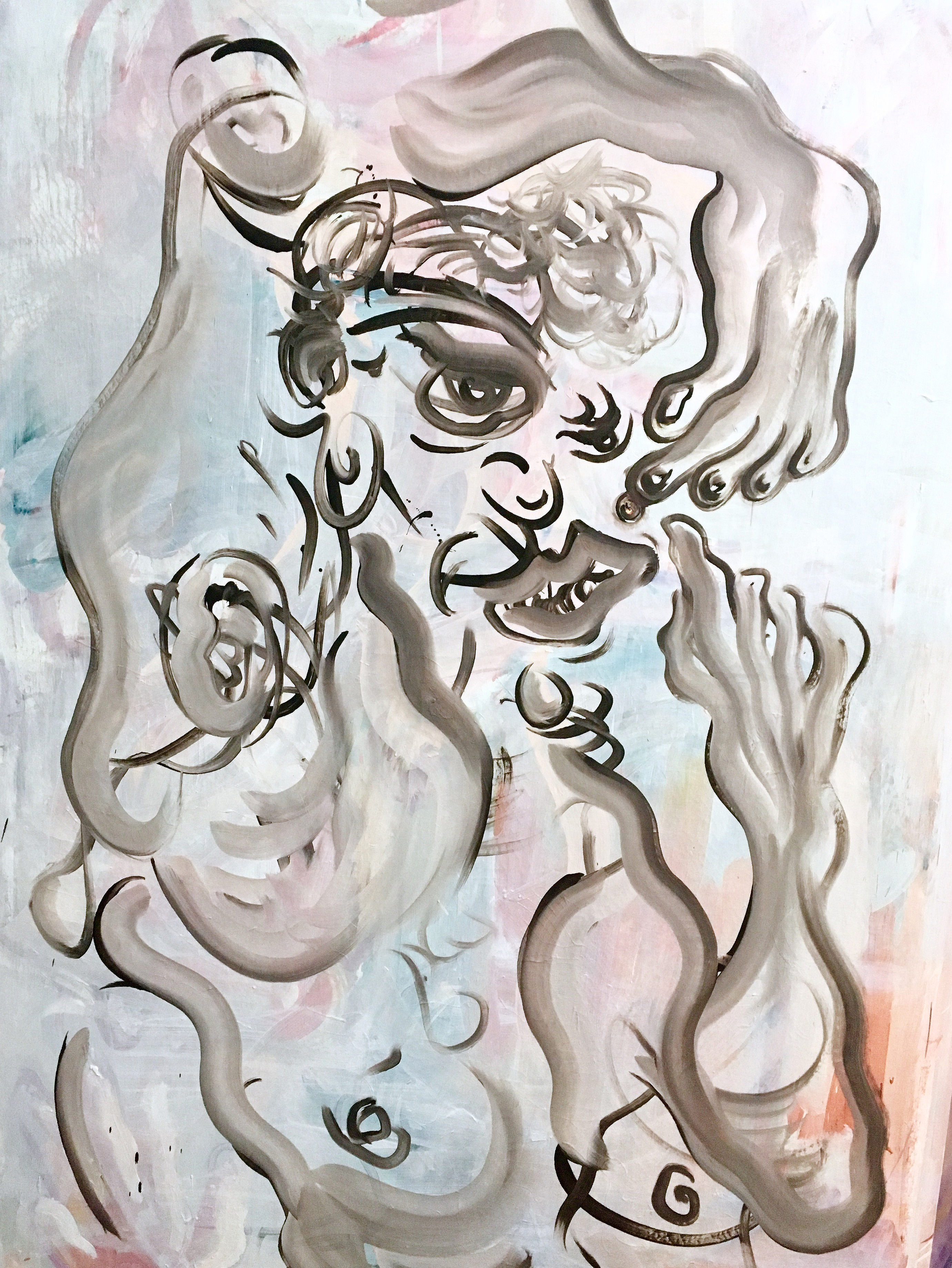 Each painting is encoded with symbolic motifs. Meaning is transferred through a process of interrogation that equates the physical act of painting with experiential aspects of the body, where images are carriers of mood and sensation. Symbolism is often contextualised within a framework of literary and art-historical narrative and in this respect, the works operate analogously within an anatomy of subjects, signs and language.
Carr's paintings offer themselves to a wider interrogation of abstract painting – humorous and sincere – of its capacities and relevance as a tool, with which one can create and conceal, explore and exploit. In their evolution, the paintings tease and entice the viewer to interpret their deferred or inconspicuous narratives.
FELIX CARR – ONLY MY RIGHT HAND IS MINE (9th October – 3rd November)
PUBLIC Gallery – 17 Amherst Terrace, London, E8 2BT 
Opening hours: Tuesday to Friday 11am – 7pm / Saturday 11am – 6pm 
artsy.net/public-gallery 
instagram.com/public.gallery
Categories
Tags