We managed to catch up with artist Will Martyr ahead of his solo exhibition which is opening at Unit London in early September.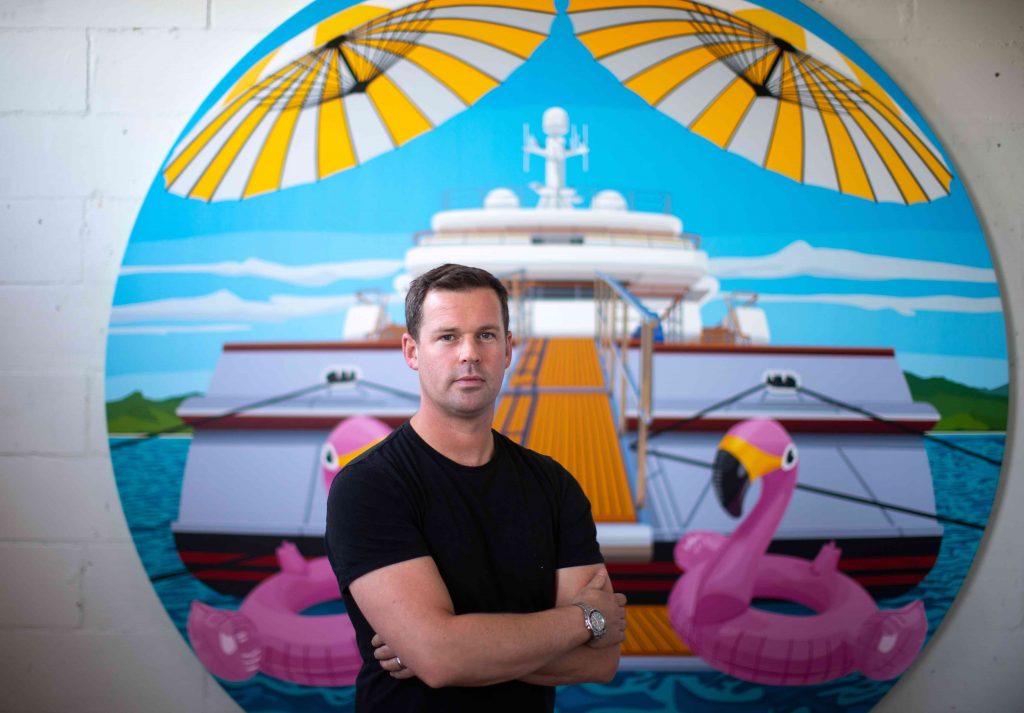 1 Can you tell us something about the title of your new exhibition – what are you trying to understand/fathom?
The Title Fathoms holds a dual meaning. Fathoms can be a unit of depth in water. In all my paintings water plays a central role. It is seen as cool, calm and inviting and plays restorative and rejuvenating psychological role in culture. These often poolside compositions are designed to be familiar and safe, reminding the viewer of places they have loved and laughed.
Fathoms is also the quest to understand and assimilate. Initiatially my compositions have immediate seduction, the place is satisfying and inclusive, yet within the compositions, there are subtle fine art references which bring a symbolism and narrative to the work to explore. By understanding and recognising these nods towards renaissance paintings, the viewer begins to understand and assimilate the entire work.
2 You have painted on circular canvases for this exhibition – what are your reasons for using a circle?
Fathoms is comprised of eight large-scale tondos, the renaissance name for circular works of art. I use these to represent an embracing wholeness and notions of eternity. There is something about the circle that draws you into the composition. Like a love locket or family picture frame, there is a softness and welcoming safety which is womb-like. I feel these tondos allows the viewer to inhabit these locations, triggering memories and personal moments from their own past. It is this that makes my work euphoric, seductive and contemplative at the same time.

Will Martyr, Suddenly I Understand, 2018
3 Which artists have and are inspiring you?
Colour has always played a central role within my work. My formative influences include Ellsworth Kelly, Albers and Diebenkorn who's work with colour helped me understand and then explore the power of placing colours alongside each other. In addition, the depiction of architectural spaces has been a constant in my work. Using perspective and colour seductively, I am able to create immersive experiences of the spaces and places. It has often been artists who work in three dimensions that have influenced these elements in my work, such as James Turrel and Dan Graham.
4 You have an interesting process – could you give an insight into it
My complex paintings are built from meticulous hand-drawn compositions, masked off and cut to shape using surgical blades before hand-painted in block colours. The masking of the work can take days and days before any painting can happen. On first glance, the paintings are characterised by flat areas of graphic colour but on closer inspection the layers of paint and raised impasto elements become apparent. I have a scrupulous devotion to painstaking attention to detail. This quest for perfection of the surface causes many people to question the handmade qualities within the painting.
5 What plans have you for 2019?
In 2019, I will be working on a number of very large scale commissions to be placed within major private and corporate collections worldwide. I will also be taking part in group shows and working towards my next solo show towards the end of 2019.
Will Martyr Fathoms Unit London 31st August – 29th September theunitldn.com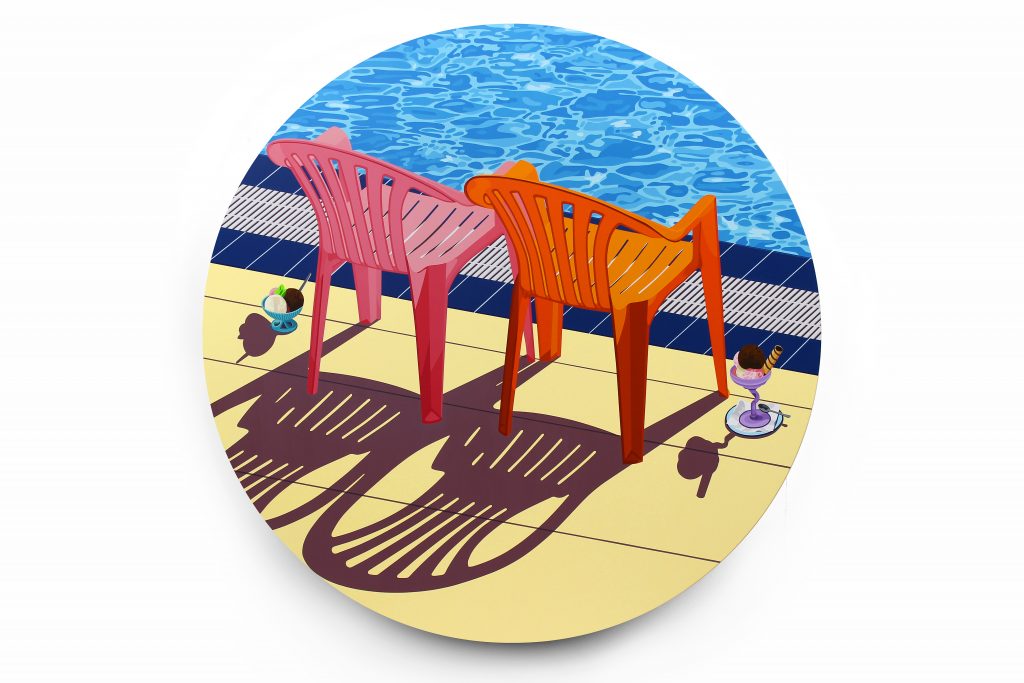 Will Martyr To Love And Be Loved
Categories
Tags