Art critic Tabish Khan brings you 'The Top Art Exhibitions to see in London' this week 12/08/18. Each one comes with a concise review to help you decide whether it's for you. Hurry, as all close soon: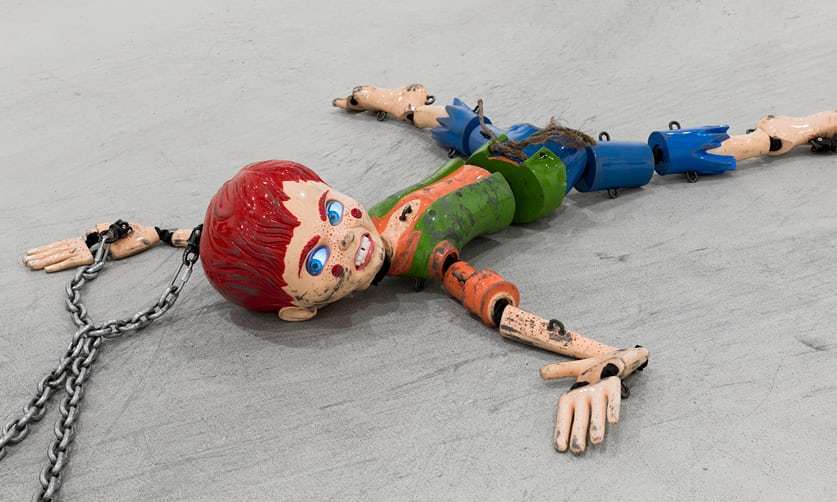 Jordan Wolfson @ Tate Modern, The Tanks
A creepy oversized wooden puppet of a boy is dragged around by clanging chains, and repeatedly smashed on the ground in this brutal artwork. If that's not disturbing enough the eyes are designed to stare right back at you – that's right we're all complicit in this torture. Until 26 August.
Windrush: Songs in a Strange Land @ The British Library
Songs, diaries and newspapers tell the story of the Windrush generation, how they were welcomed and how poorly they were treated by the racist hurdles placed in their path. This is an emotional exhibition that I found hard going at times but so important given how the Windrush generation have been treated recently. Until 20 August.
Banksy, greatest hits: 2002-2008 @ Lazinc
A major collection of the famous street artists works have set up in Mayfair. Old favourites such as balloon girl and the kissing coppers are present, as well as send ups of Van Gogh's sunflowers all wilted and a shopping trolley in Monet's Japanese garden. The very nature of his work means a show this size is always going to be a rare treat. Until 8 September.
Places, faces and spaces @ New Art Projects
How do contemporary painters take on the traditional genres of portrait and landscape painting? From Lucy Smallbone's house on fire and Rob Reed's ramshackle allotment sheds are tow highlights in this show filled with talented artist. Until 25 August.
London Contemporary Art Prize 2018 @ Store Street gallery
This prize brings together a host of emerging artists and favourites of mine include Patrick Simkins' collaged heads and Kiran Tasneem's series of photographs showing how her in different stages of being veiled — it plays on our views of how women are seen differently depending on how much of her face is covered up. Until 25 August.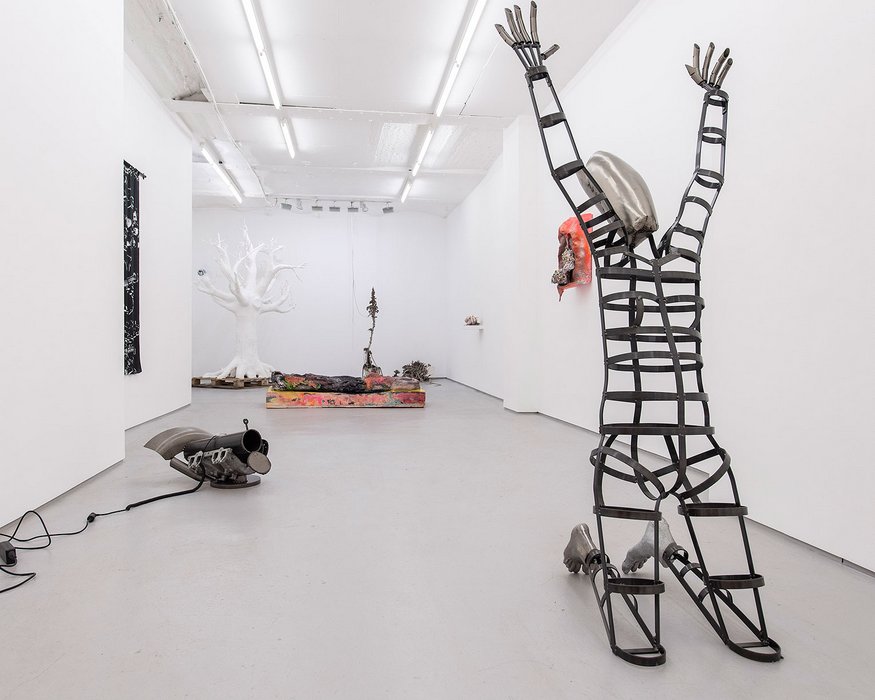 Flipside @ Fold
A skeletal humanoid kneels with hands aloft as if surrendering while a sculpture nearby looks like it's ready to fire on it. A tree, a neon sign and amorphous shapes are all brought together in a show where artists explore materiality in different ways. Until 18 August.
Mandela exhibition: The centenary exhibition @ Queen Elizabeth Hall
What would have been the 100th birthday of Nelson Mandela is marked with an exhibition celebrating his life and his achievements. There are a few artefacts but this show is about the re-telling of his life and the struggles he endured. Until 19 August. 
All images copyright artist and courtesy gallery. Windrush image Copyright Andrea Levy.
Categories
Tags