The Science Museum has commissioned Marc Quinn to create a monumental bronze sculpture for its new Medicine Galleries. To be unveiled in autumn 2019, 'Self-Conscious Gene' will greet visitors as they enter the Galleries, introducing the theme of 'Medicine and Bodies' that this space will explore.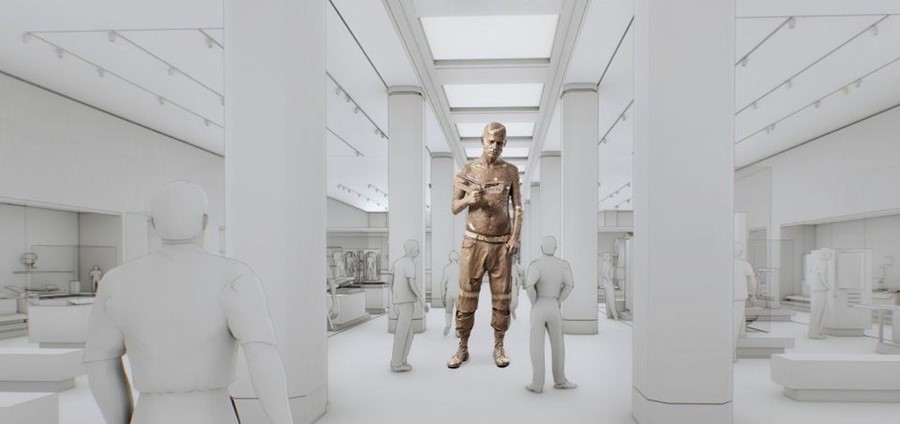 'Self-Conscious Gene' is a sculpture of Rick Genest, more widely known as Zombie Boy, who began covering his whole body with tattoos of his complete skeleton following a period of illness. The work has evolved from Marc Quinn's ongoing series entitled 'body alterations', which explores how, using modern medicine and technology, people have modified their outer bodies to reflect the identity they wish to project—bringing the inside out.
Through this sculpture, Quinn explores the deep yearning within humans to understand their bodies and roots. The figure will hold an encyclopaedia of anatomy and the tension between the book and the figure is designed to create a meditative atmosphere.
Artist Marc Quinn, said:
"After a period of illness Rick Genest began to have the inside of his body drawn onto his skin by a tattoo artist. Literalising a quest to understand his own body, his tattoos are like a kind of poetry. His ritual mirrors our quest through medicine to understand and fix ourselves. What I love about Rick is that his body is at the crossroads of popular street culture, deep philosophical meaning, and medicine. It seemed to me that this was exactly what was needed in the Science Museum, one of my favourite museums in London, and one which I've been visiting since I was a child. The Museum is a mixture of knowledge, art, and wonder. I hope that this sculpture will add to all three of these elements."
Based on the collections of Sir Henry Wellcome and the Science Museum, the Medicine Galleries will celebrate one of the largest and most significant medical collections in the world. Over 2500 extraordinary medical artefacts, spanning more than 500 years of history, will enable visitors to discover how all our lives have been transformed by changes in medical research and practice. Set to open in autumn 2019, as a permanent display, the Medicine Galleries have been designed by architecture practice WilkinsonEyre and will cover more than 3000m2, an area big enough to park 185 ambulances.
Ian Blatchford, Director of the Science Museum, said:
"Artists and scientists have helped shape our sense of the body and health, and placed medicine as central to our culture. That is why we wanted to position new art commissions alongside the richly visual medical artefacts in our existing collection, to help visitors consider anew their relationship with medicine. It has been a personal ambition of mine to work with Marc Quinn for more than two decades, and I am sure our millions of visitors will be both fascinated and challenged by this remarkable sculpture for many years to come."
In further news, Marc Quinn has just released a new print with Avant Arte.
The Medicine Galleries have been made possible by a £10 million grant from Wellcome (Title Funder), £8 million in funding from the Heritage Lottery Fund – thanks to the National Lottery Players – and further support from GSK (Principal Sponsor), the Wolfson Foundation (Major Funder) and Vitabiotics (Major Sponsor). The galleries will be free to visit and are set to open in autumn 2019.
Categories
Tags