Hush Hush: Conversations with Myself is an interdisciplinary art and music event curated by Concrete Assembly at Guest Projects, East London This is a group show of individual moving-image and painting language works, they can be viewed as a series of monologues, co-exist only within self and dialogue.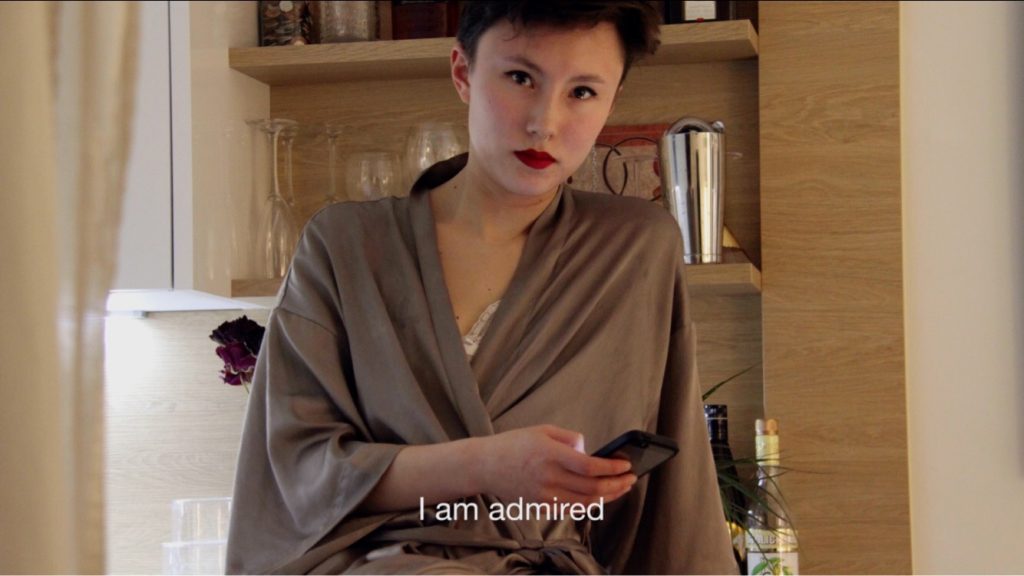 Concrete Assembly is composed of Maisie Linford, Cosima Cobley Carr and Pietro Bardini, who met on the Barbican Centre's young artist program in 2017. It is built on a desire for collaboration, using a thematic approach to select works that bring together artists and audiences who might not ordinarily meet.
A commitment to fair pay for artists and support from Arts Council England allows for further freedom in curatorial choices that invest in the potential of artists, not the gallery commission they are expected to bring.
Melanie Eckersley's newly commissioned video work The state of Grace reveals the increasing distance between inner thought and the message we broadcast online. This works both for the subject and the viewer, as we develop an inauthentic relationship through the familiarity of watching.
Dagmar Shürrer's video I Want To Be Like You, which was nominated for the Tenderflix Prize in 2016, combines geometric and faintly recognisable elements with text and spoken monologue, to rethink our relationship to material and increasingly immaterial surroundings.
Cosima Cobley Carr's moving image piece This is Not a Battleground, addresses mental health, within the framework of perceived normality and abnormality. It is a combination of performance with text and collage drawn from personal experience and found footage
Pietro Bardini's temporary site-specific painting blank, blends stream of consciousness with cultural boundaries of language. The installation aims to personify the paralysing control that language has on our experience of the world, whilst also creating a sort-of spiritual bubble around the inevitable temporality of the work.
The exhibition opens with an audio-visual performance by Cephalopedia: an international group of experimental artists, who use a helmet to create music from the wearers brainwaves and synth-pop singer-songwriter Pet Grotesque.
The weekend continues with a music programme supported by Old Blue Last Beer and closes with a dinner with the artists, inspired by Yinka Shonibare's already established artist dining room at Guest Projects.
Yinka Shonibare,
"Over the last 10 years Guest Projects has continued to take chances on young multi-disciplinary artists, to take risks, experiment and collaborate. We are honoured to be supporting Concrete Assembly and giving a platform for their first exhibition as a collective"
Hush Hush: Conversations with Myself curated by Concrete Assembly at Guest Projects 17th – 19th August
Dagmar Schürrer, Melanie Eckersley, Pietro Bardini, Cosima Cobley Carr www.guestprojects.com twitter.com/concreteassembl
Artists and Performers
Concrete Assembly is a newly formed collective composed of Maisie Linford, Cosima Cobley Carr and Pietro Bardini built on a desire for collaboration, bringing together diverse artists that might not ordinarily be shown together. This approach, prioritising theme over style or medium, opens up new expressive space for the viewer, creating fertile ground for conversation and innovation.
Maisie Linford is an independent curator and writer based in London, who graduated in Comparative Literature from Goldsmiths in 2014. Maisie has curated exhibitions at the Barbican Centre, Rich Mix and in a Central London telephone box. Pietro Bardini is a London- based composer, visual artist and curator. He is a graduate in Electronic Music and Multimedia Arts from the University of Pécs and Music Composition from the University of Hertfordshire 2017. Cosima Cobley Carr is a London based visual artist, writer and independent curator. They graduated in Philosophy from The University of Edinburgh and was awarded Skirving Prize in Philosophy in 2017 Cosima has curated and exhibited at venues including the Barbican Centre and Fruitmarket Gallery. Dagmar Shurrer is a Berlin-based artist from Austria, who graduated from Central Saint Martins in 2011. She has been shortlisted for the Berlin Art Prize and Tenderpixel Award in 2013 and 2016, she was also a Bloomberg New Contemporary in 2011. She has exhibited in venues around London, Israel, Berlin and Seattle. Melanie Eckersely is a London-based art and language artist, who graduated from Ruskin School of Art, the University of Oxford in 2015, she was a Bloomberg New Contemporary in 2015 and was shortlisted for Red Mansion Art Prize in 2015, and selected to Daata editions. She has exhibited at a range of Oxford venues and ICA in London. Cephalopedia is a loose-knit international audio-visual collective of therapists, performance artists, neuroscientists and visual artists made up of David Mayor, Aiste Noreikaite, Zoë Dowlen, Olly Dowlen, Tony Steffert and Suzanne Davies. Pet Grotesque is a South London-based singer-songwriter. His first album 'Good Egg; was released in 2017, and his single 'Boy' was released in July 2018. He has performed at venues around the UK, as well as with Goat Girl in Amsterdam, Brussels and Paris. This is his first gallery show. Katie Fiore is an Open School East Associate Artist based in Margate who met Concrete Assembly on the Barbican Young Artist Programme. Optic Nerve are a London/Edinburgh/Amsterdam-based audiovisual project that questions the value of abstract concepts through interrogated mundane lived experience. Recently, they performed an improvised set with DAMO Suzuki (Can). Their first EP Time Spent Above Earth is scheduled for release later this year.
Categories
Tags