The first major overview of artist duo Elmgreen & Dragset in the UK combines a large-scale site-specific installation to be unveiled in September 2018 with six new sculptures and 29 works created over 20 years of the artists' collaboration.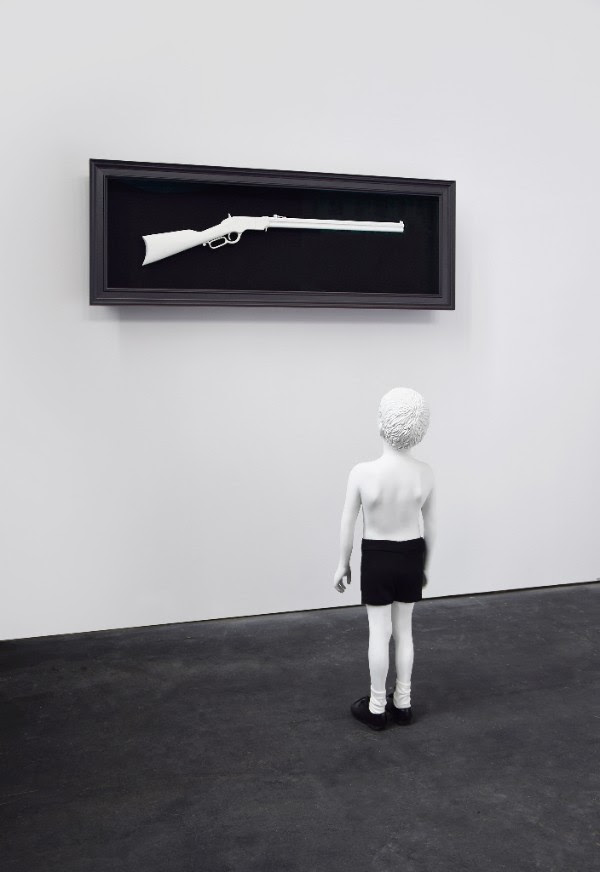 Michael Elmgreen (b. 1961, Copenhagen, Denmark) and Ingar Dragset (b. 1969, Trondheim, Norway) have worked together since 1995 and are now based in Berlin. Their beguiling spatial scenarios explore social and sexual politics and unveil the power structures embedded in the everyday. Through displacement and alteration they challenge the architecture of their exhibition venues allowing visitors to re-experience domestic and institutional settings.
Commissioned especially for the Whitechapel Gallery, Elmgreen & Dragset's immersive new installation relates to the gentrification of London's East End and points to a loss of faith in public space in an era of austerity. Transforming the ground-floor Gallery, this remarkable environment will transport the visitor to an alternative civic space permeated by abandonment.
Elmgreen & Dragset said:
"This is How We Bite Our Tongue is an exhibition about emotions held inside, not said out loud. It is about withdrawal and resignation, about absence and impermanence, the feeling of loss, of losing agency as well as community. But it is also about reconciliation and resilience"
The artists draw inspiration from the 19th-century Danish painter Vilhelm Hammershøi (1864 – 1916), who subtly turned his depictions of domestic spaces into psychological dramas of bourgeois repression.
One gallery is dedicated to Self Portraits – monumental labels carved in marble or painted on canvas – that pay tribute to works of art that have inspired the artists and shaped their identity. Their tributes to artists ranging from Louise Bourgeois (1911-2010) to Mark Morrisroe (1959-1989) are accompanied by a desk complete with a diary and a bottle of whiskey. The Bottle and the Book (2015) invites visitors to break common gallery rules by sitting on the artwork and taking a drink.
This Is How We Bite Our Tongue culminates with a display of figurative sculptures presented in a chapel-like atmosphere, much like relics or icons. According to the artists, they 'speak of misguided reverence and of judgement, lust and fear'.
Some sculptures question traditional perceptions of masculinity: in One Day (2015) a young boy gazes at a rifle in a display case; while Invisible (2017) depicts a boy hiding inside a mantelpiece. The housemaid is a recurring figure in the artists' oeuvre; here Pregnant White Maid (2017) might serve as a symbol of abuse or bear hope of the future. In Elmgreen & Dragset's uncanny universe, we will never know for sure.
Iwona Blazwick, Director, Whitechapel Gallery, said
"Having sited a monumental boy on a rocking horse among the admirals of Trafalgar Square, revealed a failed modernist architect's flat inside the V&A and perched a vulture in the trees of Regent's Park, Elmgreen & Dragset will make visible the disappearance of civic space while also offering an overview of two decades of their uncanny sculpture"
27 September 2018 – 13 January 2019 Galleries 1, 8 and 9 Supported by Phillips
www.whitechapelgallery.org
Categories
Tags