Gimmel will be Miriam Austin's second solo exhibition at Bosse & Baum. Based in London, New Zealand-born Austin has a rich multidisciplinary practice that explores the relationship between ritual, myth, ecological fragility, and the politics of the body through sculpture, works on paper, installation, video and performance. This exhibition takes its name from the gimmel ring, a kind of wedding ring used in late medieval and early modern Britain. The ring, made from a single piece of metal, comprised two interlocking bands, which were then separated and worn by each partner prior to marriage. At marriage, the two rings were re-joined and worn by the woman, marking their union – and her new status as a married woman.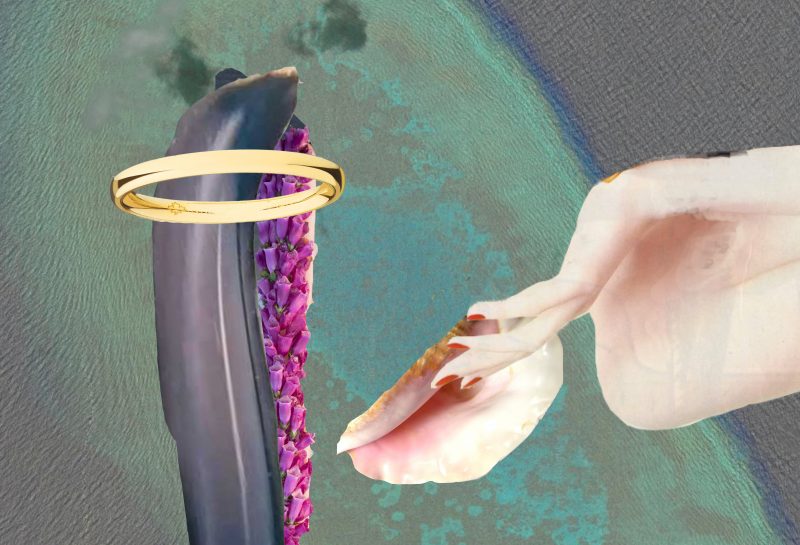 This new, partially autobiographical body of sculpture and installation takes the gimmel ring as a figurative tool for investigating the psychological, mythological, historical and political dimensions of bodily intimacy and kinship. Drawing on her family's colonial past in New Zealand, Austin's work is a complex and ambivalent interrogation of practices and visions of joining and severance; between people, cultures, human and non-human agencies.
Centring on an imagined dialogue with her great, great grandmother – part of an early generation of New Zealand colonisers, who spent her life rearing her family in a tent in the New Zealand bush after the death of her alcoholic husband – Austin's installation imagines a territory in which culture, materiality and the organic merge as memory-traces across layered generations. Steel tools, informed by Austin's research into Suzette Haden Elgin's constructed feminist language, Láadan, as well as other ancient scripts, stand at once as ritual objects poised for use, as trophies from a distant culture and as a threat posed to the fragile, quasi-aquatic bodies they surround. These bodies, inspired by Maori mythology and British folklore, are supported by decidedly Western, biomedical prostheses; poised together either in readiness for, or in resistance to, unbreakable bindings.
Through these figures, held within the symbolic range of the gimmel ring – Austin attempts to address the entanglement of privilege, oppression and representation that always already accompanies Western interest in "native" or "folk" religions and cultures. Within this context, the installation confronts the painful inequalities and struggles of cultural debt, of the uncomfortable complicity and risk of socially sanctified intimacy, and the inseparability of growth from constraint and decay.
Miriam Austin: Gimmel Bosse & Baum, Unit BGC, Ground Floor, Bussey Building, 133 Rye Lane, London
Private view: 28 June, 6–9pm 29 June – 28 July 2018 www.bosseandbaum.com
About The Artist
Miriam Austin lives and works in London, UK. Her practice includes sculpture, works on paper, video and performance. She studied at the Royal College of Art, London, UK and The University of Brighton, Brighton, UK. Recent exhibitions include Andraste, Alma Zevi, Venice, (2018); On the Heights, Yorkshire Sculpture Park, (2017); Lexis Over Land, Tremenheere Sculpture Gardens, Cornwall, (2017); Domusdei (performance for Art Night), ICA, London (2016); We All Have a Problem with Representation (screening), The Showroom, London (2016); Sculptors Drawings, Alma Zevi, Venice (2016); Ritual>>>Enhancement, Chisenhale Studios Project Space, London (2016); Lupercalia (solo show), Bosse and Baum, London (2016); Feminist Practices in Dialogue, ICA, London (2015); Groundwork, New Art Centre, Salisbury (2015); A Sense of Things, Zabludowicz Collection, London (2014); Elements of Religion, Bold Tendencies, London (2013); Happening #1, The White Building, [SPACE] Studios, London (2013); Heart of Darkness, Villa Arson Art Centre, Nice, (2012). Miriam Austin will be showing some new work as part of Artist of the Day 2018 at Flowers Gallery, Cork Street on 27 June and will be included in an upcoming group show at Beaconsfield, London, opening in July.
Bosse & Baum promotes an open-range of developments in the arts, curating site-specific exhibitions, supporting emergent practitioners, with a focus on audience development. The gallery has a strong focus on performative art practices, with an active events programme accompanying exhibitions, bringing current discourses to the attention of existing and new audiences, both in the local community and internationally. A team of two, Lana Churchill and Alexandra Warder, are steering the gallery to be a open, accessible, testing ground, and solid foundation, for artists and audience, encouraging active viewing, conversation, whilst supporting the growth of their artists beyond the gallery space, into both private and institutional collections. The gallery operates within the public and private spheres, open to new combinations, to move forward in the current cultural and economic conditions. The current gallery space is based in Peckham, London, where the permanent gallery was founded in 2014. The gallery's main exhibition and events programme is accompanied by a non-profit and Arts Council England supported project called Micro Social Cultures, which started in early 2018. Micro Social Cultures is an active shared space for research, thinking & discussion and for exchanging ideas and knowledge catalysed by contemporary art practice. This will result in an online library, commissioned essays & open source information. The annual programme is structured in 4 episodes, each episode centered around an artist-developed workshop. This year's programme has been selected by Jamie Sutcliffe. The invited artists for 2018 are: Hardeep Pandhal, Anna Zett, Claire Potter and Monira Al Qadiri.
Categories
Tags