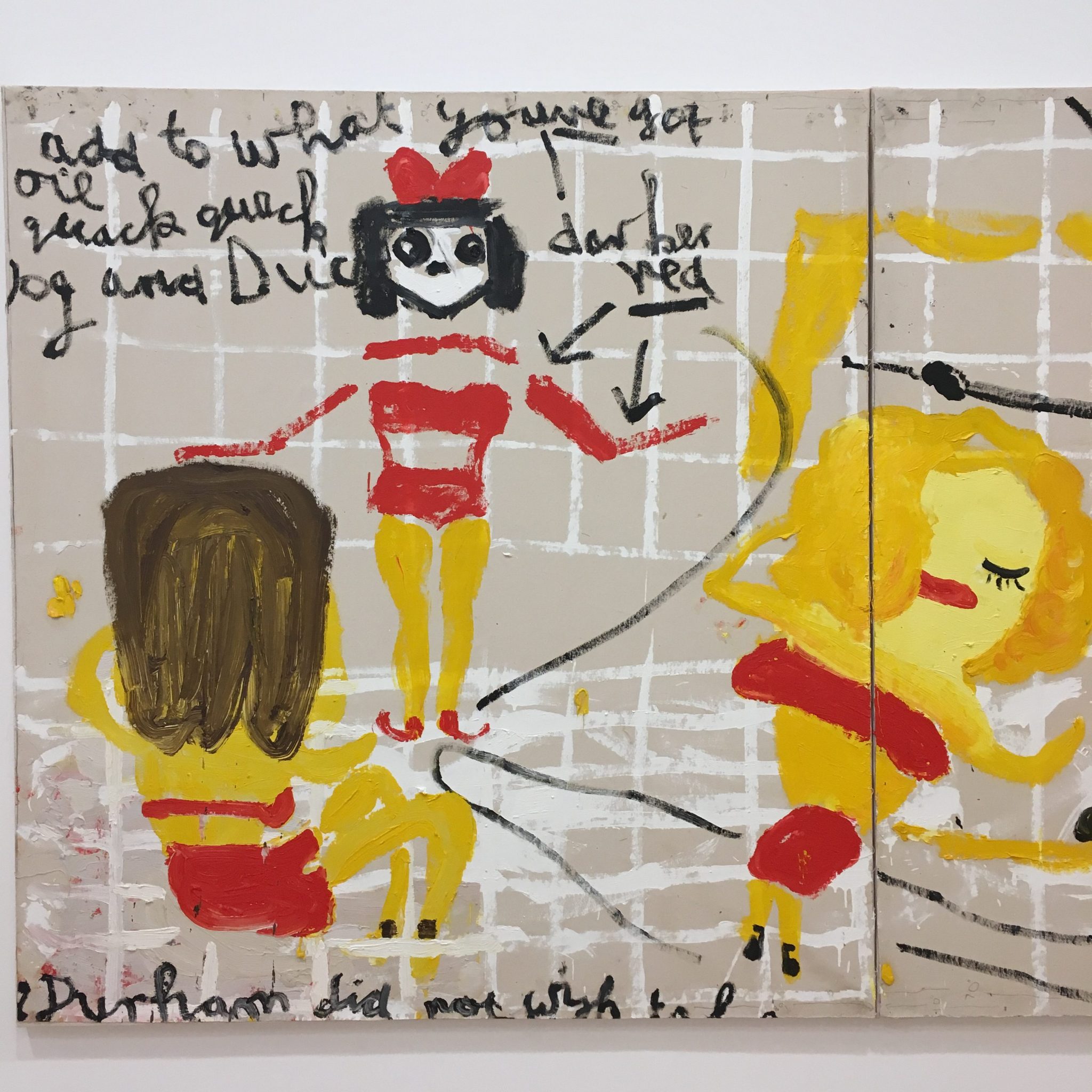 Rose Wylie, Yellow Girls I
Last week I was more disoriented than usual, courtesy of an incessant London sun and an added Bank holiday – so disoriented that I ended up missing my own column. I have recovered now and putting aside my summer-induced dizziness, I ventured around Mayfair to see a very colourful Lolita, one of the masters of arte povera (don't call him that though!) and a surrealist group show at Sophia Contemporary.
Starting on Grafton Street I walked into a cool David Zwirner, ready to see Rose Wylie's new paintings and works on paper. Wylie has recently had a stunning retrospective at the Serpentine Sackler Gallery so Zwirner's opening was highly anticipated – and rightly so. Starting from the very top floor we find ten paper panels, from one corner of the room to the other, a green snake stretching over them. Whilst the scale of the work was immediately striking, I found the paper works on the walls more interesting to observe in detail as they offer a glimpse into Wylie's work process – her instinctive associations, her visualisation of the canvas.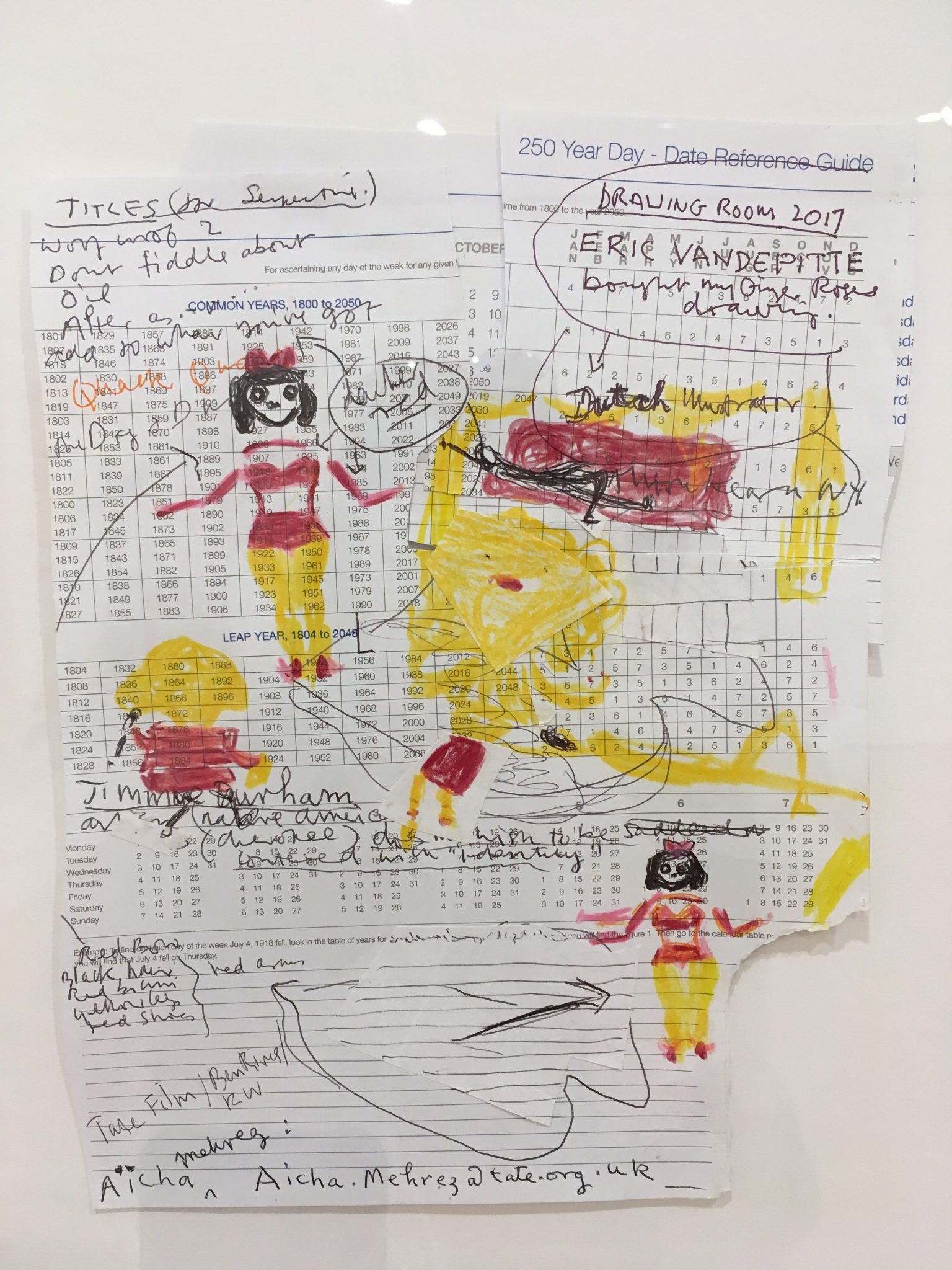 Jotting down notes on a cut up agenda in blue ink – with rudimentary sketches we read words such as "red—"… and then turn around to the fully worked oeuvre. The show takes its name from a series of paintings Wylie made loosely based on a house built in the 1970s near her street in Kent, where a neighbour's daughter would on occasion wash a car, creating associations with Nabokov's famous character in the artist's mind. We find a triptych (Lolita's House, Plaster Pink) in which the outer two panels display the house itself whilst the central canvas shows six scenes, with a brief caption. Wylie is presenting a storyboard and we are drawn in, following her repetitions, constructing a film that is familiar in our minds due to the literary reference.
Her focus on film in these recent paintings is prevalent, and the works I was most attracted to were her Film Notes on Natural Born Killers – one of my favourite films.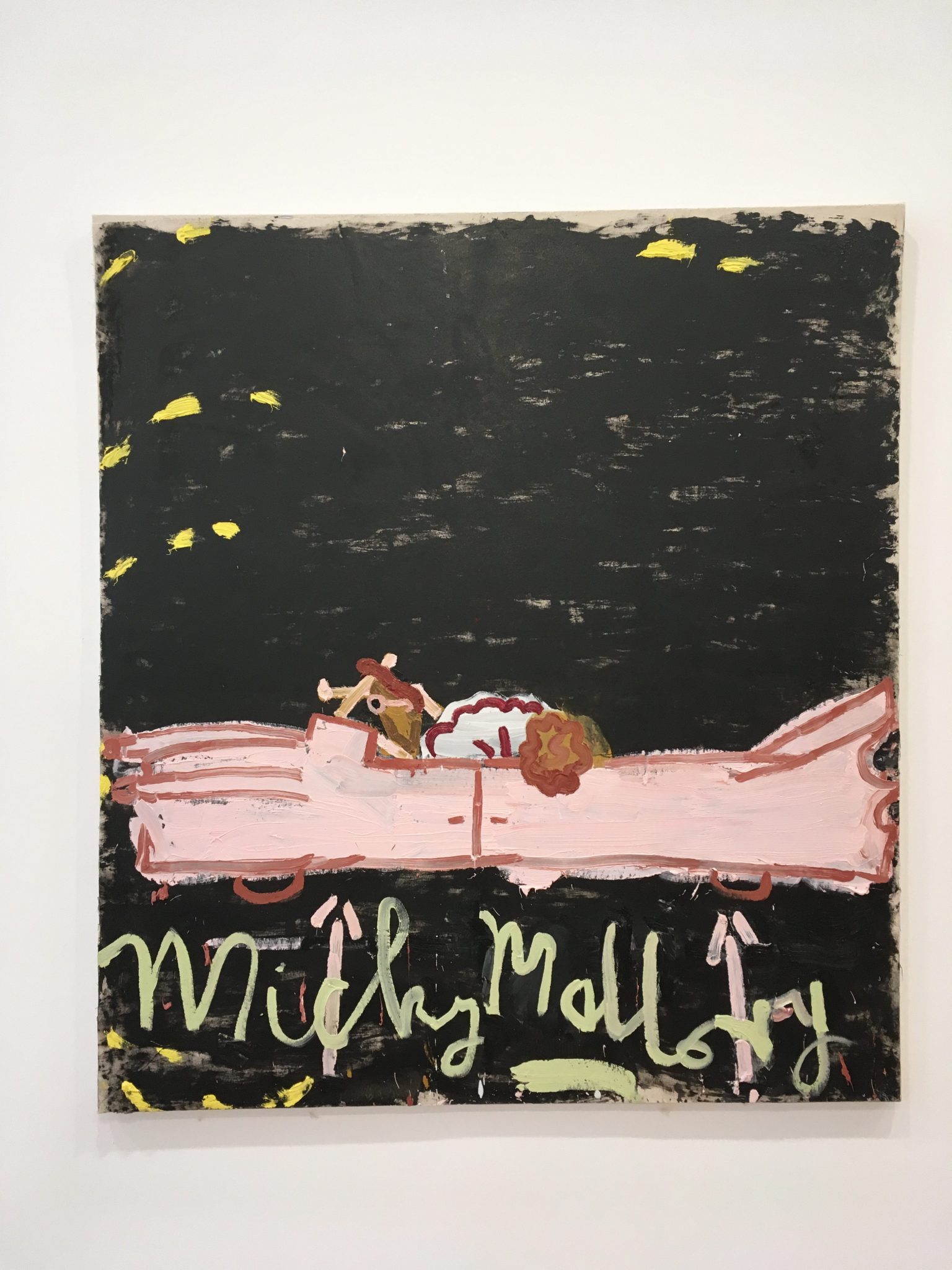 Natural Born Killers, Long-shot (Film Notes)
In painting scenes from the film Wylie depicts Mickey and Mallory, racing away in the car in three different snapshots. Whilst offering a seemingly simplistic oil still, Wylie is able to capture the essence of Stone's film perfectly – using an unnerving splattered black and yellow as the base for the romantic and ecstatic pink hues of the car.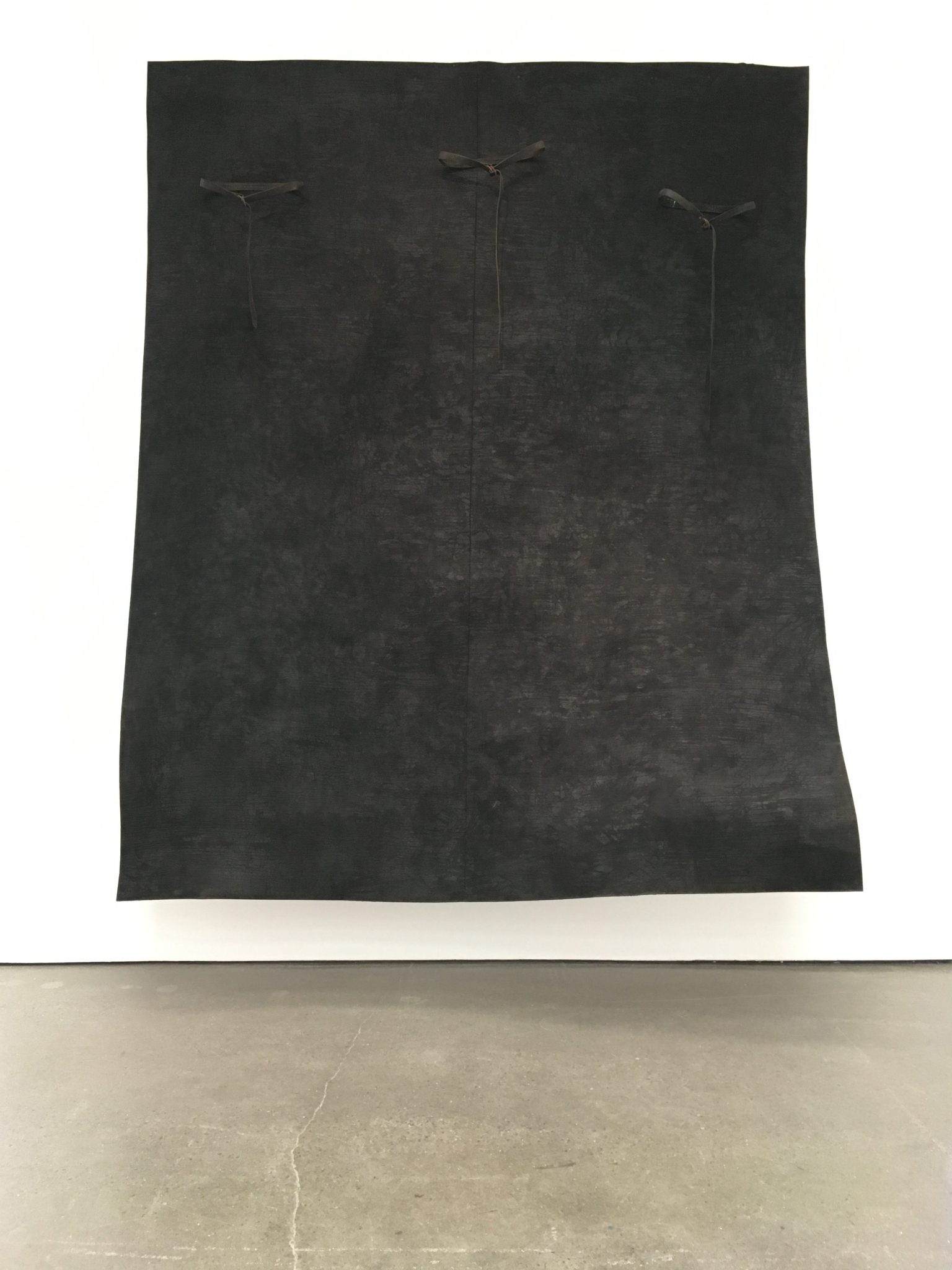 Pier Paolo Calzolari, Untitled (2008)
After leaving the more figurative world behind me, I entered into a more conceptual one, courtesy of White Cube's first major UK exhibition of Calzolari's sculptural works. Ground level was the floor that, in my mind, best exemplified why this artist has been revered. His particular use of materials creates an atmosphere pregnant with subdued, and even inexplicable, beauty. The burnt felt on iron, frozen mid-undulation on the wall, is tinted by a disturbing series of leather neck straps. Their presence isn't averted at first, but once our gaze meets them, they offer a disquieting layer to the work. Another feature that distinguishes Calzolari's use of materials is his mastery in creating texture. We see this in his burnt wood, salt and lead panels from the late 1980s. Similarly to Serra's latest paper works (see here) the ridges are incredibly attractive and the desire to touch them, to feel them pressed against our fingertips is palpable.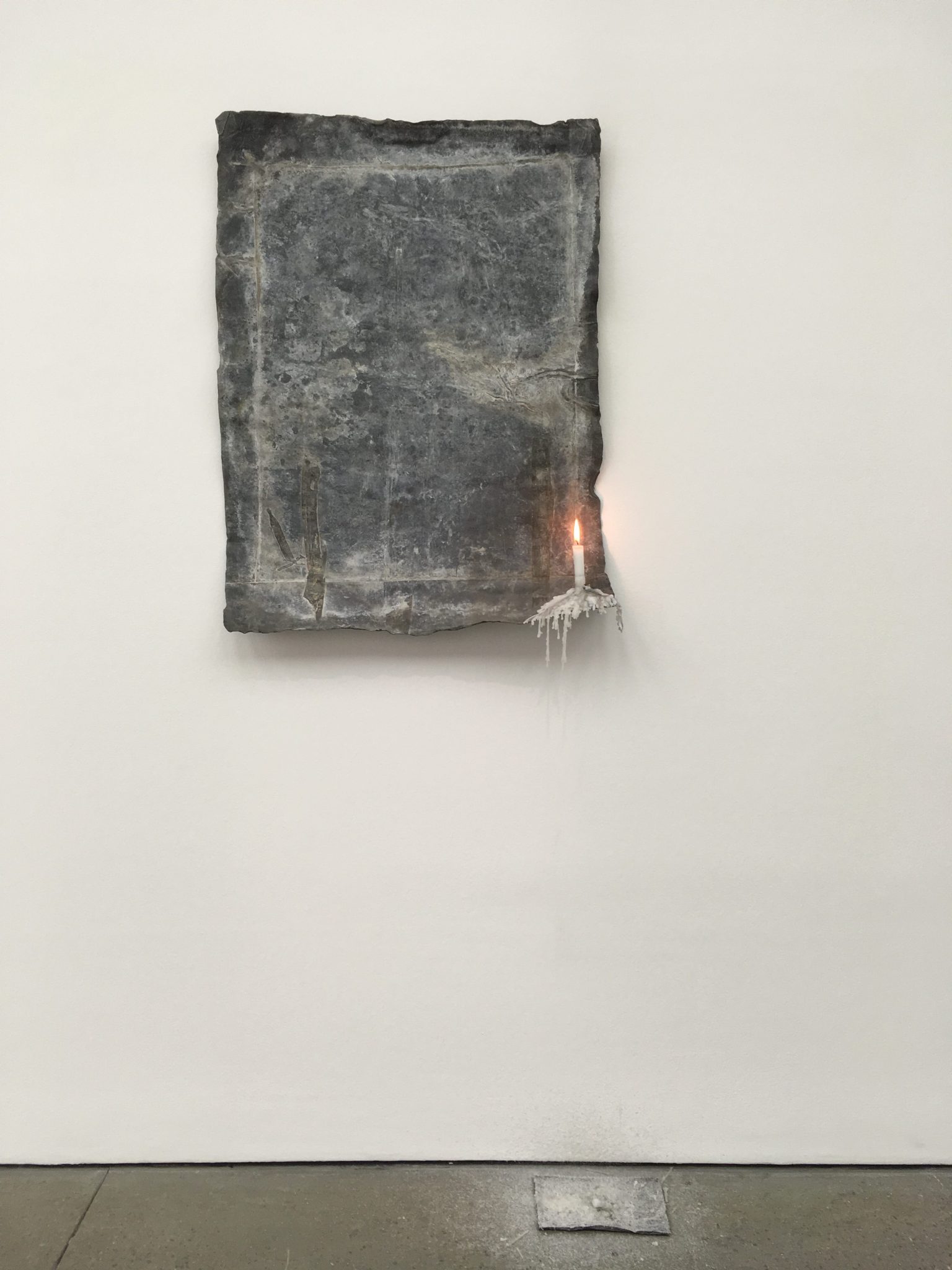 Untitled(1969)
If this weren't enough, he allows us to meditate before a wonderfully distressed lead panel, a single candle burning on its bottom right edge, wax dripping on the floor. The work reminded me of lighting candles during mass and standing there, watching them burn, transfixed by the flame. It felt like I had stepped into a metaphysical ritual of sorts, and this continued on the lower ground.
Here Calzolari turns into an alchemist, as he deploys his famous refrigeration units with which he creates a nebulous surface – reminiscent of frost – to convey a white so pure that it cannot be made artificially, but rather can only exist in the natural world. We see him suspend time on the surface of Tolomeo, a frosted table over which a pool of melted ice has formed.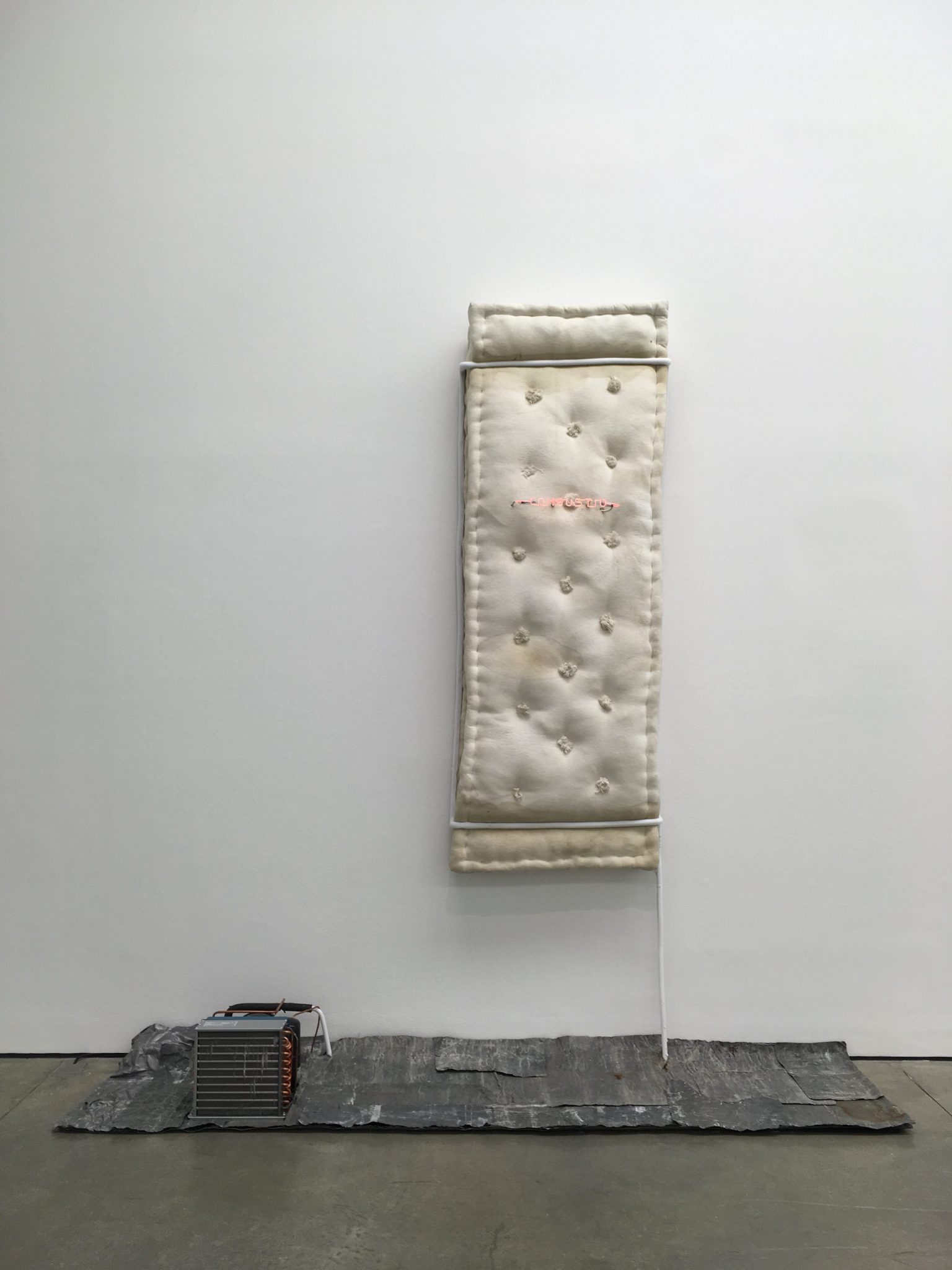 Combustio (1970)
On the left we see a mattress, hung against the wall, it too covered in frost. His tobacco leaves and neon words are also featured and we are left contemplating the juxtaposition and simultaneous synergy of organic and inorganic materials.
Finally I concluded my week at Sophia Contemporary for the opening of Uncanny Memories. The six contemporary artists on show have created works that are undoubtedly fun and irreverent in their exploration of the surreal and the uncanny.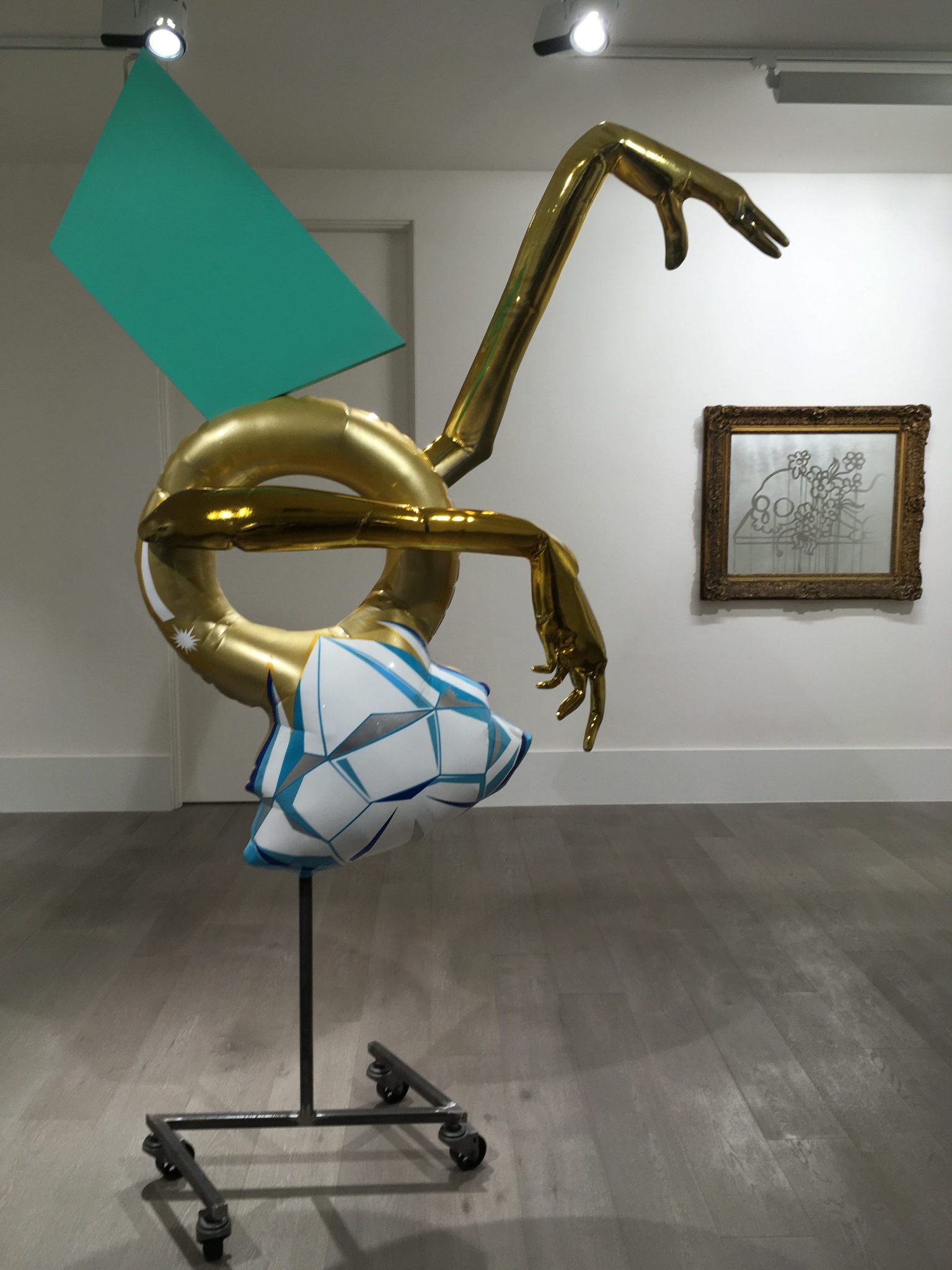 Left to right: Adam Parker-Smith – Mountains of Ice and Vanitas
The most immediately striking work is Parker Smith's Mountains of Ice – an extravagant abstract figure, it's golden arms pointing to the side, inviting us in. Once drawn into the room, the sculpture invites us to walk around it, observing more of Parker Smith's works, namely Vanitas and Amphora. The artists seems to revel in combining features of classical art with contemporary mixed media, generating humorous pastiches of sorts.
In a similar vein we find Matt Lipps's prints presenting metaphysical compositions such as Portrait II, not dissimilar to de Chirico's, with art historical references and beautiful cut outs inhabiting these surreal worlds. We see a similar play on the classical and the contemporary in Matthew Hansel's oil paintings with wonderful attention being paid to the hues in Seeing Double, Feeling Nothing.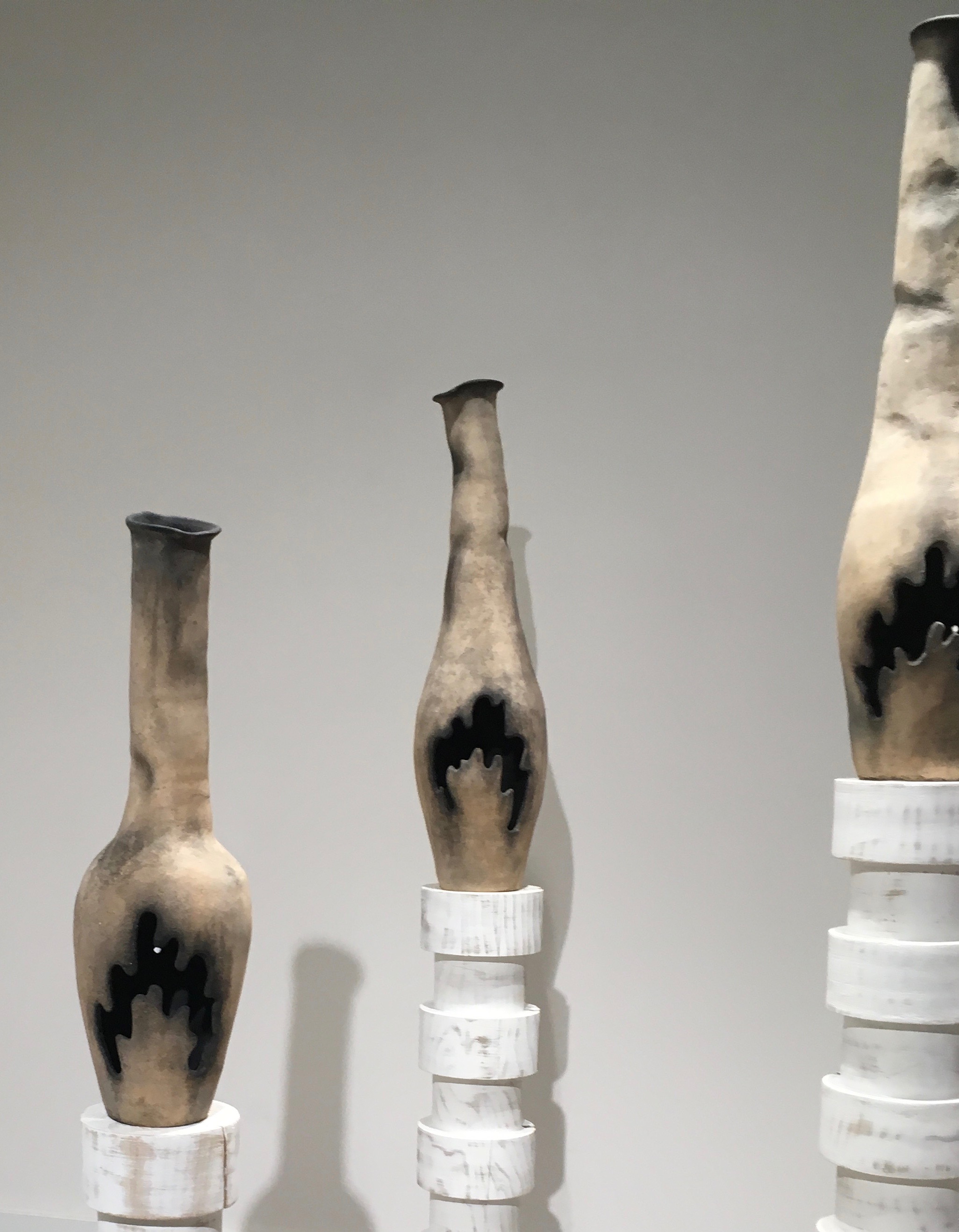 Theo Mercier, Lamentations
An artist whose works I was particularly excited to see was Jonathan Baldock (see here for a previous review). With an upcoming solo exhibition at Camden Arts Centre he is truly unstoppable. Here we find two works, Stick in the Eye (Blue) and (Brown) – seemingly playful at first until we grasp how disquieting large scaled eye balls pierced by a stick can be.
One of the works I was most fond of was Theo Mercier's Lamentations. Here the three wooden vases, each on their individual pillar, radiate distinctive personalities. Their coyote teeth are the perfect macabre twist, giving them an unpredictably threatening quality – as if they were about to come to life.
Finally the show concluded with Genesis Belanger's sculptures that blend key features from both pop and surrealist art.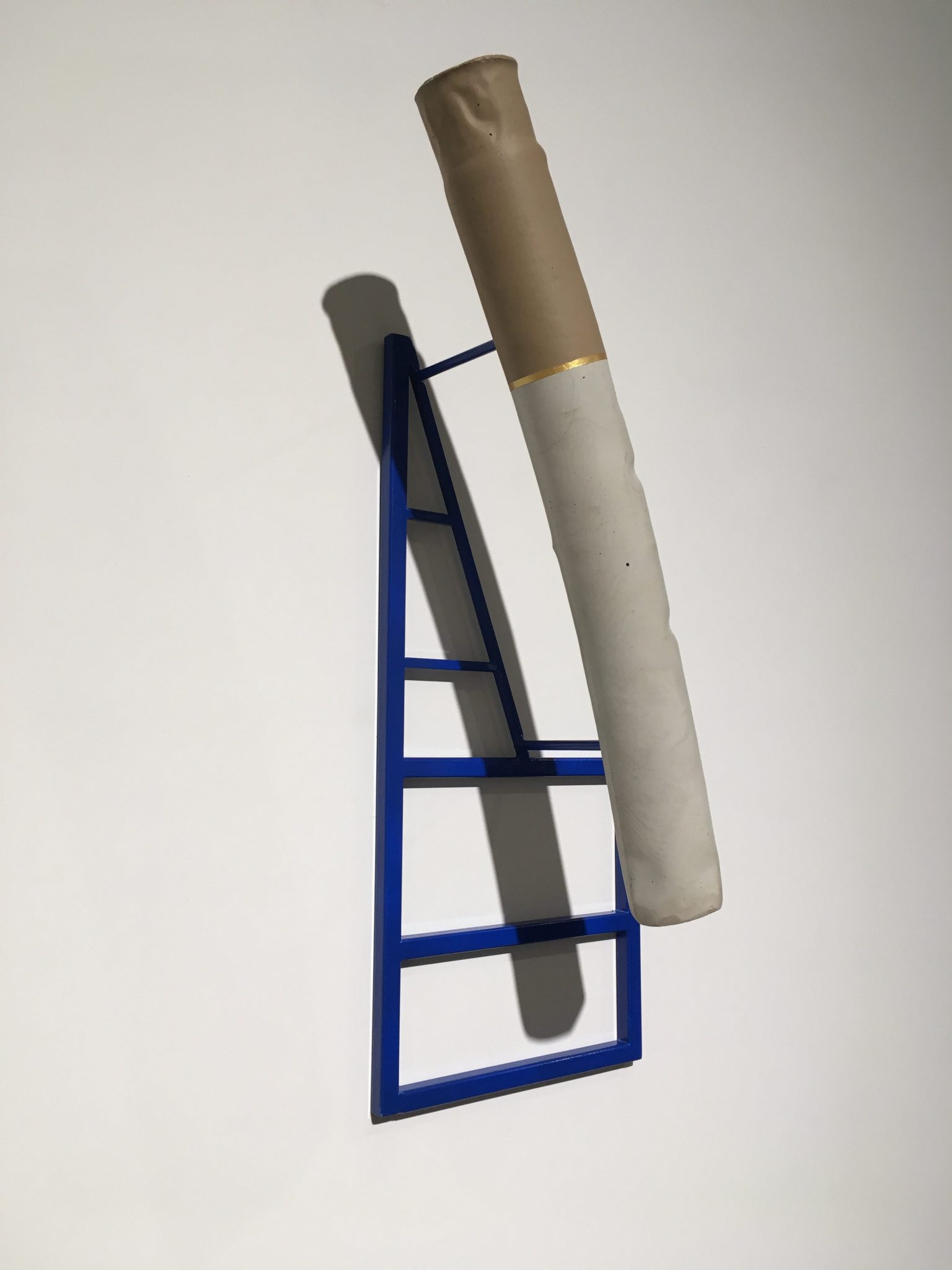 Genesis Belanger, Best Blue #1
Belanger allows her materials to defy their conventional characteristics, enhancing their unnatural, dream like quality. Her steel and concrete cigarette, climbing down the ladder with its undulated skin, appears to be far more malleable, assuming the features of a living organism. Likewise her porcelain lighter in Flick seems to mock us as it sticks out its tongue, in the form of a flame.
Visitors of Uncanny Memories will undoubtedly feel energised by the show as these young contemporaries present vivacious works blurring the lines between reality and imagination.
Rose Wylie's Lolita's House is on at David Zwirner until 25 May 2018
Pier Paolo Calzolari closed at White Cube Mason's Yard on 12 May 2018
Uncanny Memories is on at Sophia Contemporary until 23 June 2018
Categories
Tags