Today, YOOX, the world's leading online lifestyle store for fashion, design and art, will debut its new Design+Art section, under the curatorship of Beatrice Trussardi, renowned cultural entrepreneur and President of the Nicola Trussardi Foundation.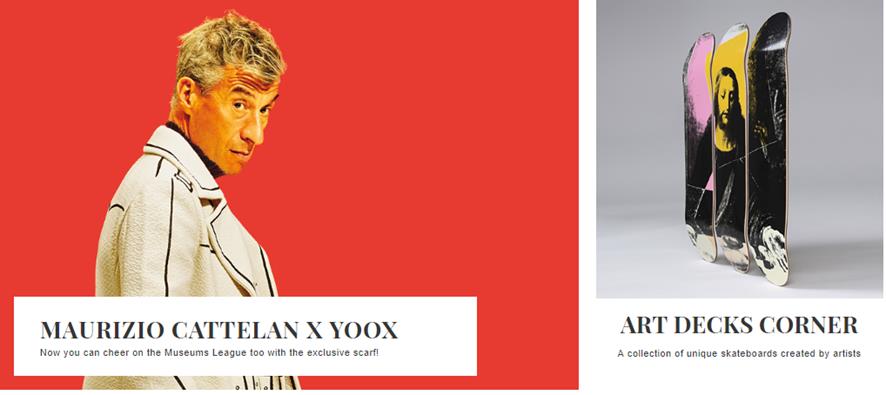 Coherent with her personal vision and YOOX's identity, Beatrice Trussardi has worked around the idea of making contemporary arts and design accessible to a wider audience: by concentrating upon the most innovative and experimental expressions in arts and design, she has re-conceived the section as a virtual gallery, both to intrigue enthusiastic collectors and to approach new potential art and design lovers. For the new Design+Art area, Beatrice Trussardi has selected a compelling assortment of hard-to-find pieces, limited and unique artworks, iconic design objects and curated merchandise. On a content level, she has worked at presenting each artist, designer and piece with a dedicated story, which is narrated editorially to engage and facilitate the customers' understanding of the products' uniqueness.
"Re-thinking the Design+Art section has been a strong exercise to synthetize what contemporary art and design should offer today in terms of experience and possibilities. Starting from the deep identity of YOOX as a platform all about discovery – where shopping means to express ourselves through an eclectic and creative journey beyond time and rules – I have designed a virtual space where everyone can find not only products to buy, but accessible art and design objects crossing languages and styles, mixing and connecting aesthetics and functions. This revisited gallery wants to be a free space offering a stimulating and playful approach to creative disciplines, through an extensive high-quality selection of objects ready to be collected or used, giving customers the opportunity to identify and nurture their passions, and become collectors." Beatrice Trussardi
Amongst the first to be presented within this dedicated area are pieces from renowned artists, including a special edition by Lorenzo Vitturi; the Skateroom, with boards by contemporary artists likePaul McCarthy, as well as a selection of artworks by international artists, like Gelitin, from Massimo De Carlo gallery, the first international contemporary art gallery hosted in this section as special guest, with a temporary store. For design, the Flos re-edition of the iconic Ventosa lamp designed by Achille Castiglioni, and the Change the Record amplifier for smartphones by Paul Cocksedge design studio will be available exclusively online on YOOX in the upcoming weeks.
Further solidifying YOOX as the go-to online destination for design + art is the launch of the exclusive edition of knitted football scarves designed just for YOOX by artist Maurizio Cattelan as part of his Museum League scarf collection, which features only the most prominent museums worldwide.
www.yoox.com/project/artdesign
About Mark Westall