The third and final auction from the estate of Audrey Hepburn will take place online next week. Following on from last year's hugely successful sales, the auction includes over 200 further lots from the archive of one of the most beloved screen actresses of the 20th century, including clothing, jewellery, photography and film memorabilia.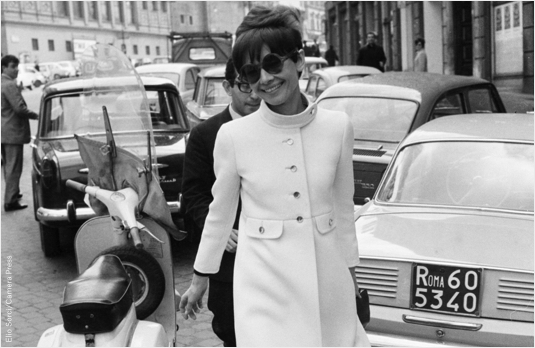 Comprising 212 lots, the sale is now available to view online www.christies.com/audreyhepburn. Following the success of Part I and II in Autumn 2017, Part III continues Christie's celebration of this globally renowned and adored film and stage actress, fashion legend and humanitarian, in what would have been her 90th year. Not to be missed, the sale will provide a further opportunity for fans, collectors and admirers to delve in to Audrey Hepburn's personal world, both on and off screen, through the objects she collected, used and loved; from jewellery, fashion and accessories, to correspondence, film memorabilia and professional photography by leading photographers of the day.
Luca Dotti and Sean Hepburn Ferrer commented:
"Having taken 25 years to be ready to share our
mother's personal world, we were truly touched by the global response to Part I and II of her collection. It is with pleasure that we now present Part III; a further group of her belongings that we feel will be of interest to her ever-growing base of admirers."
Adrian Hume-Sayer:
"We are pleased to present Part III of Audrey Hepburn's Personal Collection as an online only sale from 2 to 9 May, 2018, to coincide with what would have been her birthday on 4 May.
Providing Audrey's global fan base, admirers and collectors with a further opportunity to obtain a memento
from this great screen icon. The final planned instalment from her personal collection, this sale follows on from the success of Christie's flagship auctions in Autumn 2017, with which we were proud to be entrusted."
May 2 – 9
About
Born in Ixelles, Brussels in 1929 as Audrey Kathleen Hepburn, she spent her childhood between Belgium,
England and the Netherlands. She studied ballet and performed as a chorus girl in the West End before
travelling to the USA to star on Broadway in Gigi, quickly rising to stardom with her Academy Award winning
performance in Roman Holiday in 1953. Her talent was instantly recognised; she became the first actress
to win an Academy Award, a Tony Award and a Golden Globe in the same year. Hepburn went on to win
three BAFTAs and in 1994 became one of only twelve people in history to win competitive Emmy, Grammy,
Academy and Tony Awards, known by the acronym EGOT. Audrey Hepburn went on to star in some of the
most iconic films in the history of the silver screen including Breakfast at Tiffany's, My Fair Lady and Sabrina.
Later in life, she devoted much of her time to UNICEF (The United Nations International Children's
Emergency Fund) and was awarded the US Presidential Medal of Freedom in recognition of her work as a
UNICEF Goodwill Ambassador in December 1992. Audrey Hepburn died in 1993 at the age of 63.
Audrey Hepburn is rightly regarded not only as one of the greatest screen actresses of all time, but as a
style icon. 25 years after her death she maintains a resonance and popularity as strong today as it was
during her lifetime. With estimates starting at just £200 and ranging up to £15,000 this auction will provide collectors and devoted fans from around the world with a further opportunity to acquire personal items treasured by one of the most famous and well-loved women of the 20th Century.
Categories
Tags