Blenheim Art Foundation is to present Yves Klein at Blenheim Palace, a solo exhibition by the visionary French artist, the exhibition, which is presented in collaboration with the Yves Klein Estate, coincides with what would have been the artist's ninetieth birthday year. It will explore concepts of beauty, sensibility and the sublime, offering visitors a unique opportunity to view Klein's seminal artworks in the landmark setting of the World Heritage listed eighteenth-century palace. The exhibition will also mark the fifth anniversary of Blenheim Art Foundation, which was founded by Lord Edward Spencer-Churchill in 2014 to challenge, excite and inspire visitors to Blenheim Palace by providing access to world-class modern and contemporary art within its historic setting.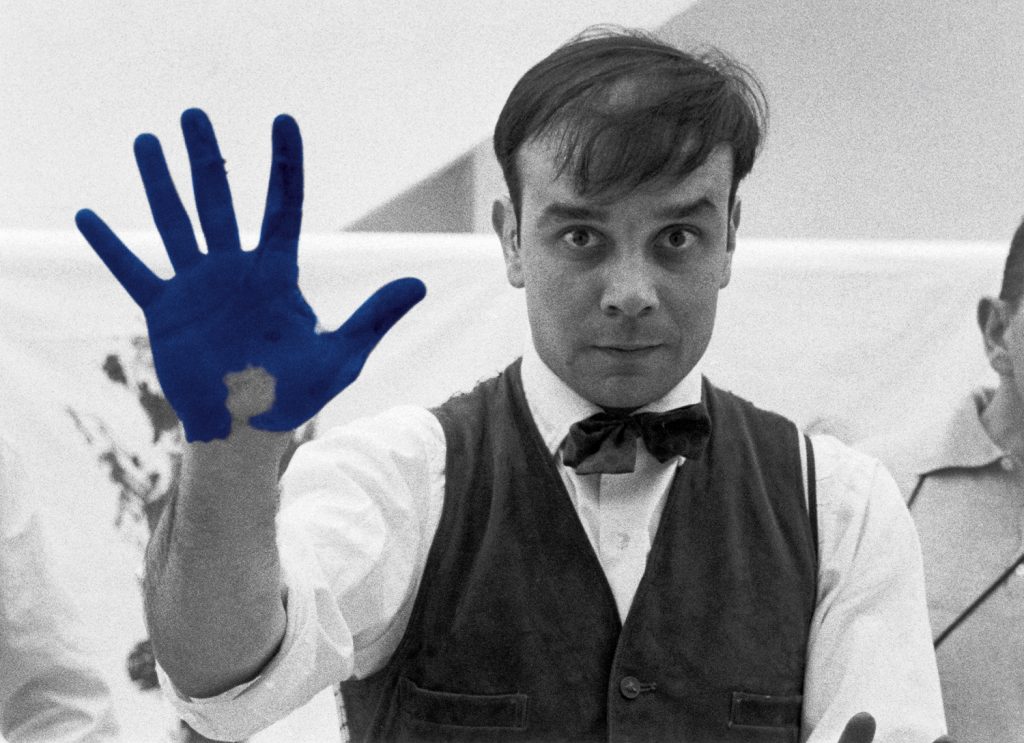 Portrait of Yves Klein during the shooting the documentary of Peter Morley "The Heartbeat of France".
Studio of Charles Wilp, Dusseldorf, Germany, February 1961 © Photo : Charles Wilp / BPK, Berlin
Featuring over 50 artworks, this will be the most comprehensive exhibition of Yves Klein in the UK to date. Visitors will be able to explore Klein's wide-ranging practice, including painting, sculpture and large-scale installation. One of the most influential artists of his generation, his pioneering artistic experiments anticipated and inspired movements in conceptual art, minimalism and performance art. Klein is best known for the development of his own vivid ultramarine pigment, International Klein Blue (IKB), which became a symbolic part of his practice, a key to reaching the 'infinite' and 'sublime' through pure colour.
Yves Klein at Blenheim Palace will feature a large-scale blue pigment installation and a number of Klein's Monochrome Paintings, the dazzling colours transforming the visitor's aesthetic experience of the opulent baroque surroundings of the Great Hall and principal rooms. Paintings from his ground-breaking Anthropometry series will also be on display, for which Klein employed models as 'living brushes' to create marks on the canvas in front of an audience, as well as Fire Paintings and Klein's later works in gold. Klein blended traditional artistic mediums and imagery with dynamic techniques and performance, erasing the boundaries between process and artwork. Sponge Sculptures, made from the sponges Klein painted with, saturated with pigment will be on show alongside other free-standing works inspired by Classical Greek sculptures such as a Venus de Milo, coated in IKB.
With its fifth art exhibition, Blenheim Art Foundation continues to produce bold encounters between the world's most influential artists, the Palace, and new and recurring visitors. The Foundation's award-winning programme has earned a reputation for pushing boundaries by inviting artists to engage directly with the Palace's Baroque interiors and particular history, as well as showcasing some of the most iconic
and seismic artworks and movements in art history, from Michelangelo Pistoletto's Arte Povera to Jenny Holzer's testimonies of war by contemporary veterans.
Daniel Moquay of Yves Klein Archives, said:
'We are very happy to collaborate with Blenheim Art Foundation on the occasion of Yves Klein's ninetieth birthday year and to present his artworks in a totally different environment from the usual exhibitions that we organise. This exhibition will present Yves Klein's artworks from a new angle and bring contemporary and neo-classical art into unprecedented dialogue, as a fluid tradition.'
www.blenheimartfoundation.org.uk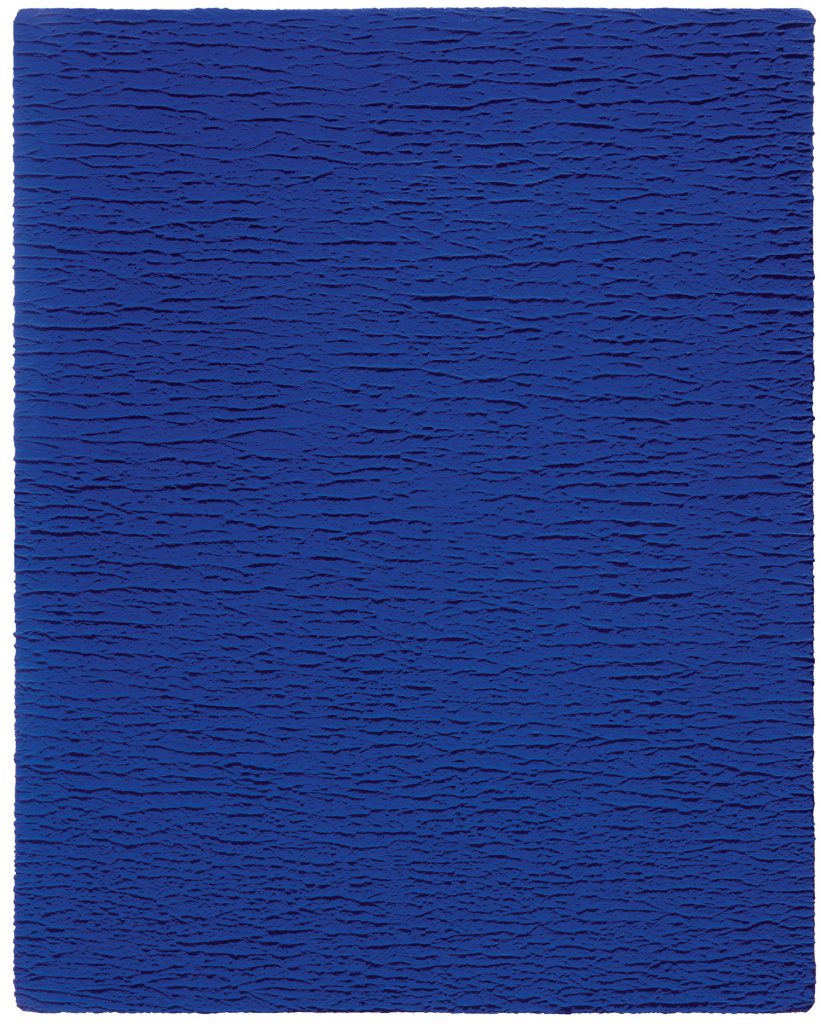 Untitled Blue Monochrome (IKB 67), 1959 Dry pigment and synthetic resin on gauze mounted on panel
92 x 73 cm © Yves Klein Estate, ADAGP, Paris / DACS, London, 2018
About Yves Klein and the Yves Klein Estate
Yves Klein (1928 – 1962) was a leading figure in European post war art and is considered a pioneer of conceptual art, performance art and minimalism, as well as pop art. Klein was born in Nice, France, in 1928. He began to paint in the late 1940s and lived in Japan (1952-53), whilst training in Judo. In 1955 Klein first began to exhibit his early monochrome paintings, which were presented at a solo exhibition at Galerie des Solitaires in Paris, where he earned critical acclaim and the name 'Yves the Monochrome'. From 1957, Klein's practice largely involved the use of his own patented pigment 'International Klein Blue', which epitomized the works produced throughout his "blue period". He then developed the Anthropometry series presented as a public performance in 1960, as well as his Fire Paintings in 1961-1962. Klein's radical performative work went on to include his Immaterial Pictorial Sensibility Zones (that were sold in exchange for gold bars, then tossed into the Seine River) and the iconic photograph Leap into the Void, which were considered precursors to the Happenings of the 1960s.Yves Klein passed away in 1962 at the age of 34, leaving behind a rich archive of major works, documents, writings, photographs, audio recordings, books and notebooks. The Yves Klein Estate, maintained by Rotraut Klein-Moquay (Klein's widow) and Daniel Moquay, aims to contribute further knowledge of Yves Klein's work, provide access for artistic and scientific research, and organise and participate in cultural projects.
Categories
Tags