The Verbier 3-D Foundation have just announced British artist James Capper as their 2018 Artist in Residency.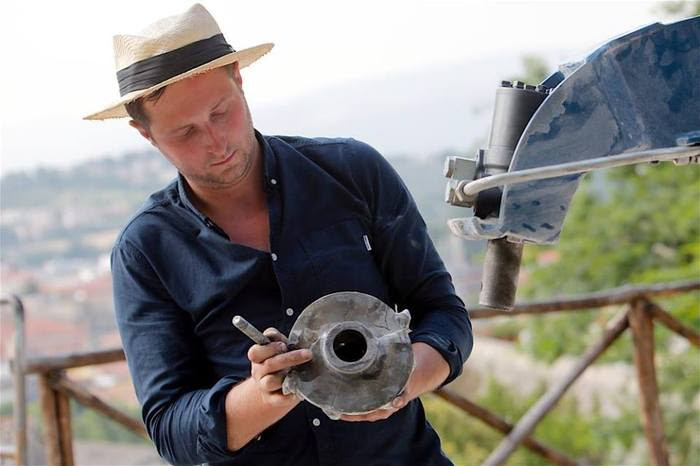 James Capper's art adopts the techniques, materials and complex problem-solving processes of innovation and engineering to develop the possibilities of sculpture. Capper's way of making mobile sculpture consists of three distinct but interrelated processes – drawing, making sculpture and the capacities and application of the sculpture in action. The sculpture in action is understood and developed through testing, filming and subsequent demonstrations.
James is heading to Verbier, Switzerland to examine the sublime alpine landscape in connection with the 200th year anniversary of the Gie?tro Glacier Disaster of 1818. Birthing from the 'Year Without Summer', which belonged to a three-year period of severe climate deterioration of global scale caused by the eruption of Mt. Tambora in Indonesia in April 1815, this climatic event led to an outburst flood sweeping the Val de Bagnes in its path to Lake Geneva.
The Gie?tro Disaster is one of the most famous and most catastrophic historical events in the Swiss Alps related to climate change. Its folklore is imbedded in the local history of the surrounding areas and recently resurrected due to this year's anniversary fused with current debates on effects of the present-day period of amplified global warming – the Anthropocene.
Capper will develop a new body of work during his residency that will be exhibited from June this year in the Verbier 3-D Foundation Sculpture Park. www.3-dfoundation.com
I envisage the project operating and expanding in two specific areas with a wider reflection on the current ecology conversations – Glaciology and Engineering. – James Capper
About Verbier 3-D Foundation
The Verbier 3-D Foundation is a non-profit organization dedicated to creating contemporary art to promote environmentalism, education, and culture to local and international audiences. Founded in 2010 by New York-based artist Madeleine Paternot and Verbier-based artist Kiki Thompson, the foundation creates educational and cultural work inspired by the stunning Alpine environment of Verbier, Switzerland at an altitude of 2,300 meters. More than one million visitors to Verbier can access the park for free year round.
The Sculpture Park and Artist Residency create a space for artists and experimentation to meet on the mountain in which the artists' practices are challenged to create cutting-edge contemporary art in relation to place.
In 2016, the Verbier 3-D Foundation launched a 4-year initiative that links art, education and glacier conservation. The Glacier Project unites artists and scientists to chronicle the impact of global warming on glaciers in Valais, Switzerland. Their insights are captured in photography, sculpture and multi-media residencies, alongside research, exhibitions and education programmes. Utilising the lens of art, viewers will be informed about the local Valaisan landscape in relation to global environmental and societal changes.
Our curatorial perspective in this four-year project is to create a residency for artists to investigate these modern complex issues around the environment in creative dialogue with scientists and other scholars. The aim is to generate aesthetically innovative series of works and creative propositions in situ that can provide a prism to see the fragility but also the beauty of our environment in a new light. – Alexa Jeanne Kusber, Verbier 3-D Foundation Curator
The residency also keeps an open-door policy, so the public is able to see the work in progress. This approach demystifies the making of art and creates a more intimate and informed experience for the viewer.
This initiative acts as an integrated creative hub and a vital part of the cultural resurgence of Verbier, Switzerland.
Categories
Tags