Tomorrow 28th February, Phillips kick off the 2018 auction season in New York with its New Now sale. Offering nearly 250 lots, this auction will bring together works by emerging contemporary artists and those with firmly established careers, and will be the first of Phillips' 20th Century & Contemporary Art auctions to include Latin American works since the announcement of Phillips' full incorporation of the two categories. George Condo's Nude Homeless Drinker will lead the sale, featured alongside artworks by Damien Hirst, Ugo Rondinone, and Manolo Valdés.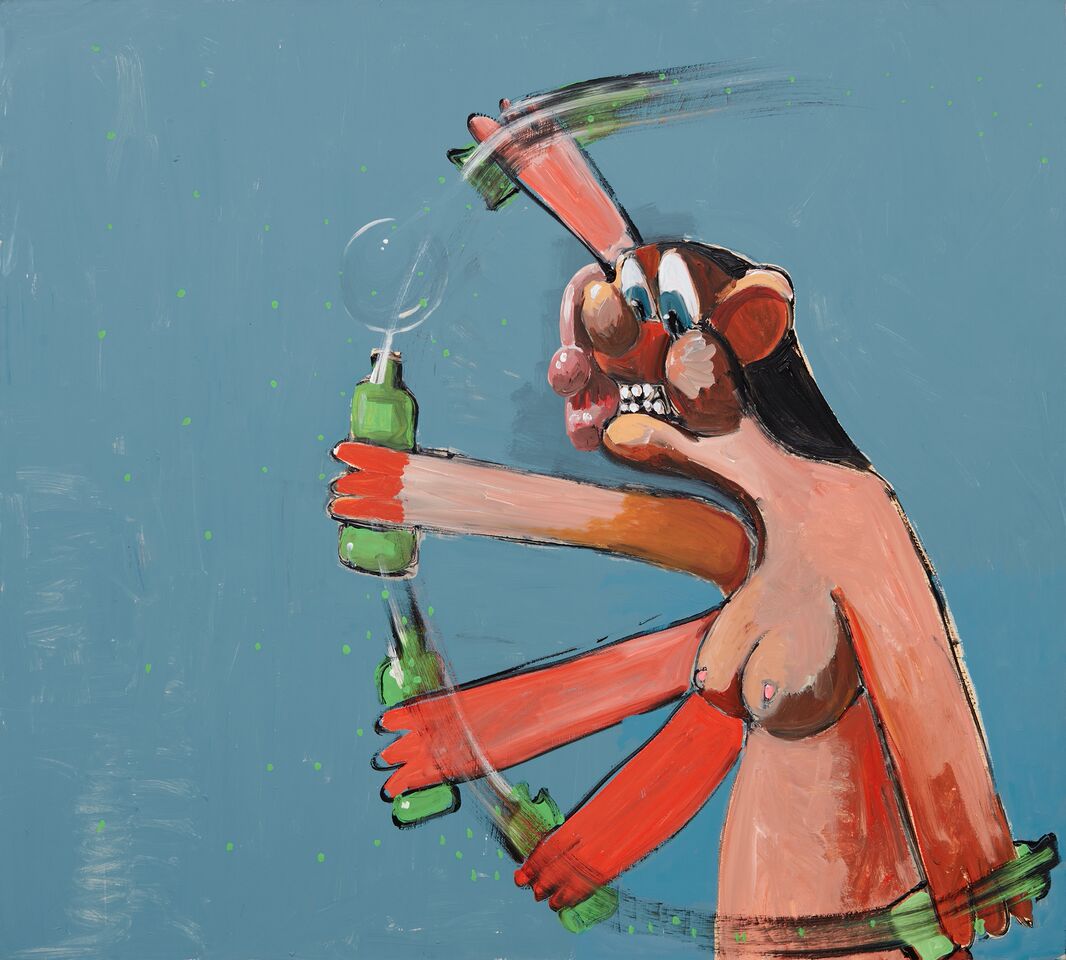 GEORGE CONDO Nude Homeless Drinker signed, titled and dated "Condo 99 Nude Homeless Drinker" on the reverse oil on canvas 65 x 72 in. (165.1 x 182.9 cm.) Painted in 1999
Samuel Mansour, Head of Phillips' New Now Auctions, New York, said,
"Phillips' New Now sales have become a focal point of the auction season for collectors and this is one of our strongest to date. In keeping with the tradition of New Now, we will offer a selection for collectors of all levels and interests, from artworks by blue-chip names like Damien Hirst, Laura Owens, and George Condo to younger emerging artists, such as Alex Becerra and Shara Hughes. We are proud to have worked with some exceptional consignors this season, including Michael and Sirje Gold, as well as a private collector who has entrusted us with an exceptional group of Cuban lots."
Leading the auction is George Condo's Nude Homeless Drinker, 1999, which was included in the
artist's first major survey exhibition, George Condo: Mental States (2011-2012). At once visually arresting and amusingly alarming, this work is a striking example of Condo's manifest interest in picturing psychological disturbance. In the mid 1990s,Condo began to develop a new facial vocabulary in his portraits with bulbous cheeks, bulging eyes and disk-like ears, all discernible in the present work. These particular features convey a compelling psychological presence, often immediately recognizable as somehow manic or depressive. Nude Homeless Drinker is one of if not the first instances in Condo's painting in which he explicitly depicts multiple states of physical and mental being. The five arms swinging in frenzied motion imbue the figure with an ambiguity that is completely unlike any of Condo's contemporaneous, carefully posed portraits. A pivotal work that bridges his many thematic and technical achievements, Nude Homeless Drinker is a testament to the undying nature of the primacy of painting and the master of the medium, George Condo.
Auction: Wednesday, 28 February 2018, 11am EST Location: 450 Park Avenue, New York
Categories
Tags