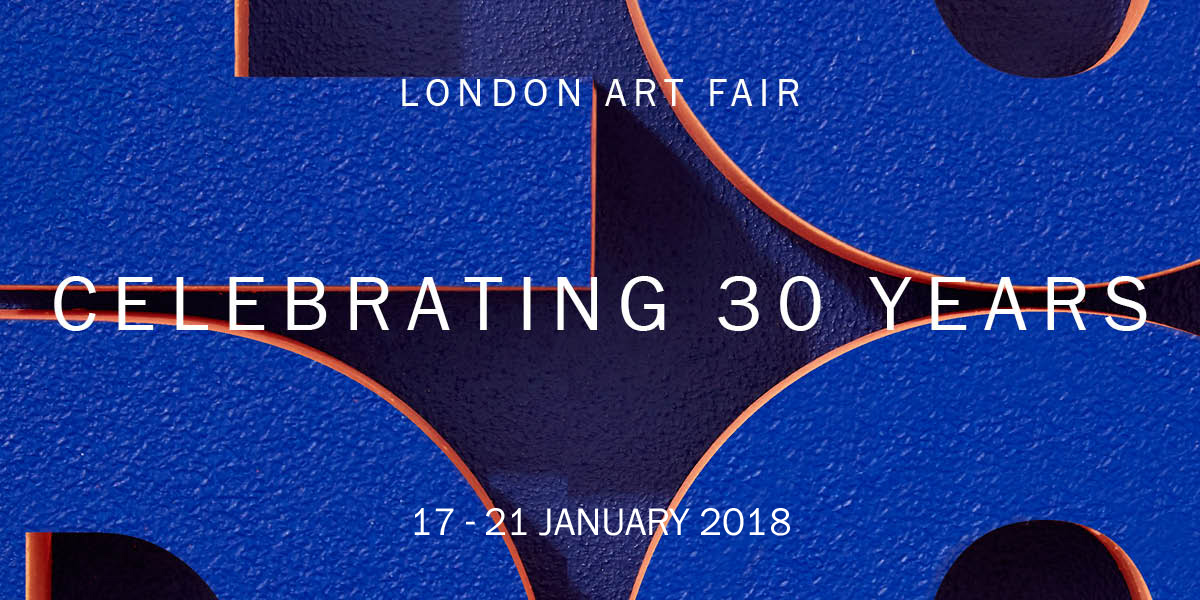 From 17 – 21 January 2018, London Art Fair will return for its 30th anniversary edition. Launching the international art calendar, the Fair offers exceptional modern and contemporary art from leading galleries around the world. Alongside this, it continues to provide insight into the evolving international market through specially curated spaces Art Projects and Photo50, presenting innovative developments in contemporary art and photographic practice. 131 exhibitors will participate in this year's Fair, attracting galleries from across five continents to the capital. The Fair will feature work by a host of renowned artists including Andy Warhol, Joan Miro, Picasso, Frank Auerbach, Banksy and Damien Hirst.
To celebrate the beginning of the art calendar and London Art Fair being 30 years old we have got together with London Art Fair to run a competition for you to WIN a pair of fair tickets (worth £15.95 each) and a fair guide (Worth £4) all you have to do is answer the question below and email the answer to competitions@fadmagazine.com putting LONDON ART FAIR in the header. Deadline for entry is midnight on Monday 15th January.
Q: How many years are London Art Fair celebrating this year?
Celebrating 30 years
London Art Fair was established in January 1989 as an initiative of Islington's Business Design Centre, where the Fair has been held ever since. Initially known as Art '89, the inaugural edition attracted 36 galleries and a few thousand visitors.
A number of the galleries who participated in the original Fair will be exhibiting in 2018, including Glasgow Print Studio (UK) and Brownsword Hepworth Gallery (UK). they will be joined by long-standing London Art Fair exhibitors Austin / Desmond Fine Art (UK) and the Redfern Gallery (UK), continuing the event's tradition of presenting the best in Modern British alongside contemporary art.Over the years, the Fair has played host to acclaimed artists early in their career, including Chris Ofili and Jenny Saville who were awarded 'rising star' awards at the Fair in 1996, and the YBAs, whose notorious Sensation exhibition was re-exhibited in 1998 as part of London Art Fair's 10th anniversary edition.
Curated Spaces
Over the past three decades, London Art Fair has continued to evolve to reflect the changes in contemporary practice and collecting within the art world, as presented in the critically- acclaimed Art Projects and Photo50.
Established in 2005 to support emerging galleries and encourage innovative presentations at the Fair, Art Projects will include 33 exhibitors presenting solo and group shows. CANAL (UK) will showcase three contemporary artists responses to the work of Claudio de Sole, reflecting the artist's fascination with the worlds of astronomy and astrology. Meanwhile Iniva (UK) will explore the legacy and preservation of digital art through the work of Donald
Rodney, highlighting his pioneering approach to the body and its 'interface' with the world. Paper, who represented last year's winner of the De'Longhi Art Projects Artist Award, will be returning to the fair in collaboration with LLE. They will be joined at the fair for the first time by Darger HQ (US), who are crowdfunding to bring Midwestern artists to the UK and into contemporary art discourse.
A major feature of Art Projects is Dialogues, which invites pairs of galleries to create a shared presentation, encouraging inventive collaborations and new relationships. This year Dialogues will be curated by Misal Adnan Yildiz, former Director of Artspace NZ and Artistic Director of Künstlerhaus Stuttgart. It will feature five partnerships between local and international galleries, each focusing on the representation and recontextualisation of the female.
T&Cs
Please answer the question above by Monday 15th January 2018. The winning names will be picked electronically from the FAD magazine 'hat' at midnight on this date and we will inform all the winners by midnight on the 16th.
About Mark Westall