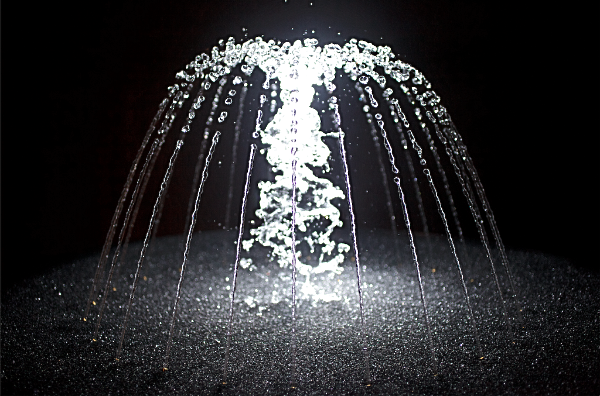 Olafur Eliasson, Object defined by activity (then), 2009, water and strobe light. Photographer: Studio Olafur Eliasson. Courtesy of the artist, neugerriemschneider, Berlin; Tanya Bonakdar Gallery, New York
© 2009 Olafur Eliasson
A solo exhibition by Olafur Eliasson is opening in the new year at the Espace Muraille. Founded by collector Caroline Freymond, Espace Muraille is a unique space dedicated to contemporary art, located in the heart of Geneva's Old Town. Eliasson's exhibition continues the space's programme of high-calibre exhibitions, which to date have included French artist Monique Frydman, Iranian artist Shirazeh Houshiary, Argentine artist Tomàs Saraceno, American artist Sheila Hicks, and British artist Edmund de Waal.
Objets définis par l'activité is organized around representative elements of Eliasson's artistic vocabulary – notably his work with perception, light, water, and colour – and includes several new installations produced especially for the space. Initiated by Laurence Dreyfus, the exhibition was developed in close collaboration with the artist and his studio. The exhibition will be accompanied by a catalogue.
Caroline and Eric Freymond are important patrons of Eliasson's work, which they have followed closely
for many years. In the words of Caroline Freymond,
'Olafur Eliasson's art combines thought and action to create connections between different perceptions of the world at both the individual and collective scale; his interventions always enable us to reflect on the space we inhabit in a more considered and engaged manner. It is our great pleasure to present an exhibition at the Espace Muraille devoted to "objects defined by activity". Beyond the purely aesthetic appeal of the works, the exhibition offers visitors a procession of experiential encounters as they move through a space transformed by experimentation with sensory perception, physical form, and movement in time.'
Olafur Eliasson Objets définis par l'activité (Objects defined by activity)
Espace Muraille from 24 January to 28 April 2018 Place des Casemates 5, 1204 Geneva, Switzerland
Free entry www.espacemuraille.com
Categories
Tags