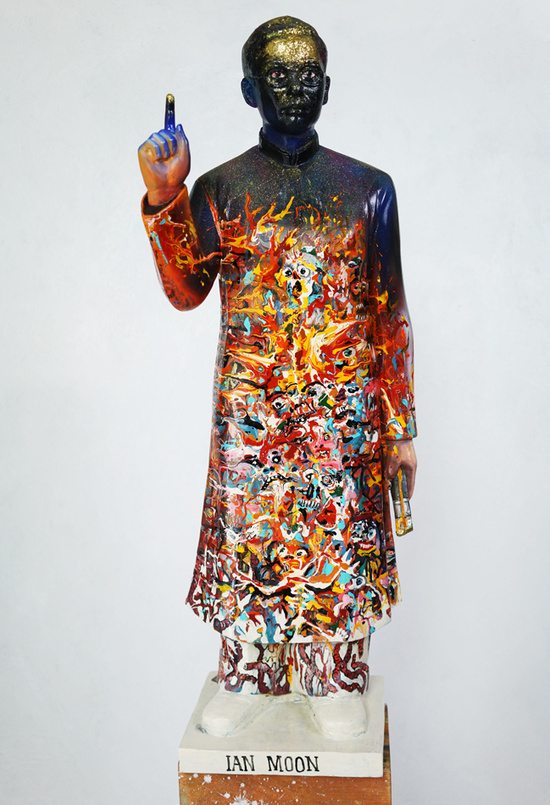 Ian Moon, 2016—2017 Mixed media on resin cast 104 x 35 x 26 cm / 41 x 13 3/4 x 10 1/4 in © Jakub Julian Ziolkowski Courtesy the artist and Hauser & Wirth
Jakub Julian Ziolkowski's exhibition, 'Ian Moon' conjures an imaginary universe in which phantasmagoric imagery appears across diverse media including ceramics, sculptural reliefs and works on canvas. Individually compelling, when seen together, his works create a transgressive mindscape, bristling with narrative and detail. The current series of works, presented for the first time, has been made following a recent phase of intense creative experimentation during an eight-month period while the artist was living in Hanoi, Vietnam.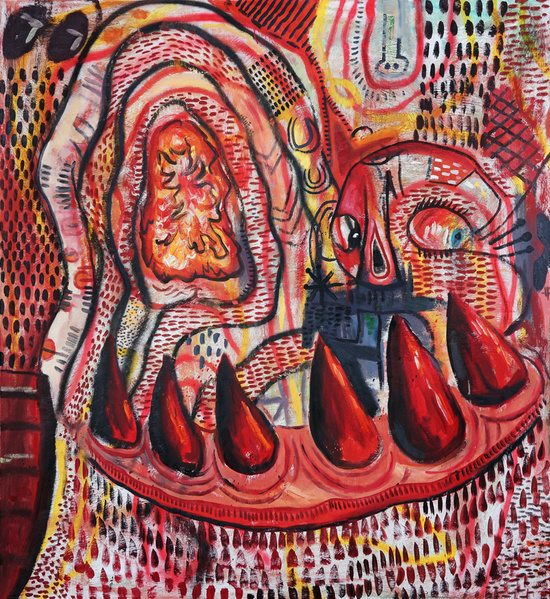 Untitled, 2017 Oil and acrylic on canvas 125 x 115 cm / 49 1/4 x 45 1/4 in © Jakub Julian Ziolkowski
Courtesy the artist and Hauser & Wirth
Throughout the exhibition Ziolkowski uses hallucinatory imagery drawn from his own acute emotional experiences. Ziolkowski describes having undergone a personal and creative transformation in recent times and the exhibition reflects his highly individualistic approach to this subject matter. His is a world in which recurrent themes – of flames, entrails and skulls – combine in a cacophony of forms, the source of which is the artist's own imagination. Viewers are invited to enter an emotional realm in which obsessions and desires, fears and doubts, and passions and anxieties all collide.
This exhibition is centred around several intertwined themes and narratives including both the redemptive and the destructive power of human relationships, and the potential of spiritual rebirth grounded in primal experiences. Visceral motifs including eyeballs and limbs are interwoven in highly intricate, repetitive configurations. The imagery reveals the artist's ongoing fascination in presenting the body through its component parts and, by doing so, referencing transcendental states of being. 'Mindscape' (2017) is obsessive in its level of detail and the artist adds further skeins of white paint across the surface of the canvas as if the painting itself is capable of delivering an electrical charge.
Throughout his oeuvre, Ziolkowski repeatedly returns to the self-portrait in a myriad of permutations. In several of the works on display his own image is fused with a prominent figure: the persona of Ian Moon, who also gives the exhibition its title. For Ziolkowski, Ian Moon represents a new personality which overlaps with his own. This sculpture of a male form with a raised, pointed finger is suggestive of a state of enlightenment. The surface of the figure is alive with details, such as flames and faces, while the forehead has been adorned with gold paint in the space where a third eye might appear.
Ziolkowski is highly eclectic in his choice of media and a new suite of works entitled, Sick of Love, sees the artist experimenting with ceramics for the first time. A series of vessels are painted entirely, inside and out, with symbolic imagery of figures reacting physically to the emotional angst that accompanies failed relationships. In this way Ziolkowski transforms these objects into metaphoric receptacles for a cathartic purge; he inextricably links shamanistic and visceral themes as a means of salvation or cure. The imagery also makes an appearance in further works on canvas which are as rich in detail and beguiling as they are grotesque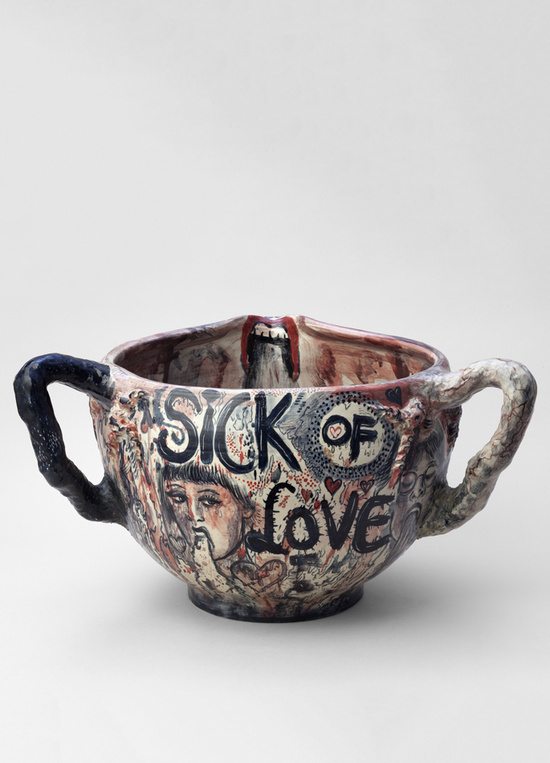 Vase 5 (from the series Sick of Love), 2016 Glazed ceramic 30 x 57 x 42 cm / 11 3/4 x 22 1/2 x 16 1/2 in © Jakub Julian Ziolkowski Courtesy the artist and Hauser & Wirth
Another series of works, which has its origins in the artist's own personal narrative, presents the counterpoint to this bleak view by celebrating the redemptive potential of a new union. Several of these works on canvas, such as 'Revival' (2017), share a fiery palette of reds and oranges and depict an arched, burning gateway. Here the symbolism shifts, implying a rebirth rather than an emotional apocalypse.
Jakub Julian Ziolkowski Ian Moon Hauser & Wirth London, South Gallery
1 December 2017 – 10 February 2018 Opening reception: Thursday 30 November, 6 – 8 pm
About The Artist
Jakub Julian Ziolkowski (b. 1980) was born in Zamosc, Poland, and trained at the Jan Matejko Academy of Fine Arts, Faculty for Painting and Drawing, Krakow, Poland. He currently lives and works in Krakow. Notable solo exhibitions include 'Das Leben selbst', Neues Museum, Nurnberg, Germany (2017); 'Nasellini', MAN – Museo d'Arte Provincia di Nuoro, Nouro, Italy (2017); 'Sick of Love', Café Nha San, Hanoi, Vietnam (2016); 'Jakub Julian Ziolkowski. Imagorea', Warsaw Academy of Fine Arts, Warsaw, Poland (2014); 'Hydra 2012', Hydra Workshop, Hydra, Greece (2012) and 'In Utero', Parasol Unit, London, England (2011).
Hauser & Wirth first exhibited Ziolkowski's work in a solo presentation at Hauser & Wirth London in 2006
followed by an exhibition at Hauser & Wirth Zürich in 2008. In 2010, the gallery presented the first American solo exhibition by Ziolkowski bringing together more than 50 works for 'Timothy Galoty & The Dead Brains'. More recently Ziolkowski presented 'Raw Thoughts' at Hauser & Wirth Zürich (2013).
Categories
Tags