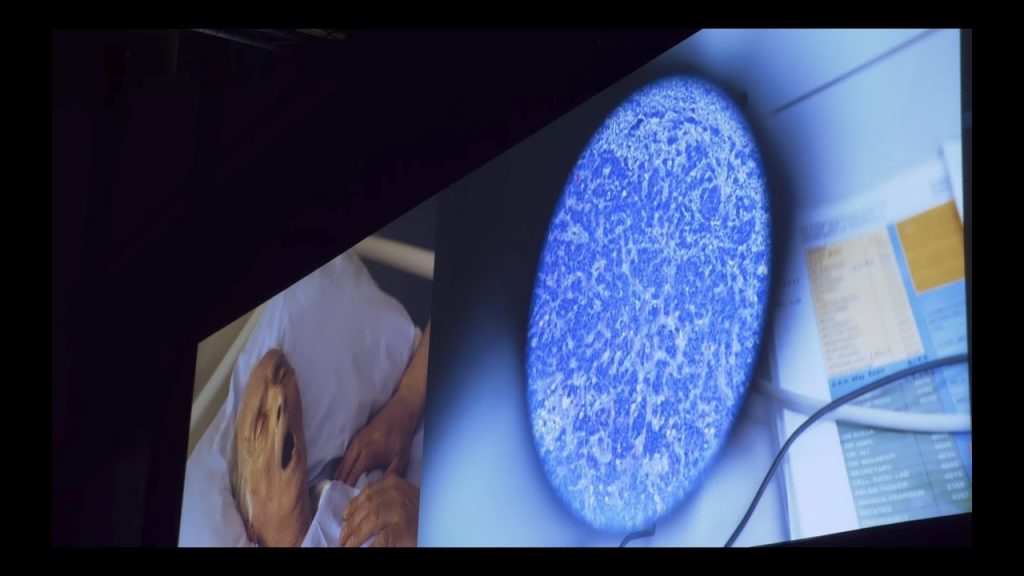 Portrayals of death in art and film are generally oblique affairs, using metaphor or fiction to avoid presenting a dying person too directly. Steven Eastwood's film triptych, The Interval and The Instant, doesn't so much grapple with this most taboo of subjects as unapologetically face up to and patiently examine it – eloquently, matter-of-factly and with a directness that beckons us to consider the process of dying in a new light. Filmed over the course of a year at the Earl Mountbatten Hospice on the Isle of Wight, the piece follows two people in the last stages of life, weaving a loose narrative that's interspersed with symbolic motifs and metaphor (an owl – a symbol of death in many cultures; shots from the ferry journey to the island; almost blindingly washed out views of the seafront.)
The film is looped, and this structural circularity adds to its potent presentation of death and life as just part of the same cycle. You could walk in, as I did, just as a funeral casket is being carried towards the camera on one screen, in the middle of a frank hospice staff meeting, or even during the 7 minute scene where we bear calm witness to a protagonist's dying moments. This should be the point I insert words such as 'harrowing' or 'distressing', but the ultimate feeling we're left with is life affirming, rather than morbid. There are moments of crushing sadness here, yes, but Eastwood manages to make us sit with this most challenging of topics till we realise there's nothing to fear.
Words Helena Haimes
Steven Eastwood The Interval And The Instant, to – 26 November 2017
Fabrica 40 Duke Street, Brighton,East Sussex, BN1 1AG www.fabrica.org.uk
About The Artist
Steven Eastwood is a filmmaker and artist working in both the cinema and the gallery.
His first feature film Buried Land was officially selected for Tribeca, Moscow, Sarajevo, Mumbai film festivals in 2010. Recent and forthcoming exhibitions and screenings include London Film Festival; Jerwood Space; QUT Gallery Brisbane;
Globe Gallery Newcastle; KK Projects New Orleans; ICA. He has been the recipient of numerous grants and awards including Arts Council England, Arts and Humanities Research Council, Film London, National Lottery, Leverhulme and Princess Grace
Foundation. His documentary Those Who Are Jesus was nominated for a Grierson Award at BAFTA.
He lives and works in London. www.cinemaintothereal.com/Steven_Eastwood
About Helena Aimes