We love Mehrnoosh Khadivi's poetic, kinetic installation that celebrates the launch of Roland Mouret's debut perfume Une Amourette.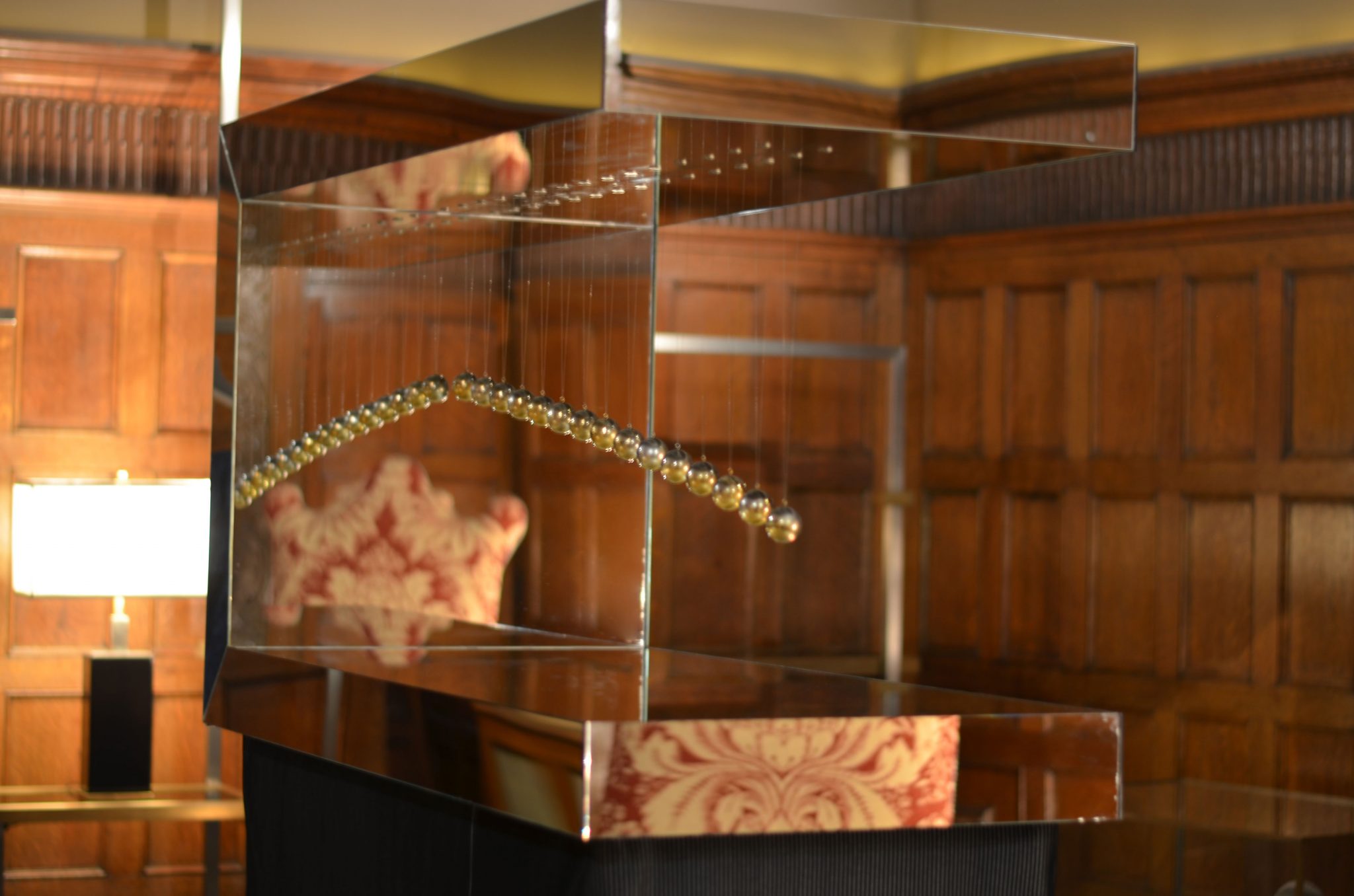 Bringing together art, design, mathematics and physics, the sculpture is presented as an abstracted manifestation of Mouret's new scent – stimulating imagination through the physical, as the perfume does through the most powerful of the senses – smell.
Inspired by Une Amourette, the hypnotic Pendulum Wave Machine comprises 15 pendulums of differing lengths, ten of which represent the ten ingredients that make up the perfume, with the remaining five representing five imagined ingredients. As the pendulums swing they create an extraordinary hypnotic graphic sequence – a rhythmic, mesmerising expression of the unique and harmonious alchemy that occurs when these ingredients are brought together.
Khadivi's meticulous design sees the pendulums oscillate through a series of evolving waves, molecular patterns and rhythms all symbolising the way the infusion evolves over time, as its notes react with air and skin. Significantly, the sculpture's rippling cycle, which lasts 60 seconds, must be activated by the viewer, in recognition of the wearer's fundamental role as the final, vital ingredient of any scent.
Une amourette means 'a fling, a little passion, a little love'. With her hypnotic new installation, Khadavi brilliantly embodies how powerfully enthralling even the most ephemeral of interactions can be.
The Pendulum Wave Machine is installed at Roland Mouret from November 16th, 8 Carlos Place, Mayfair, London W1K 3AS
About The Artist
ABOUT MEHRNOOSH KHADIVI:
Mehrnoosh Khadivi was born in Iran and grew up in London. She studied architecture and was awarded The Royal Institute of British Architects Silver Medal Prize along with the Skidmore Owens & Merrill Traveling Fellowship for best post-graduate design portfolio in 1997.
After her post-graduate studies she worked at the Architecture Research Unit (ARU), an architectural design laboratory.
Joining forces with the restaurateur Mourad Mazouz as a Creative Director in 2000 Mehrnoosh was intricately involved with the design and development of Sketch Restaurant in London. Expanding beyond architecture into art, design and artistic direction in her role as Creative Director for Sketch, Mehrnoosh created "experience" within the project by curating bespoke installations by artists and designers throughout and personally creating bespoke architecturally led permanent art installations within the multi-space restaurant venue. Launching Sketch with a three sixty degree video art gallery, Mehrnoosh curated over 35 video art exhibitions from artists such as Tracey Emin, Showstudio, Guy Bourdin, Sylvie Fleury, Isaac Julien, Brice Dellsperger, Janaina Tschape and Mariele Neudecker amongst others.
In 2007 Mehrnoosh set up Craftwork Studio to increase and widen her artistic direction further firmly grounded in a holistic philosophy and approach to art and design.
As the Artistic Director and Architect for Nicholas Kirkwood from 2011–2015 Mehrnoosh concentrated on creating the brands' flagship retail design concept, brand development and identity, creative communication, developing special projects as well as merchandising and art-led installations. Craftwork Studio designed retail stores for Nicholas Kirkwood in London, New York, Las Vegas, Miami, Paris and Beijing.
In 2012 Craftwork Studio designed and developed the retail Brand concept for Pollini the heritage Italian shoe brand. Creating special art projects for the Salone Di Mobil located at the Milan flagship on Via Della Spiga; Mehrnoosh also cultivated the exhibition design and concept celebrating the 60th anniversary of the heritage brand in 2013.
Mehrnoosh worked closely with Thomas Tait on his winning submission for the inaugural LVMH Prize and designed the AW15 SS16 London Fashion Shows for the brand. Mehrnoosh conceived and developed the installation design for Thomas Tait at Pitti Immagine June 2015.
Launching Phrenology Series 1.0 Sound Totem at Plus Design Gallery, Milan during Salone Di Mobile April 2016; Mehrnoosh created an audiophile quality handmade speaker that combines the highest level of audio reproduction with distinguished design and outstanding craftsmanship; producing a multisensory experience that converges function with form, art with design.
Since setting up Craftwork Studio Mehrnoosh has had an on going textile based creative art project called Off- Loom. Rejecting the rectilinear loom that constrains contemporary weaving for a more intuitive approach to working in fiber has resulted in the creation of large-scale decorative or functional textile works of suspended rope forms predominantly constructed of knots, loops, braids, and twists.
Mehrnoosh has recently developed a poetic kinetic sculpture for Roland Mouret; awakening the essence of Une Amourette his new perfume through the power of science and imagination.
Categories
Tags