White Cube are to celebrate 50 years of the art of Gilbert & George with a new exhibition: 'THE BEARD PICTURES AND THEIR FUCKOSOPHY' which will span all four galleries at White Cube Bermondsey.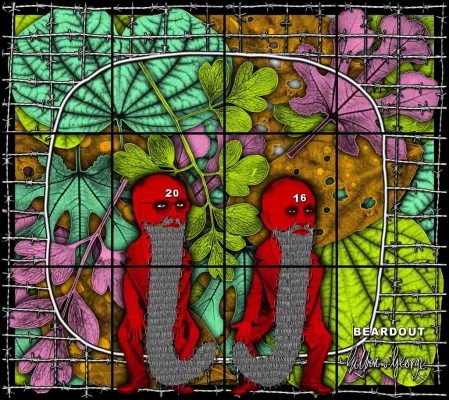 Gilbert & George'BEARDOUT' (2016) 226 x 254 cm. © Gilbert & George. Courtesy White Cube.
Gilbert & George appear in THE BEARD PICTURES as looming, otherworldly figures masked by surreal and symbolic beards; referencing beards not only as an emblem of millennial youth, but also as a mark of religious faith and social status.
This new exhibition features more than 40 BEARD PICTURES, including a monumental quadripartite which comprises 4 x 7m wide pictures emblazoned with the words 'SEX', 'MONEY', 'RACE' and 'RELIGION'.
Also on display is THE FUCKOSOPHY, a collection of nearly 4000 pronouncements and mottoes created by Gilbert & George and installed on a large scale in the main corridor and 9x9x9 gallery.
Gilbert & George THE BEARD PICTURES AND THEIR FUCKOSOPHY
Preview: Tuesday 21 November, 6-8pm 22 November 2017 – 28 January 2018 Bermondsey whitecube.com
About The Artists
Gilbert & George first met as students at Saint Martin's School of Art in 1967 and have lived and worked together in east London as a single artist ever since. They have been the recipients of many honours and awards, represented Great Britain at the 2005 Venice Biennale, and won the Turner Prize in 1986. Central to Gilbert & George's approach to art-making is the motto 'Art for All'.
Categories
Tags