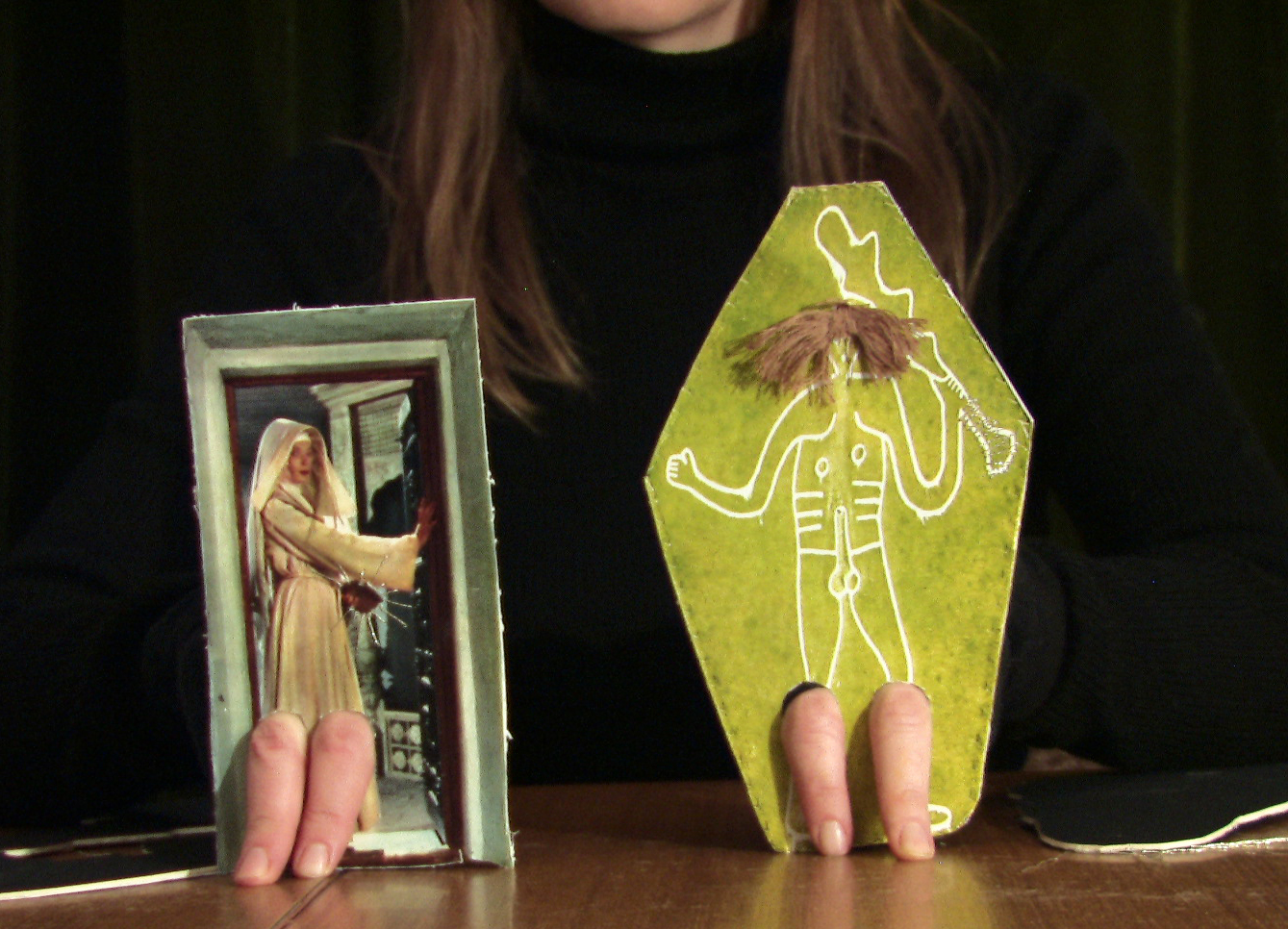 Sally O'Reilly Sally 'Deborah Kerr the nun' O'Reilly and Sally 'Cerne Abbas' O'Reilly with Sally O'Reilly Image courtesy the artist
For this new exhibition the sculptor Brian Griffiths has invited a number of friends, family and colleagues (mostly real) to make puppets. Each person has been asked to make a puppet of themselves – a self portrait, a kind of imposter or impersonator, like all representations.
The puppet in its purest form and motion resembles something of the artifact, tool, machine or musical instrument. They are contradictory things to be looked at and spoken through, that are animated and brought to life via imagination and will.
All the puppets at Artlink Hull are made by puppet novices, from individuals with radically different making experiences and resources. Purity and traditions may come a cropper and things may just stay dead.
An exhibition as part fantasy, part social experiment, with the theatrical gusto of LET'S-PUT-ON-A-SHOW! Griffiths considers ideas and forms of self-presentation, where intimate content gets swept along with the impossibly dramatic.
A show that hopes for hilarious disappointments, irresistible charm and some visitors.
9 October – 14 December 2017 Preview 7 October 5 – 8pm HULL 2017 UK City of culture
www.hull2017.co.uk/pulled-right-levers-asking
The puppets and makers:
Issy Brain created by Issy Brain
Philip Evans created by Philip Evans
Luke Gottelier created by Luke Gottelier
Brian Griffiths created by Brian Griffiths
Ron Griffiths created by Brian Griffiths
Sarah Jones created by Sarah Jones
Frank Kent created by Frank Kent
Sally O'Reilly created by Sally O'Reilly
Pim created by Brian Griffiths
Sally Shaw created by Sally Shaw
David Thorpe created by David Thorpe
Francis Upritchard created by Francis Upritchard
About the Artists
Brian Griffiths studied Fine Art at Humberside University (1989-92). Brian makes sculptures and installations, often with theatricality and pathos. He is a needy collector of things. Recent solo exhibitions include: BILL MURRAY: A story of distance, size and sincerity at BALTIC in Gateshead, Borrowed World, Borrowed Eyes Tramway in Glasgow and The Invisible Show at Galeria Luisa Strina in São Paulo.
Issy Brain
Issy lives in a small village in Warwickshire and is Brian's mum. She has a bad back and memory. In the past Issy has been a member of a local painting club and a committed watercolourist.
Philip Evans
Philip was a painting technician on the Fine Art course in Hull through the 80's and 90's and a dynamo of energy, intelligence and wit. He is an artist who often makes charming small wonky sculptures. Also for a number of years Philip was a Kingston Art Group Colleague of Brian's as well as an Adelphi buddy and committed crumpet eater.
Luke Gottelier
Studied in Fine Art at Humberside University (1989-1992). Luke and Brian meet irregularly in London for home cooked lunches. He makes painting, photographs and installations. Luke has recently started to re-purpose old paintings to some profound (and comedy) effect. His works have been shown at Saatchi Gallery, Photographers Gallery and ICA in London.
Ron Griffiths
Ron died in 1977 and was Brian's father. Ron was a practical man with a deep voice and an inexhaustible enthusiasm for a super-8 film of Bela Lugosi Dracula. He taught Brian and his siblings how to draw, which may explain why he is a sculptor.
Sarah Jones
Sarah has a love of brevity.
Frank Kent
Frank recently graduated from the postgraduate Fine Art Course at the Royal Academy Schools where Brian teaches. Frank is making some bi-folding doors for Brian's daughter's new bedroom – they will have a charming and strangely intelligent wobble to them, much like Frank's artwork. Recent shows include: New Works FOLD Gallery in London and Life Room Seats commission at the Royal Academy Schools in London. Frank Kent has never been to Hull.
Sally O'Reilly
Sally studied Fine Art at Humberside University (1990-93). Sally finds pleasure in stripes, noses and Rock anthems played on recorders. She writes for performance, page and video. Recent works include: The opera The Virtues of Things at The Royal Opera House, London, Crude, a novel published by Eros Press and Live Illuminated Manuscript 3: Four Legs Good at Modern Art Oxford.
Pim
A scruffy miniature Yorkshire Terrier with three legs. A stray dog befriended by Brian's mum and dad in the mid 1970's. It was persuaded into their home with a Christmas turkey leg and instantly became Brian's pet of choice for many years. Did not go to art college.
Sally Shaw
Sally is a curator and presently Director of Firstsite in Colchester. Sally and Brian are married. She finds spreadsheets and diagrams rather sexy. Their daughter is called Flo. Sally has previously worked as Head of Programme at Modern Art Oxford, Deputy Head of Culture for the Mayor of London and Curator for Art on the Underground.
David Thorpe
David studied Fine Art at Humberside University (1991-1994). He was best man at Brian's wedding and gave an emphatic speech that had the gusto of an old school preacher. He values the crafted object and their power to build alternative worlds. David has shown at Tate Britain, The Hepworth Wakefield, Casey Kaplan in New York, and Taro Nasu Gallery in Tokyo.
Francis Upritchard
Francis makes sculptures and object installations. Francis and Brian met through Bart Wells Institute. She is sometimes disarmingly direct and consistently long limbed. Recent solo exhibitions include: City Gallery Wellington in New Zealand; Monash University Museum of Art (MUMA), Melbourne, Australia; Anton Kern Gallery in New York; The Hammer Museum in Los Angeles and 53rd Venice Biennale – New Zealand national representation.
About Brian
Brian Griffiths studied at Goldsmiths College in the late 90's.
He uses found and made objects to consider our relationships with the material and social world.
Griffiths' work has been exhibited extensively in the UK and internationally. He has had solo shows at Camden Arts Centre, London; BALTIC Centre for Contemporary Art, Gateshead; Tramway, Glasgow; Grimm Gallery, Amsterdam; Arnolfini, Bristol; Vilma Gold, London; Galeria Luisa Strina, São Paulo; Dispari & Dispari Project, Reggio Emilia, Italy.
He has shown work at numerous institutions including The Groninger Museum, Netherands; Tate Britain, London; The Mattress Factory Museum, Pittsburgh; CAPC Museum, Bordeaux; Mostra D'Arte Contemporanea, Milan; Royal Academy of Arts, London; Belém Museum of Modern Art, Brazil.
Brian Griffiths is presently Senior Lecturer in Fine Art at the Royal Academy Schools, London.
About Mark Westall