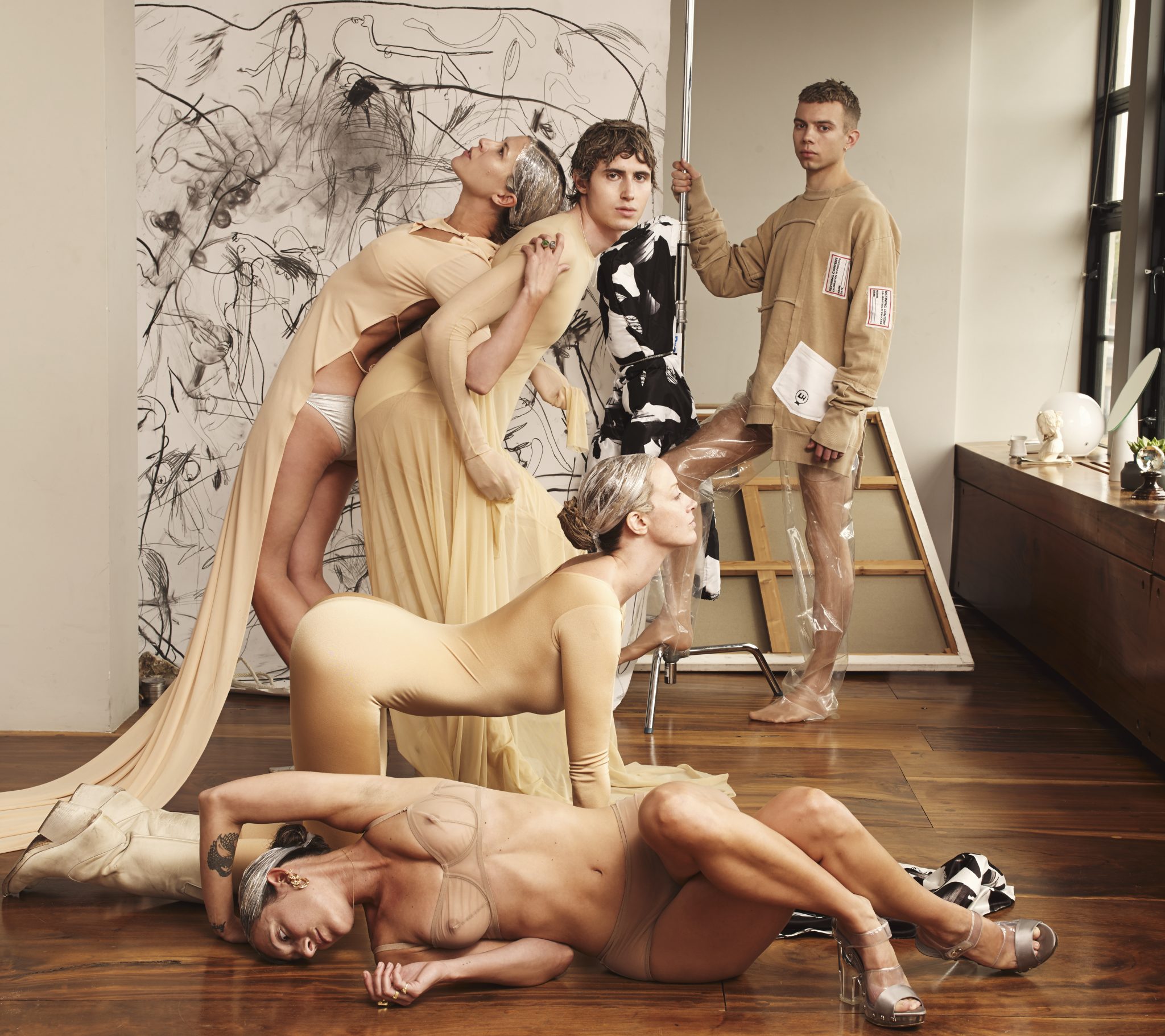 4TH OCTOBER 21:45-1AM POST-FRIEZE OPENING VIP PARTY #COMMUNEPRESENTS "Lineal liminal "
Dominic Myatt X James Cooper X James Massiah
In collaboration with filmmaker, James Cooper, two previously unseen works, one a collaborative animation and the second a short film, both being screened live as visuals within the architecture of the space, including sheets, bodies, and ceilings all embracing the eye line of the viewer.
The films together explore the boundaries of mark making within the abject and fetish, a figure is seen in submission taking Myatt's ink blind to what he is delivering. The animation then perverts these lines and explores the aesthetics within them, through their movement within the penetration of the human body.
The space is active with Communal tables which will be covered in illustrated cloths, traced with fluid lines and writhing contortions from Myatt's pen, designed to be soiled by the diners.
James Messiah's words will appear throughout these live public scrawls given a chorus to the night.
Accompanying publications are available on the night to partner and reinforce the presentation.
Complimentary served and royally names COCKTAIL> kiss me especially
DJ's Art School London. James Massiah. The Illustrious one.
6TH OCTOBER 21:45-1AM FRIEZE WOMAN'S HOUR #COMMUNEPRESENTS "(A) Specific resting place of explosion; please remove your wet shoes." Holly Blakey X Caitlin Price
Warm, pulsing feminine power slips and slides into view, gyrating with a tantalizing beat of heart, mind, and soul; this poignant performance is wholly taking ownership of the space.
Transcending beyond what is simply seen into the pants of the onlooker – viewer becoming voyeur – the piece projects itself into the subconscious sphere, petitioning the senses to breathe in the power of the female trance. An exhilarating and robust spectacle teases the on lookers as mirrors conceal and reveal the intimacy of the dancers' interaction.
Caitlin Price's garments hang throughout the space, suspended in the moments and places in which the dancers left them. +to note shoes will be removed on the night and appropriate footwear will be given for the duration of the performance.
Complimentary served and royally named COCKTAIL > Forever a version of me
DJ's Cora Delaney. Larry David
HOI POLLOI 100 Shoreditch High St, London E1 6JQ 4TH AND 6TH OCTOBER 21:45 PM -1 AM www.hoi-polloi.co.uk
#COMMUNEPRESENTS is a series of residencies and events spotlighting and showcasing an array of inspirations, love affairs, dialogues, rumors and catalytic liaisons that have stimulated change within the #COMMUNEEAST landscape.
Presenting a moment of explosion in the Frieze calendar: This group of #COMMUNEEAST artists take residency at the Ace Hotel's Hoi Polloi to roll their dialog into the night. Existing within this realm for the art throng come celebrate, encounter and experience their presence in force. This East London hub will run for the duration of Frieze, with two main activations on the Wednesday and Friday nights.
"Come watch, taste, dance, get wet and be #commune-al"
PHOTO CREDIT: Photographer Jermaine Francis Styling Saranne Woodcroft Hair James Oxley Makeup KSAVI Artist lines: Dominic Myatt
Categories
Tags